A Complicated Love Letter to the NYX Lip Gloss I Thought I'd Never Wear Again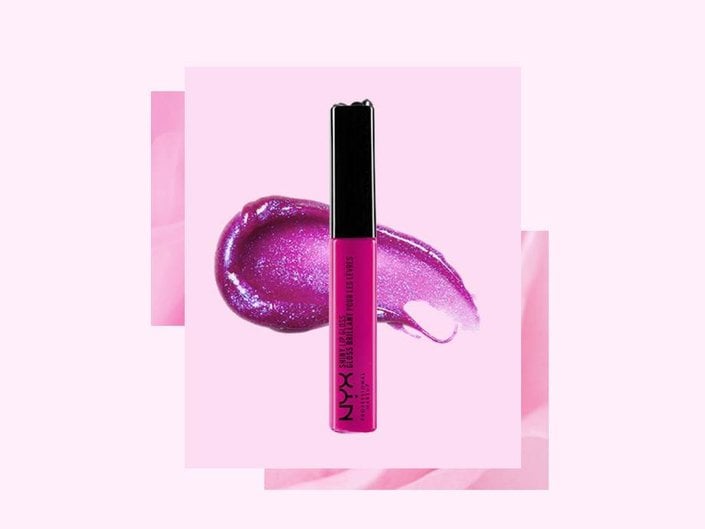 I remember the first lip gloss I fell in love with: the NYX Professional Makeup Mega Shine Lip Gloss in African Queen. It was a pigmented blend of pink and purple fuchsia that shined so bright it was nearly reflective — the kind of shine that, when it hit the light at a perfect angle, would make you squint. It had a sweet vanilla smell that me smile every time I swiped it on, and it looked good whether I wore it with mascara, eyeliner or nothing at all. It was the very first lip gloss that made me feel more confident, proud of my unique style, and it helped me learn to celebrate my own individuality.
Because of its blue sparkles, I wore this lip gloss only on the most special occasions in my early teen years, which meant I whipped it out on non-uniform days, field trips during school days — and most importantly — to school dances (duh!). I actually think that this lip gloss helped contribute to my love for makeup and eventual career as a beauty editor because no matter how I was feeling, one swipe of this would make me feel like I ruled the world (as its name suggests).
But what really was it about this gloss that I loved so much? Was it the texture? The sparkle? The smell? No, I flat out think it was just the punchy color. A perfect complement to my olive skin and dark features, this pinky-magenta was the biggest pop of color I'd dare to use in my routine at the time, and I loved it. Although my makeup style has drastically changed since then, I thought it would be an interesting exercise to try out the shade once again to see if it still gave me makeup-induced butterflies.
An OG Alanna 2012 flatlay including NYX African Queen !
I headed to the nearest NYX Cosmetics website window on my laptop. Sure enough, my biggest fear had come true when I clicked on that page: the mega-shine lip glosses were all out of stock, and African Queen had been discontinued. Disappointed with the loss of the magical shade I loved so dearly, I searched high and low for the closest dupe I could get my hands on, and the Urban Decay Hi-Fi Shine Lip Gloss in Tongue Tied seemed like the next best thing.
The similar color and blue-hued sparkles of Tongue Tied is uncanny when compared with swatches of African Queen, but Urban Decay's version is a little more lightweight, plumping and sheer. I took this in stride, as I thought it did better justice to my makeup style in the present anyway.  
Its smooth, hydrating finish was pleasant and comfortable for me — but as I coated my entire lips, the color began to feel over the top. As I've gotten older, I've moved my makeup style away from wearing pink lip colors because I've found other shades that suit me better (like orange-y reds, brown-y nudes, deep purples and burgundies, and completely clear gloss finishes. This shade felt suddenly jarring to me — and as I looked in the mirror, I barely recognized myself. Nevertheless, I paired two hefty coats of the bright lip with a slick black cat eye and went about my day.
Throughout the day I kept wanting to add a dab of red or deep purple onto my lips to make them feel more reflective of present me. Had I gotten the chance to redo my entire makeup look, I would have attempted to pair Tongue Tied with a pinky-purple monochromatic eyeshadow eye and cheek. Without them, the lip color actually felt out of my comfort zone — ironic considering this used to be the lip gloss that kept me holding my head high. I actually began to notice myself feeling more self-conscious throughout my day. Was the fuchsia lip weird next to my denim jean leather jacket? Was it overbearingly pink? It really made me pay way more attention to my appearance than I have in years.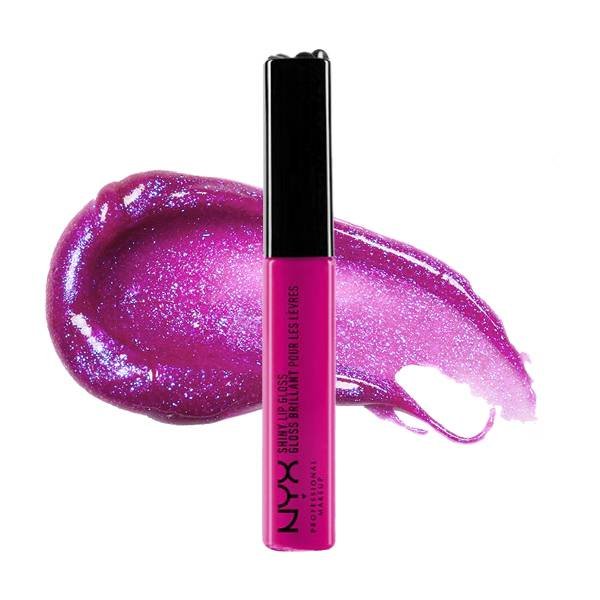 As my experiment came to a close, I felt a sigh of relief come over me when I buffed off the lip color with a makeup wipe. In a satirical turn of events, I sincerely disliked how I felt wearing the vibrant lippie. It made me feel gaudy, overdone and bashful. Had I failed my own investigation? Certainly. But it reminded me that things change.
I'm no longer the young teenager wearing the blue-hued fuchsia gloss to the school dance — I'm the beauty editor who's comfortable in her own skin and makeup routine, who knows what lip colors work for her and has found new shades and hues she can't get enough of. The pinky gloss made me feel uncomfortable and self-conscious because, like my makeup style, I've changed and grown as a person.
NYX Professional Makeup Mega Shine Lip Gloss in African Queen will always be that makeup product to me — the one that finally helped me come into my own. What it will never be is who I've become since, and that's a beautiful thing.
Read More
5 Lip Balms That Double As Glosses
9 Must-Have Makeup Products for Festival Season
The Best Lotion-and-Fragrance Combinations
Read more
Back to top