See All 12 Lancôme L'Absolu Rouge Ruby Lipstick Shades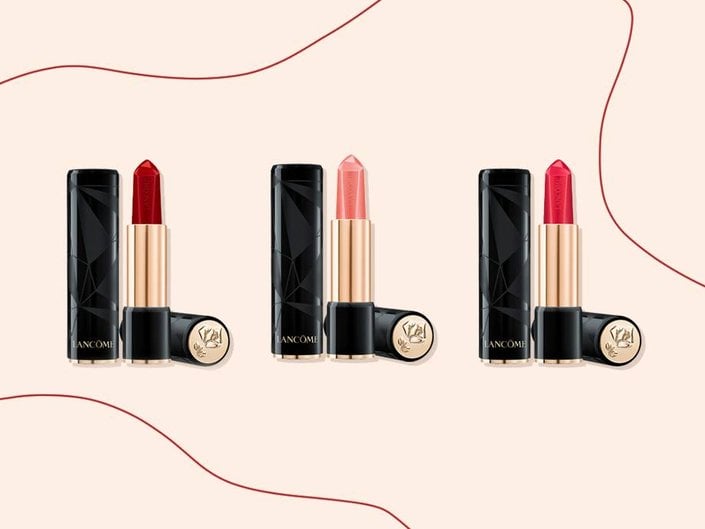 Get ready to completely fan girl — the Lancôme L'Absolu Rouge Ruby Lipstick collection is officially available and just hit Sephora. We're not sure whether to call them lipsticks or works of art, to be honest, because the products are more beautiful than words could ever describe. 
The highly-pigmented, luxurious lipsticks are inspired by — you guessed it — red rubies and pull from the precious stone's color and shape for their design. Each lipstick is safely housed in a crystal-shaped bullet, with the lipstick tip even resembling the beveled edge of the stone. With 12 new shades, ranging from rose, nude and red, the collection is universally flattering and will look just as good on your lips as it will displayed on your vanity. Rose flower extract in the lippies soothes and softens your lips, and the formula also locks in moisture to keep the color smooth.
Take a peek at all 12 shades ahead, and prepare to be in awe of their beauty. 
Lancôme L'Absolu Rouge Bad Blood Ruby
Lancôme L'Absolu Rouge Queen Ruby
Lancôme L'Absolu Rouge Kiss Me Ruby
Lancôme L'Absolu Rouge Rubiez
Lancôme L'Absolu Rouge Hot Pink Ruby
Lancôme L'Absolu Rouge Rosewood Ruby
Lancôme L'Absolu Rouge Vintage Ruby
Lancôme L'Absolu Rouge Coeur De Rubis
Lancôme L'Absolu Rouge Sunrise Ruby
Lancôme L'Absolu Rouge Pigeon Blood Ruby
Lancôme L'Absolu Rouge Ruby Star
Lancôme L'Absolu Rouge Black Prince Ruby
Read More:
5 Water-Based Lip Stains That Are Going to Be All the Rage This Fall
I Tried It: Lancôme L'Absolu Tône Up Lint Tint
Try This Hack for a Perfect Cupid's Bow Every Time
Read more
Back to top