A Guide to Finding the Best Makeup Brush Holder for Your Personality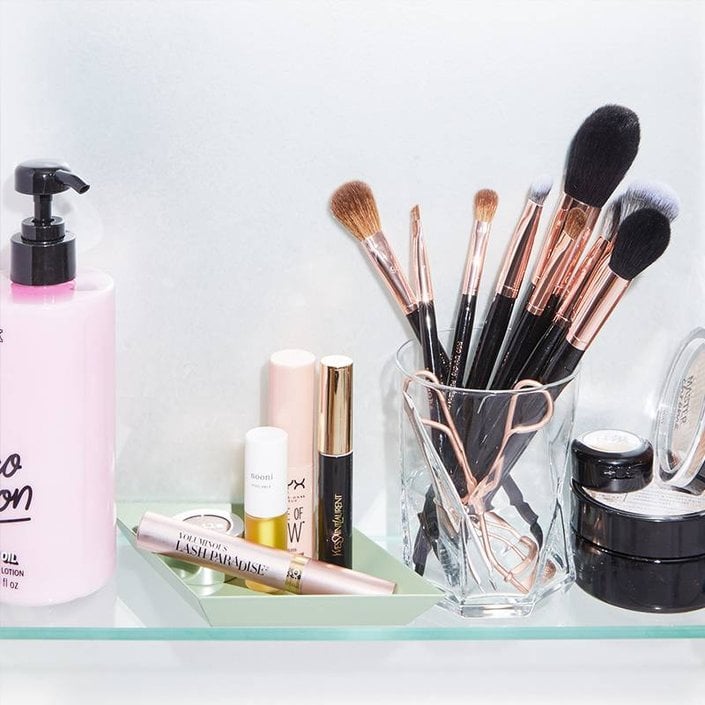 Makeup brushes aren't the type of beauty essentials you can give any old home — like the lip gloss or lip balm you've kept on the bottom of your purse for months now. Much like something you've treasured for a lifetime, they deserve to be kept safe from the elements. The solution? A makeup brush holder that'll keep 'em free from harm and double as some personalized art for your vanity.
Read on to discover the perfect makeup brush holder for you from Etsy.
-
To nail your chic Insta aesthetic…
For chic, Insta-worthy makeup brush holders, check out these black marble mason jars from PinaColadaCrafts. They come in four different shapes so you can either purchase one or covet them all for a stylish addition to your vanity. For extra detail, you can change the lid color of the mason jar to rose gold, silver gold or black.
If you believe that "organization is everything…"
If you're really good about giving all of your beauty products a home, chances are you'll love these wooden makeup brush holders from PopStash. Each holder is sold separately and you can get "face," "eyes," or "lips" engraved in cursive on the front of the product.
For the edgy makeup lover…
Meet the versatile skull makeup brush holder from tolkfactory you didn't know you needed. Choose from six colors ranging from black to pink. This one's also perfect for storing any additional beauty essentials. We recommend getting a variety so you can organize each one by color.
For the hipster mason-glass enthusiast…
Fall in love with these cute mason glass organizers from CountryHomeandHeart fit for organizing your makeup brushes as well as other beauty accessories like cotton balls or lip glosses. Choose from buying a set of two, three or four jars.
For the makeup lover intent on keeping things fancy...
These classy glass makeup brush holders from Khinspirations are an easy way to store your brushes in a luxe style without breaking the bank. Arrange them on a silver tray to make your space look extra chic.
If you're makeup obsessed and proud...
We have a feeling a lot of makeup lovers can identify with the sayings on BJuneCreations fun makeup brush holders (i.e. "lipstick junkie"). You can purchase the whole set of three or buy each one individually. There's even an option to purchase the tray along with the three makeup brush holders to complete your collection.
If you're a witty makeup lover...
Etsy shop elsieandnell creates makeup brush holders with witty beauty-focused quotes we can all relate to, some of our favorites including, "Success is the only option because I like buying expensive makeup," (as seen below). Others we love are "May your future be as bright as your highlighter" or "I don't even believe myself when I say I'll be ready in 10 minutes." The best part is they are super affordable.
Read More:
6 Essie Shades Inspired by Iconic Hollywood Actresses
6 New Eyeshadow Palettes That Are Worth the Money
Swatch Off! Here's What We Think of the New Urban Decay Born To Run Palette
Photography by Chaunte Vaughn
Read more
Back to top