How to Apply Liquid Eyeliner in 4 Easy Steps
September 13, 2023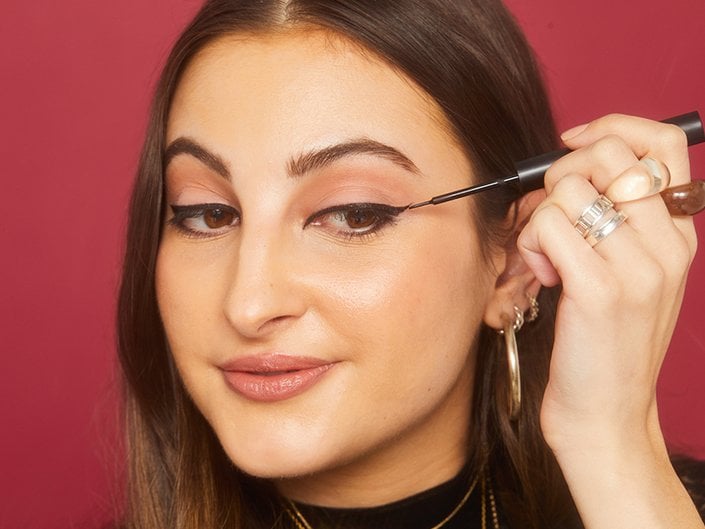 We'll be the first to say it: Liquid eyeliner can be very intimidating. Between thin, watery formulas, tiny brushes that are hard to control and trying to make both eyes look even, we totally understand why you might be hesitant about choosing a liquid formula over a pencil or a gel eyeliner. That's why we spoke with makeup influencer Hannah Lyne to get her tips and tricks on how to get the job done. Here's what we learned about the right way to apply liquid eyeliner, the different types of liquid eyeliner you can use, plus seven of our editors' favorite formulas.
What Is Liquid Eyeliner?
Liquid eyeliner is a highly pigmented type of eyeliner in a liquid, fluid form. It glides on easily, like paint, and is preferred over pencil eyeliners for its ability to make crisp, precise lines. Liquid eyeliner is typically used for drawing cat-eyes and intricate graphic eyeliner looks.
Types of Liquid Eyeliner
Brush Tip Applicators
Some liquid eyeliners have brush tip applicators, with a cluster of bristles that come to a point at the end. They're similar to a standalone eyeliner brush, but they come saturated with the liquid eyeliner. These are commonly used for drawing on precise, intricate linework, but they can also be used for a razor-sharp cat-eye. One example of an eyeliner that has a brush tip applicator is the NYX Professional Makeup Vivid Matte Liquid Liner.
Felt Tip Applicators
Other liquid eyeliners have felt tip applicators, similar to what you would find on a fine-tipped marker. While felt tips can't always create intricate graphic lines the way a brush tip can, they're extremely beginner-friendly and are great for creating a simple wing. The Lancôme Idôle Liner has a felt tip applicator.
Liquid Eyeliner Pens
These liquid eyeliners come in an easy-to-hold pen from. These are also a beginner-friendly choice because they're easy to maneuver and hold, much like a regular pen. Some even feature ergonomic curved shapes or rubber grips, like the L'Oréal Paris Infallible Grip Precision Felt Waterproof Liner and the Urban Decay 24/7 Inks Easy Ergonomic Liquid Eyeliner Pen.
How to Apply Liquid Eyeliner
Step 1: Pick Your Liquid Eyeliner Carefully
Creating the perfect cat eye begins with the liquid eyeliner pen you decide to use. Lyne recommends either the L'Oréal Paris Infallible The Super Slim Liquid Eyeliner, a slim, felt-tip pen that glides effortlessly across your lids and delivers bold color payoff that stays put for up to 12 hours.
Step 2: It's All About Anchoring
Grab your liquid eyeliner pen, and anchor your elbow onto a hard, flat surface. "The key is to make sure you have a steady hand when applying it, so resting your elbow on a surface helps a lot," says Lyne. This will help ground your movement and make your line more stable.
Step 3: Don't Just Close Your Eye – Open It, Too
"I always open my eyes and map out where I want to put my liner and how I want it to look before I shut my eyes to apply it, so that it doesn't just look good with my eyes shut," Lyne notes. As you drag your line across your upper lash line, (start about 3/4 of the way in) open and close your eye throughout, so you can tell how the liquid eyeliner looks as you go along.
If you have hooded eyes, you should keep your eyes open the entire time you line them — that way, you can more accurately assess how your line will look and ensure your wing is still visible below the hood of your eye. Try looking straight into your mirror to accurately map out your shape.
Another trick? Draw the line with a powder shadow and a liner brush first to get an idea of the shape before you darken it with a liquid eyeliner. "Using a mirror to look straight ahead with your eyes open, start elongating and sweeping out the liner softly to a point where you want the wing to go," makeup artist Shreni Patel shared in a previous Makeup.com article on hooded lids.
Step 4: Make Sure to Set It
Once your eyeliner is applied, Lyne reveals that the best way to keep it from budging is to make sure you set it with a matte powder eyeshadow. "I keep my eyeliner from smudging throughout the day by making sure I'm well powdered before applying — and then I set the eyeliner with a little black eyeshadow, which can help, too," she says. If you're wearing a brown or brightly colored eyeliner, the rule still applies — just set the line with a matte eyeshadow in a matching shade.
The Best Liquid Eyeliners
There's a reason this liquid eyeliner incited so much controversy when it was initially discontinued — and why makeup lovers everywhere were thrilled when it made its return. The formula is perfectly matte, the inkiest, darkest, most dramatic shade of jet black and it's shockingly easy to use even if you're an eyeliner beginner. Oh, and did we mention it's also available in a stark white and a variety of colorful shades, including a handful of pretty pastels? All that for under $10.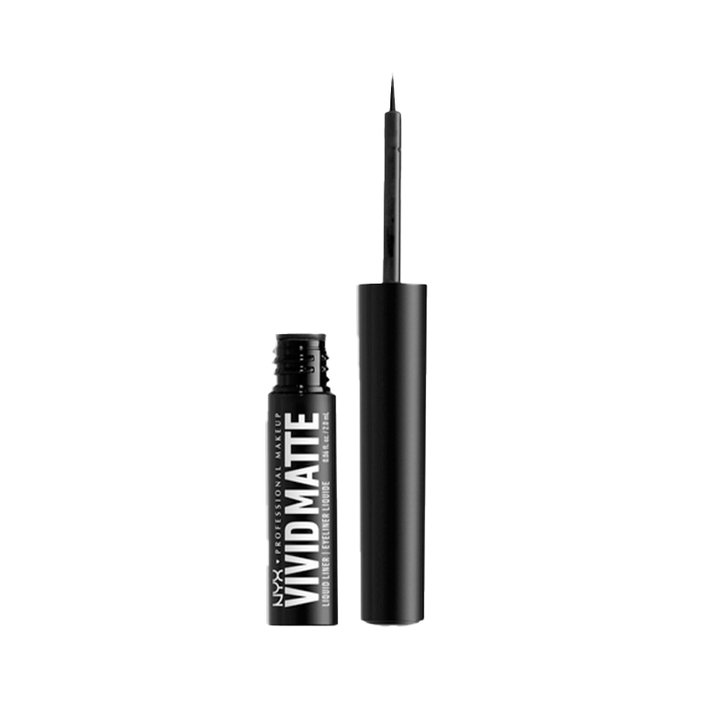 This dual-ended liner is just as delightful to use as it is to look at, with its bright, pinkish-red packaging and multi-use design. On one end, you'll find an opaque, jet-black liquid liner pen, while on the other, you'll find a creamy, easy-to-use pencil available in four shades (black, red, navy blue and brown). Both ends of the liner stay put for up to 16 hours without fading or smudging.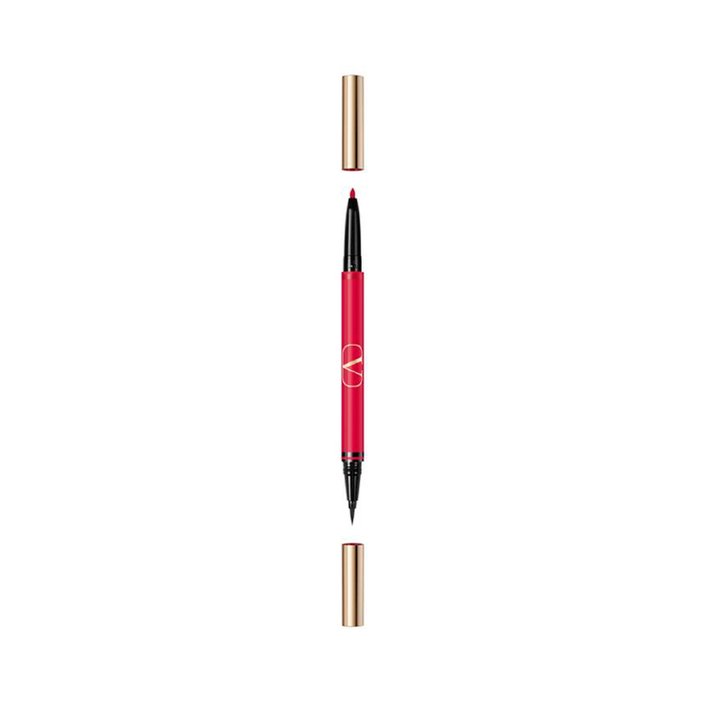 Get major impact and wear-time out of your wing with this waterproof, smudge-, flake- and fade-resistant liquid eyeliner pen. The ophthalmologist-tested formula provides a bold stroke of color that lasts for up to 24 hours and comes in three shades: a chocolate brown, a matte black and a glossy, patent leather-inspired jet black. The ultra-fine brush tip gives you maximum control over the looks you create.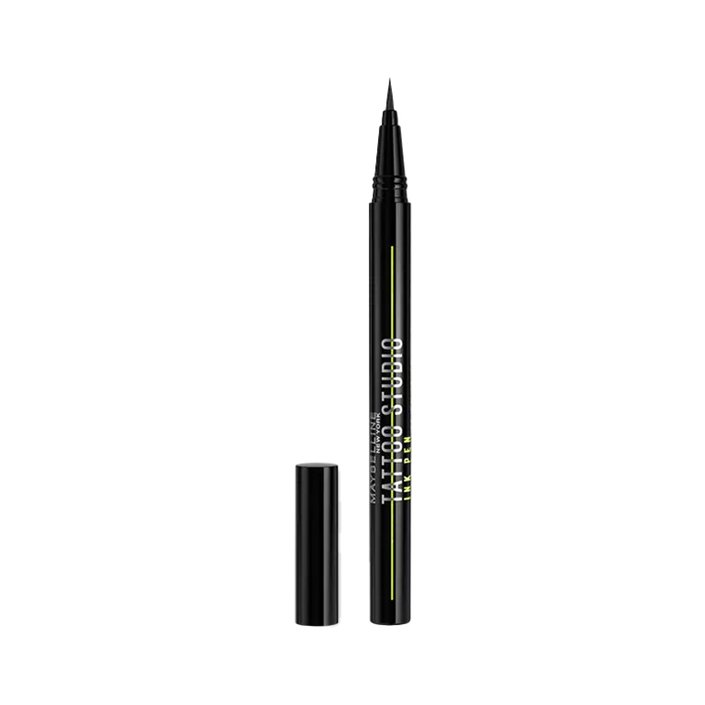 Are you new to using liquid eyeliner and are looking for a beginner-friendly formula to try? This is a great first pick — not only is the felt tip super fine and easy to control, the pen shape also makes it easy to hold and apply on any eye shape. Plus, thanks to the waterproof, 24-hour-wear formula, you won't have to contend with pesky smudges or fading throughout the day. Pick up the classic black and brown shades, or experiment with rich jewel tones like emerald green and deep-sea blue.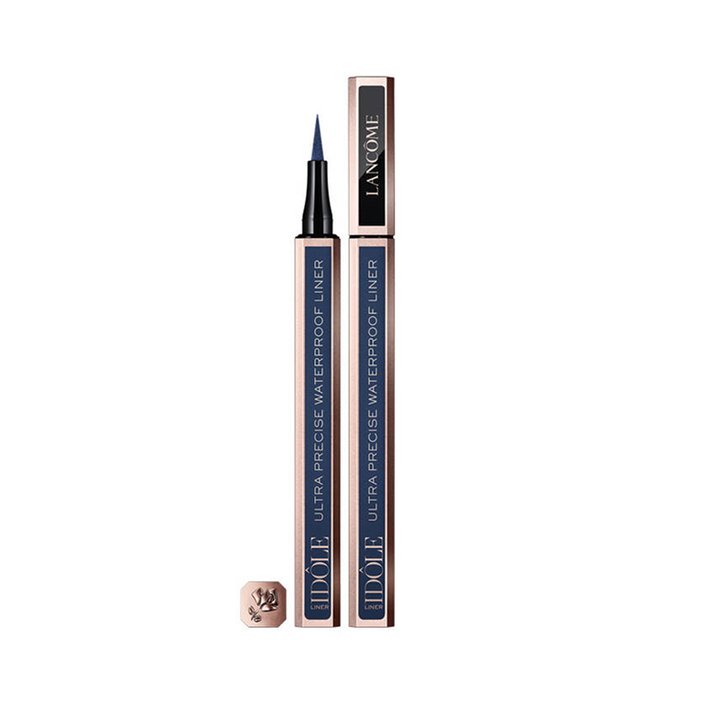 Not only is the liquid eyeliner pen ultra-black, waterproof and smudge-resistant, it contains conditioning ingredients like peptides, collagen, biotin and kaolin clay to keep your lashes soft and flexible. It's a combination of a fet tip and brush tip — the bristles are made of felt, so it glides on and deposits color in a smooth, even, easy-to-control line.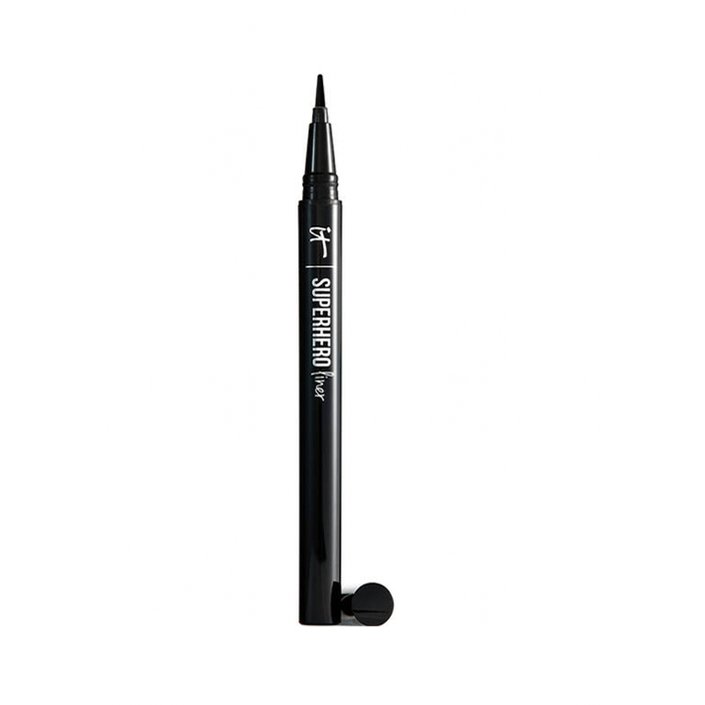 These liquid eyeliner pens, which were inspired by professional paint brushes, have an ergonomic shape that fits comfortably in your hand and allows you to create graphic floating eyeliner and wings with surprising ease. To use, shake the pen vigorously, like a paint pen, and apply as usual. This liner comes in nine shades, from classic neutrals to a vibrant teal, glittering gunmetal and banana yellow.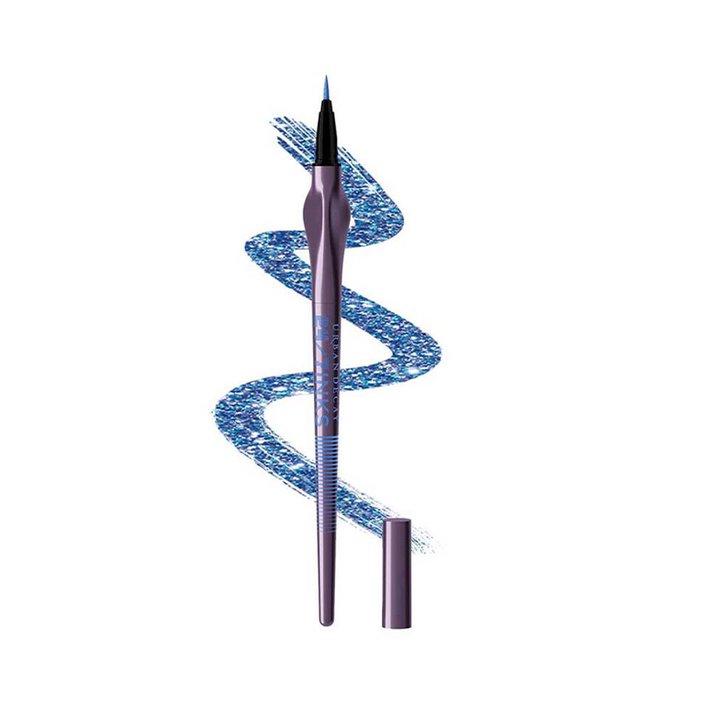 Looking for a drugstore liquid eyeliner that lasts all day and comes in a variety of fun, bold colors in addition to basic black, brown and gray? This pen checks all those boxes and more, with a rubbery, pencil-like grip, an ultra-fine tip and 30-hour wear. Each color is ultra-pigmented and bold, ophthalmologist-tested and gentle enough for sensitive eyes.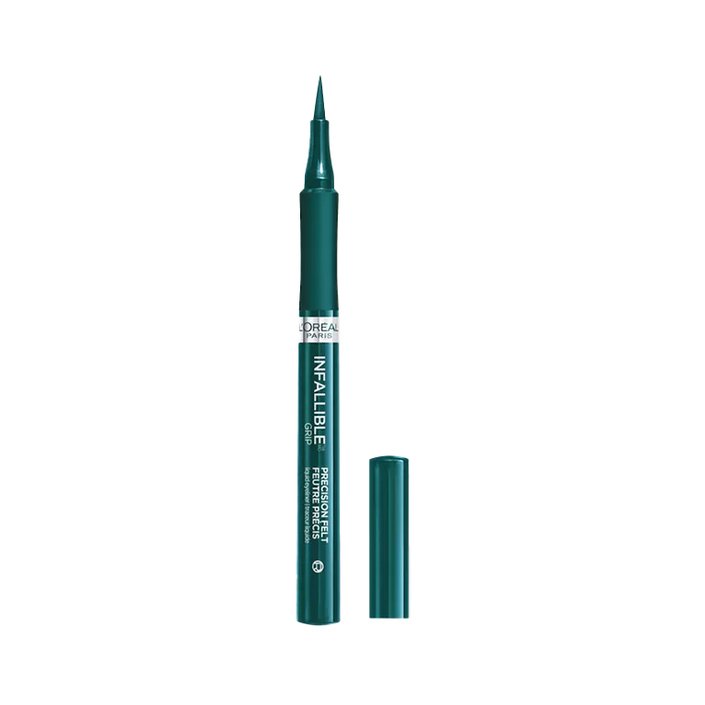 Read more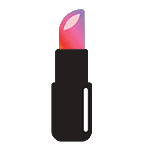 Back to top