If You Have Hooded Eyes, Bat-Wing Liner Will Be Your New Favorite Makeup Hack
October 24, 2019
Even though spooky szn is one of our favorite times of year for makeup — there are beauty trends we can take with us well past Halloween. Take bat-wing eyeliner, for example ( and no, we don't just mean drawing the eerie animal by your eye). Bat-wing liner is a makeup hack specifically used  for hooded eyes to help capture that winged-out cat-eye that addresses your crease shape. Ahead, NYC-based freelance makeup artist Kasey Spickard gives us the low-down on how to master the bat-wing eyeliner technique. 
What's the Trick to Mastering Bat-Wing Liner?
"The key to applying eyeliner for hooded eyes is actually the application of building the wing with the eyes open," says Spickard. To start, he recommends building the shape with black eyeshadow first, so you can clean up any mistakes. "Once you've built the shape, you can go back over it with a highly pigmented liquid eyeliner," he says. It's also important that you avoid building your bat-wing liner with your eyes closed. "You'll end up having a big mess on your hands," Spickard adds. 
Bat-Wing Liner How-To
Ahead, Spickard walks us through exactly how to get your bat-wing shape right. He recommends using a gel liner like the Maybelline New York EyeStudio Lasting Dramaand a fine-tipped eyeliner brush to get the look. 
STEP 1: Look straight ahead, and with your eyes open, from the outer corner of your eye, draw the bottom of your wing. "I like to draw the bottom of the wing as a natural extension of the bottom waterline," says Spickard. "Draw as far out as you would like for your wing." 
STEP 2: Keeping the eyes open, connect your wing by drawing your top line to the point of where your eyelid starts to crease. Because this is bat-wing liner and not a regular cat-eye, you're going to stop right there. 
STEP 3: Line the upper lash line as usual.
STEP 4: "Once you have these two components done, you'll see that there is a notch or gap without eyeliner where your lid connects with the brow bone," says Spickard. "You can slightly connect these two parts with a half-moon shape, leaving this open area without eyeliner." When you close the eye, you'll see the bat-wing shape. When it's open, it will look like a normal cat-eye.
Read More:
The Eyeshadow Stencil Makeup Tutorial You Have to Try
The Best Hydrating Lipstick for a Moisturized Pout
7 Powder Foundations to Add to Your Stash ASAP
Read more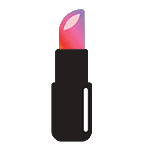 Back to top