The Best Blushes of 2019 — And Which Type Works Best for You
November 01, 2019
When was the last time you thought about your blush? Like really thought about it. More than likely, you're practically on autopilot, phoning it in as you quickly dust or blend it on your skin. For most of us, blush doesn't seem like a big deal at all. It's just that rosy stuff that bridges the gap between your lips and eyes. After all, those are the features that get the most attention when it comes to beauty trends.
But there's way more to blush than you think. When applied correctly, it's actually the unsung hero of your look. True, it can perfectly tie together an eye and lip look, but the right one can also warm up your skin tone and define and lift even the most non-existent of cheekbones. And let's not forget that's it's the only way to add a healthy flush of color to your face so that it looks youthful and glowing
So, what is the right blush for you? It's not just about color (though that matters, too — a lot. See below). To really reap the benefits of blush, you have to choose the right texture — powder, cream, mousse, gel, or stain — and apply it strategically. Here, makeup artist Gabriel Almodovar helps us break down your different blush options. Plus, we share our list of the best blushes out there.
First, It's All About Color
While it's tempting to pick the one that looks prettiest in its package, your perfect blush shade is the one that compliments your skin tone. It should be the hue you'd see on your skin if you were to actually, well, blush. Here, your top colors by complexion:
Fair: Pale, petal pink is especially pretty on fair skin with cool (pink or blue) undertones. If you have warm fair skin (with yellow or golden undertones), go for a soft peach shade.
Medium: Cool mediums look radiant in berry shades. The blue-based pinks flatter the blue tones in your skin. If you have golden undertones, opt for a warm apricot hue.
Olive: Rose is the perfect neutral shade for olive complexions, which tend to have a mix of warm and cool undertones.
Dark: If your dark skin has cool tones, try a deep berry or raisin hue. Brick (reddish-orange) or tangerine blush shades look radiant against dark skin with golden undertones.
Powder
What is it: Powder is the most common form of blush, says Almodovar. It usually comes pressed and in a compact, but some mineral brands package it loosely with a sifter to control the mess factor.
The payoff: This all depends on the pigment level in the powder blush you're using and how you're applying it, says Almodovar. But typically, powder blush can deliver an intense pop of color, or go on like a more sheer flush.
Apply it: Almodovar suggests a fluffy brush (try IT Cosmetics Heavenly Luxe French Boutique Blush Brush). Smile to find the apples of your cheeks (we know — it feels silly, but it works). Swirl it on the center of cheeks, and then sweep the color up your cheekbone toward your hairline.
Best for: Powder blushes are ideal for those with normal-to-oily skin. You may want to avoid it if you have dry skin. Adding powder to dry skin can accentuate things you don't really want to accentuate — like flakes and fine lines — says Almodovar.
Our favorites powder blushes:
Lancôme Le Monochromaique Blush gives you the best of both worlds: a cream-to-powder blush that glides seamlessly onto skin for a subtle flush of color.
Urban Decay Afterglow 8-Hour Powder Blush comes in 16 shades, ranging from more neutral tones to bright and vibrant hues. It provides blendable sheer coverage that boasts 8 hours of wear.
NYX Professional Makeup Ombre Blush gives you two shades in one compact, blended together for a gradient ombré formula. The light powder gives you radiant flush cheeks finish.
Cream
What is it: It may seem a little intimidating to work with, but this smooth and velvety formula gives skin a fresh, dewy-looking flush.
The payoff: Cream formulas tend to go on sheer, but you can build them up for more opacity.
Apply it: "I love to use cream blushes with my fingers," says Almodovar. He uses his thumbs because it's the largest pad of your fingers, but middle fingers work nicely as well. Work a small dot of cream blush into the apples of your cheeks using a circular motion.  
Best for: Normal to dry skin. "You get both color and a little moisture from the product," says Almodovar.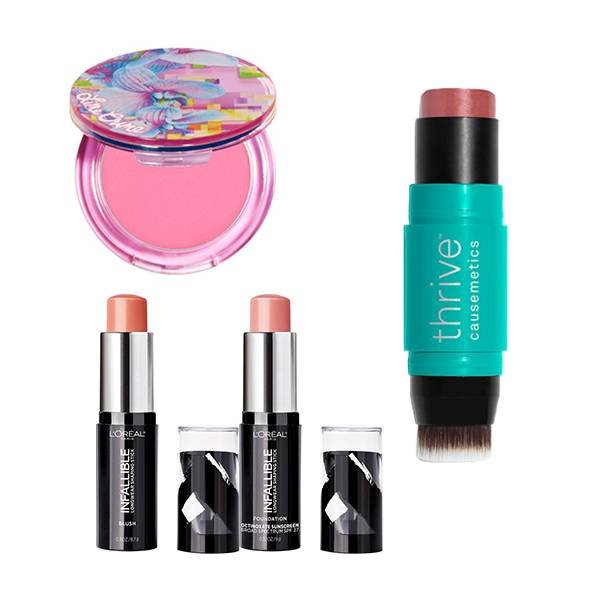 Our favorite cream blushes:
L'Oréal INFALLIBLE Longwear Blush Shaping Stick gives the appearance of naturally flushed cheeks with buildable, long-lasting color. The creamy formula glides onto cheeks for a smooth pop of color.
Thrive Causemetics Triple Threat Stick is a 3-in-1 product that can be used on your cheeks, lips, and body. The ultra-pigmented formula is waterproof and melts into the skin for easy blending with your fingers or the attached brush.
Lime Crime Softwear Blush gives your skin a glowing effect with its unique cream-to-powder formula. You can glide the product onto your cheeks with your fingers for a delicate touch of pigment.
Mousse
What is it: It's creamy, but not exactly a cream. Mousse blush has a whipped, fluffy consistency, much like the filling of a decadent dessert. Its lightweight texture is what makes the blush really easy to blend into skin, so it looks seamless.
The payoff: Like cream, mousse starts off pretty sheer but you can keep layering it to build up a more intense cheek look.
Apply it: Fingertips are all you need for this one. Pat it on the apples of your cheeks and blend up toward your temples.
Best for: Mousse works best on normal and dry skin types. Unfortunately, the lightweight texture doesn't stand much of a chance on oily skin — it disappears quickly.
 Our favorite mousse blushes:
Maybelline New York Dream Bouncy Blush delivers natural, luminous color that will last all day. It's lightweight like a powder, but the bouncy texture melts easily into skin.
Yves Saint Laurent Baby Doll Kiss Blush may look like just a lip gloss, but the sponge-tip applicator is great for dabbing a hint of rosy color onto your cheeks. The air whipped mousse leaves behind a sweep of color that highlights your cheekbones.
Gel 
What is it: Gel blushes can be solid (like a stick), or have a thick liquid consistency, much like hair gel. In both cases, the formulas are transparent with a tint of color.
The payoff: "Gel blushes are the sheerest of all blush products," says Almodovar. They offer just a touch of color, allowing your skin to show through underneath.
Apply it: Almodovar likes to apply gel blush with a synthetic bristle blush brush (because it won't absorb the gel formula like real hair bristles) or fingertips. Tap the formula onto the apples of your cheeks for a naturally flushed look. To pump up the intensity, layer your gel with a powder blush.
Best for: Gels typically work for all skin types. They look fresh on dry skin and thanks to their staying power, they won't fade too quickly on oily complexions.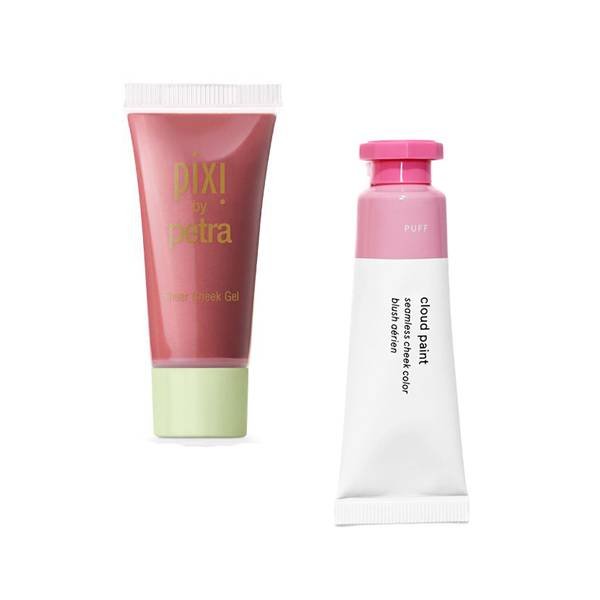 Our favorite gel blushes:
Pixi Beauty Sheer Cheek Gel is a sheer, translucent formula that gives you natural-looking color. It's available in three light, medium, and dark shades, and hydrates your complexion while you wear it.
Glossier Cloud Paint is a pillowy, gel-cream formula that gives you seamless, glowing-from-within, color with just a quick swipe of your finger.
Stain 
What is it: A stain has the most staying power of all blush formulas. It's usually a highly pigmented liquid, but it can also come in stick form.
The payoff: Don't be intimidated by the name — stains may seem intense, but they're typically sheer. Once they set, they stay put all day long.
Apply it: Our advice: work quickly! You only have a few seconds of play time before the stain blush dries. Almodovar says fingers are the best tools for stain formulas because the warmth of your fingertips warms up the product, making it easier to blend. You can place a stain wherever you would normally apply your blush, but Almodovar usually puts it on just the apples of the cheeks. A word to the wise: a little bit goes a long way. A small dab should be enough for one cheek.
Best for: Like gels, stains aren't really skin-type specific — anyone can wear one. Because of their longevity, stains are especially good for oily skin that can't seem to get a good grip on to other types of blush.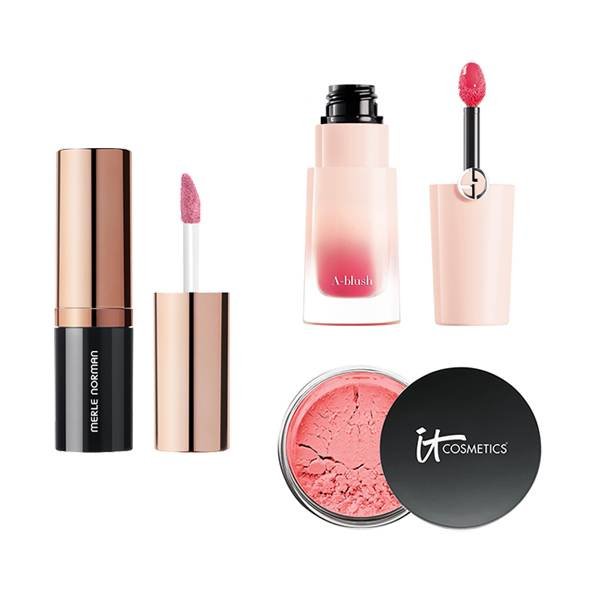 Our favorite stain blushes:
IT Cosmetics Airbrush Silk Anti-Aging Blush Stain is a powder-stain formula that delivers a silky feel that both hydrates and nourishes the skin during wear.  
Giorgio Armani Neo Nude A-Blush is a water-based liquid cheek stain that delivers blendable and buildable, healthy-looking color.  
Merle Norman Liquid Blush Stain delivers a silky wash of color. The stain formula is transfer-, smudge- and fade-resistant for all-day wear.