How to Style Your Cheapie Halloween Wig
October 08, 2019
Here at Makeup.com, Halloween is a big deal. Yeah sure, the candy is fun but let's be real — this is just an excuse for us to slay an entire Halloween look (sorry, not sorry). When it comes to our makeup, we either spend hours learning how to recreate the best spooky makeup on YouTube or we just book an appointment to guarantee a bomb Halloween makeup look because yes, it's that serious. Our outfits take months of planning. But our hair, well, you see that's the part we haven't 100% figured out yet. Whenever it comes to our Halloween wig, there is something about it that just falls flat — literally. That's why, to ensure our hair is on par with our makeup look, we tapped hair artist and the self-claimed Slay Gawd himself KahhSpence to help us with our wigs. Ahead, read on for his tips on styling your Halloween wig and take your costume to a whole new level. Halloween Wig Styling Tip #1: Lay Your Hair Flat Against Your Head Before You Put on the Wig The first part of ensuring a seamless wig application is to make sure your hair lays flat against your head before you put on your wig. "Before applying your synthetic wig, it's best to make sure your foundation is as flat as possible," KahhSpence says. If you have longer hair, he recommends braiding your hair as close to your head as possible before applying a wig cap. For those with shorter strands, you probably won't need to braid but make sure you're applying a cap as well. "Either way you put it, the foundation needs to be as flat and as seamless as possible." Halloween Wig Styling Tip #2: Buy Your Halloween Wig at a Beauty Supply Store To get the most natural-looking results, try avoiding Halloween stores when purchasing your wig. "They have really great synthetic wigs at your local beauty supply for affordable prices," KahhSpence says.  Halloween Wig Styling Tip #3: Use a Dry Shampoo  Use dry shampoo or a dry texture spray to get rid of any excessive shine that synthetic wigs tend to have. "This will definitely have your wig looking way more natural," explains KahhSpence. Halloween Wig Styling Tip #4: Avoid Curling and Straightening Irons "So many women think they can use heat on synthetic wigs and you can not." KahhSpence advises, "the easiest way to straighten or to add curl to a synthetic wig would be to blow dry the hair at a medium temperature or use rollers overnight. That is your safest bet." Halloween Wig Styling Tip #5: Try a Low Maintenance Hairstyle  "I like bob hairstyles for synthetic wigs as they don't require as much maintenance as longer hair," says KahhSpence. But he also recommends getting a curly styled wig because it can be hard to make a synthetic, straight wig look sleek.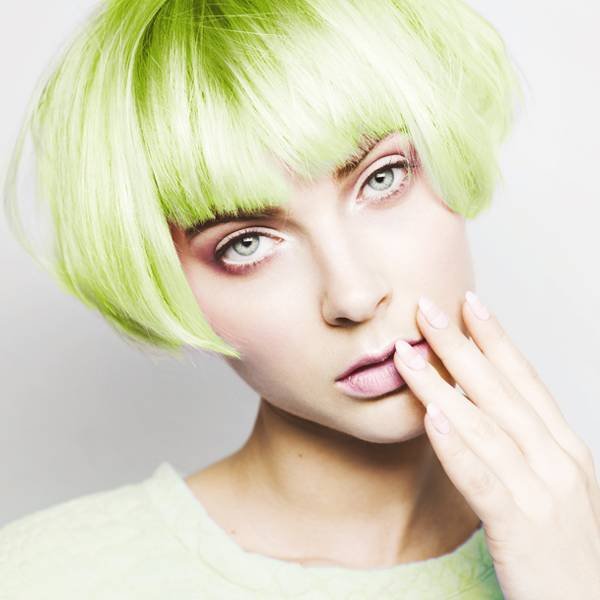 Halloween Wig Styling Tip #6: Keep a Brush Handy
If nothing else, keep a brush nearby at all times when wearing your wig because synthetic wigs tend to get tangled if not tamed, explains KahhSpence. 
Read More: 
WCW: Rochelle and Savana Peetoom Have Big Plans for Rob Peetoom Salons
How to Extend Your Blowout as Long as Humanly Possible
7 Fall Hair Colors Inspired by Your Favorite Coffee Drinks
Read more