Help! I Dyed My Hair at Home and the Color Is Too Dark
November 24, 2021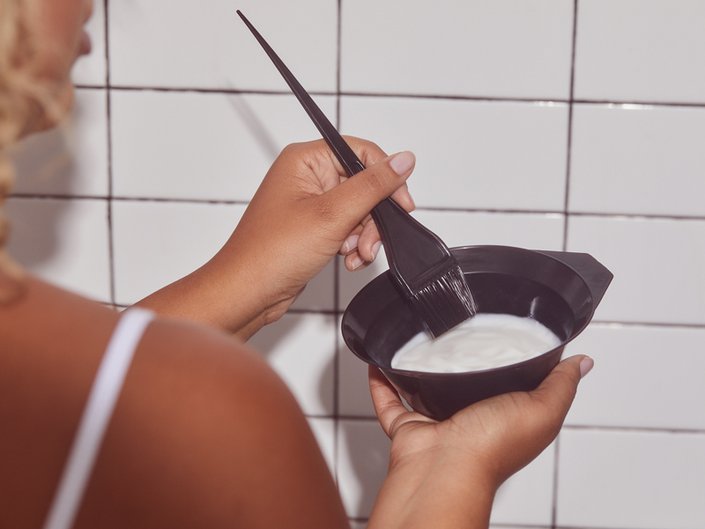 If you frequently color your hair at home, you're probably all too aware of the unpredictability of DIY hair dye. Sometimes it comes out too dark, sometimes it's too light and sometimes it's a completely different shade (like orange!) than you intended it to be. To achieve a shade that's just right, practice makes perfect, but there are things you can do to prevent hair color from coming out too dark and to fix it if it happens. Here, George Papanikolas, Matrix celebrity colorist, shares the biggest mistakes he sees people make — and how to avoid or remedy them.
DIY Tip 1: You Picked the Wrong Color
There are many factors that can contribute to your hair color coming out too dark, but the most probable cause is the box color you selected. "Most likely, you picked a darker color than you desired," says Papanikolas. "For example, people might think they have black hair, but really they have medium brown hair. On the color spectrum chart, there are ten shades — level one black to level ten pale blonde. Levels one to six are all brunette shades, so picking the right color can be tricky when you aren't a professional." Luckily, there are several apps and websites that can help you select the right shade at home, including the Garnier Shade Selector Tool and the L'Oréal Paris Hair Color Concierge.
DIY Tip 2: You Need to Hone Your Application Technique
"The second most likely factor is that you applied the same color from roots to ends," says Papanikolas. This is the wrong approach, especially if you are using permanent color. "Because the ends are more porous and have more color buildup, they can suck up more color and become inky and dark."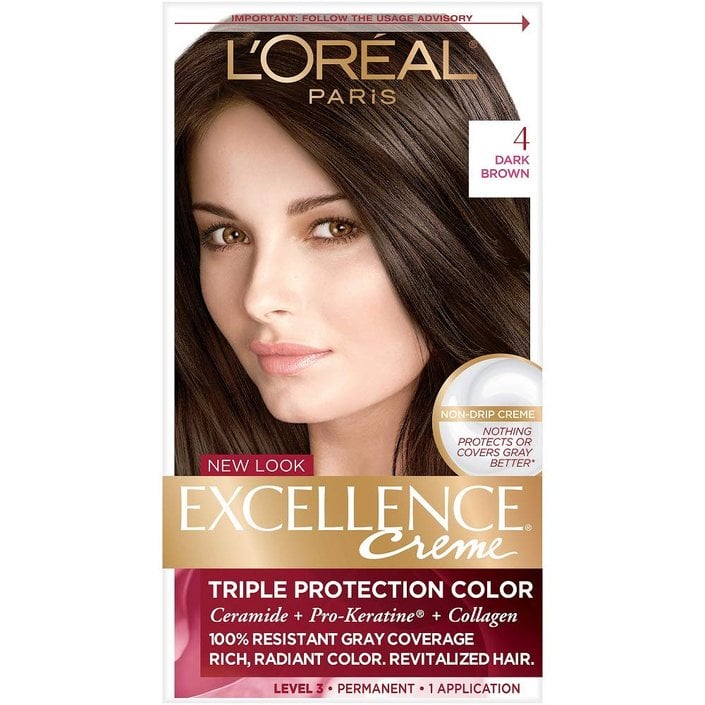 DIY Tip 3: Only Use Permanent Color on Gray Hair
To keep your hair color from coming out too dark, only use permanent hair color to cover gray hair and on your regrowth. "Refresh the ends with a semi-permanent gloss two to four shades lighter than the root color," advises Papanikolas. "You always want the ends to be a little lighter." One permanent box dye that's great for covering grays is the L'Oréal Paris Excellence Creme Permanent Hair Color.
DIY Tip 4: Use a Clarifying Shampoo to Lighten Color That's Too Dark
"Use a clarifying shampoo, warm water, say a prayer and be patient that the color hopefully fades over several weeks," says Papanikolas. Try the Garnier Fructis Pure Clean Hair Reset Clarifying Shampoo.
DIY Tip 5: Know When to See a Professional
"The only other way to quickly lighten the hair is by seeing a professional," says Papanikolas. "Your colorist can strip it out, and then go back over with the desired color. The process is too complicated to do at home and can be harsh and damaging to the hair."


Read more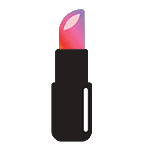 Back to top