Is Powder Shampoo the Future of Shampoos? We Put One to the Test to Find Out
March 16, 2020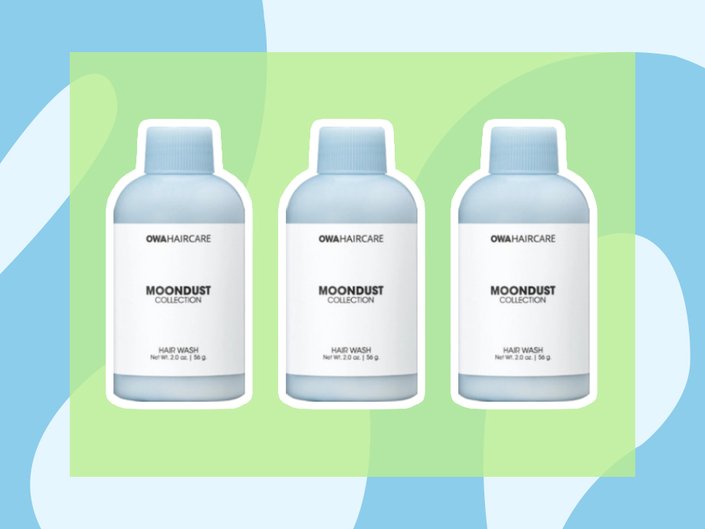 When it comes to my hair, I'd consider myself an experimentalist. I'm the girl who willingly cut ten inches off for the sake of an IG video, tested and loved shampoo bars (one of the most divisive beauty products out there) and I'd even be open to dyeing my virgin dark brown hair for the right price. So when I heard about powder shampoo, my immediate response of "wait, what?" quickly turned into "I need to try, ASAP." After giving it a shot, I have some thoughts. Read on for my full review.
What Is Powder Shampoo?
I first heard about powder shampoo after meeting with OWA Haircare, the brand that created the the water-activated hair wash. "Powder shampoo is essentially the same as your liquid shampoo, delivered to you without the water," says founder Kailey Bradt. On average, liquid shampoos are 80% water and come in large eight-ounce bottles. After one too many frustrating experiences of trying to squeeze all of her liquid hair products into her carry-on, Bradt decided to create a waterless formula that would clean your hair and be allowed by the TSA. "In addition to leaving out the water, a powder format allows us to leave out unnecessary ingredients, delivering you products that aren't diluted," she says.
Powder shampoos may also be better for the environment. "Waterless beauty products have a smaller environmental footprint across the entire supply chain," Bradt notes. That's because waterless formulas allow you to reduce your personal water footprint. Plus, the small two-ounce bottle it comes in allows the brand to save energy and materials in distribution, which means less fuel and packaging. But don't let these earth-friendly stats fool you — smaller packaging does not mean less product. "In one bottle of Hair Wash you get eight times the washes you would get from a bottle of liquid shampoo the same size," says Bradt.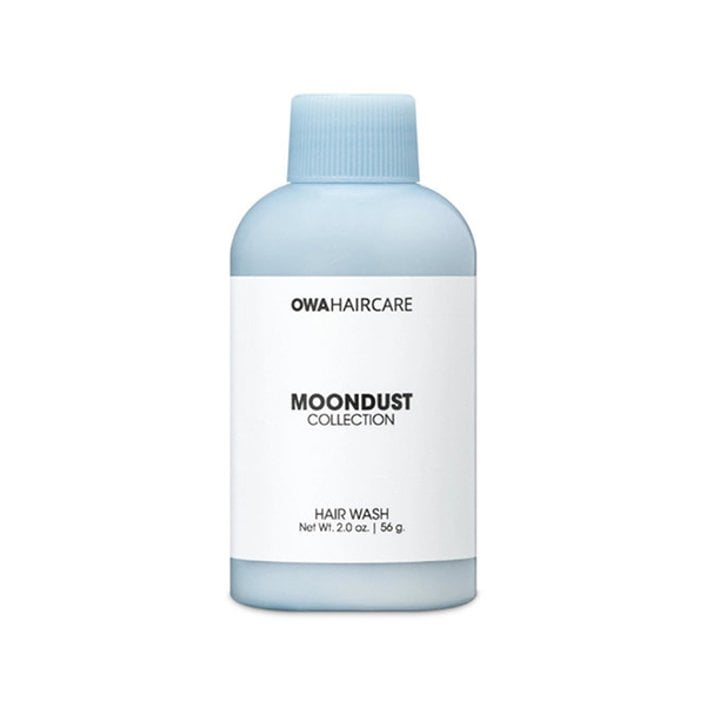 My Thoughts on Powder Shampoo
When I first went to use the product, I was going in with day-three hair that seriously needed a deep clean. While mildly skeptical of a powder shampoo's ability to do so, I was excited to see what would happen. While in the shower, I grabbed the small bottle and shook some of the powder onto the palm of my wet hand. I lathered the formula between my hands, and it quickly began to transform into a silky, sudsy texture. As I applied it throughout my hair, I quickly forgot that I was using a powder formula because the process of application didn't feel any different.
The brand recommends sprinkling a small amount evenly across your hands, but as someone with thick hair, I found that three to four shakes gave me the amount I needed to fully cover my strands. I also noticed that if you don't spread the formula evenly across your hand, it will clump together and take a little more lathering to fully suds up. While I normally follow up with a conditioner after a liquid shampoo, I decided against it for the sake of testing how the powder shampoo worked on its own. Once I rinsed out the product, I was pleasantly surprised to find that my strands felt clean but not stripped of moisture. I let my hair air dry as normal and noticed it looked more voluminous than usual. After about one week of use, powder shampoo has seamlessly become a part of my daily showering routine, and my hair feels really soft, even without conditioner. In fact, I find a leave-in conditioning spray afterwards is all I need for my hair to look and feel great.
Should You Try a Powder Shampoo?
Overall, I'm impressed with my powder shampoo experience. I will say, though, I worry that because I have thicker hair, I won't get the full amount of washes that the product promises, but even if I don't, I think there are enough additional benefits for me to keep using it. As someone who is an advocate for environmental sustainability, I think it's a great alternative to liquid shampoos, and the fact that it's travel-friendly is a huge plus for me because, honestly, there is nothing more stressful than packing beauty products, IMO. Ultimately, should you give powder shampoos a try? I say go for it. I think you might be pleasantly surprised, too.
Read more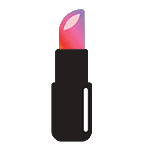 Back to top