Help! How Do I Protect My Color-Treated Hair From the Sun?
June 09, 2021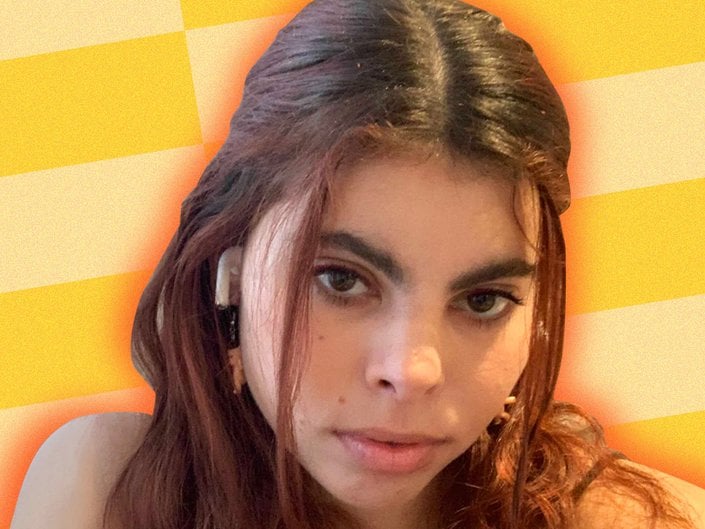 My fake blonde hair (I'm a natural brunette) is always tricky to maintain, but add summer sun to the mix, and my hair color is on the verge of becoming majorly brassy and super faded. On a mission to extend the life of my hair color, keep strands soft and protect my blonde during the summer months, I turned to the experts for some hair color-preserving tips. Ahead, hair colorists and Matrix ambassadors George Papanikolas and Michelle O'Connor reveal how to protect and refresh your hair color pre- and post-sun exposure.
How Does the Sun Affect Color-Treated Hair?
Everyone with color-treated hair should take caution in the sun. "The sun can change the color of your hair by degrading the natural pigment known as melanin, causing the color to fade," says Papanikolas. "Artificial hair is more delicate and fades faster with sun exposure, typically leaving you with unwanted tones." The hair color that is the most susceptible? Redheads. Papanikolas explains that their hair fades the fastest and bleaches out given the small color molecule used in dyeing. Brunettes have a tendency to fade to red and orange shades, while blondes can pick up brassy orange and yellow hues.
Aside from color concerns, the sunlight can also lead to a change in texture, especially if you have coarse or coiled hair. "Oil from the scalp doesn't naturally travel down the curlier hair strands, which are already susceptible to being dry," says O'Connor. "Add heat and UV rays from the sun into the mix and it can create not only fading color, but also extra dry and brittle hair." She explains that the sun's rays can act like bleach on the hair and damage the cuticle and protein structure.
How to Protect and Refresh Color-Treated Hair
Start With a Color-Preserving Hair-Care Routine
To extend the length of your color and protect your hair from sun exposure, using a hair-care routine specially formulated for color-treated hair is a must. O'Connor recommends the Matrix Total Results Keep Me Vivid line. "The gentle cleanse shampoo is sulfate-free, so it doesn't strip color molecules from the hair, and the conditioner aids in keeping your color sealed, while the lower pH makes each strand shinier by smoothing the cuticle," she says. Papanikolas loves the Velvitizer from the line, too. "It's a lightweight styling hair balm with smoothing capabilities and built in UV filter, plus it acts as a heat protectant," he says. "The color-protecting UV filter and heat protecting qualities are an extra benefit when you prep your hair before air-dry or blow-dry styling." We also like the L'Oréal Paris Ever Pure Moisture Sulfate-Free Shampoo and Conditioner as a drugstore option. The duo helps replenish hair with moisture, is sulfate-free and preserves color for up to four weeks.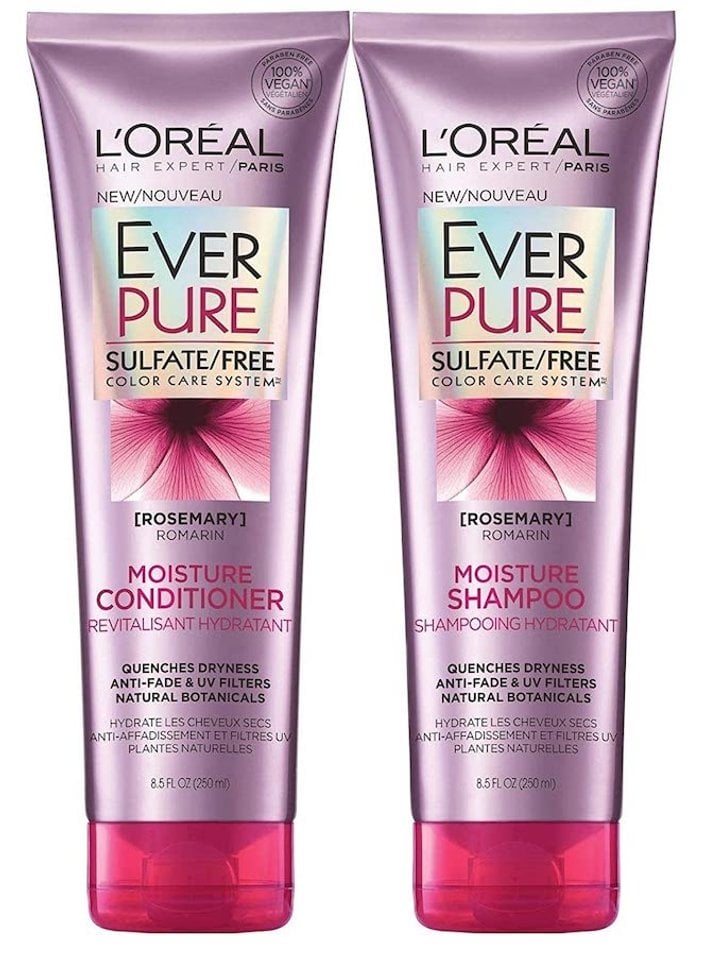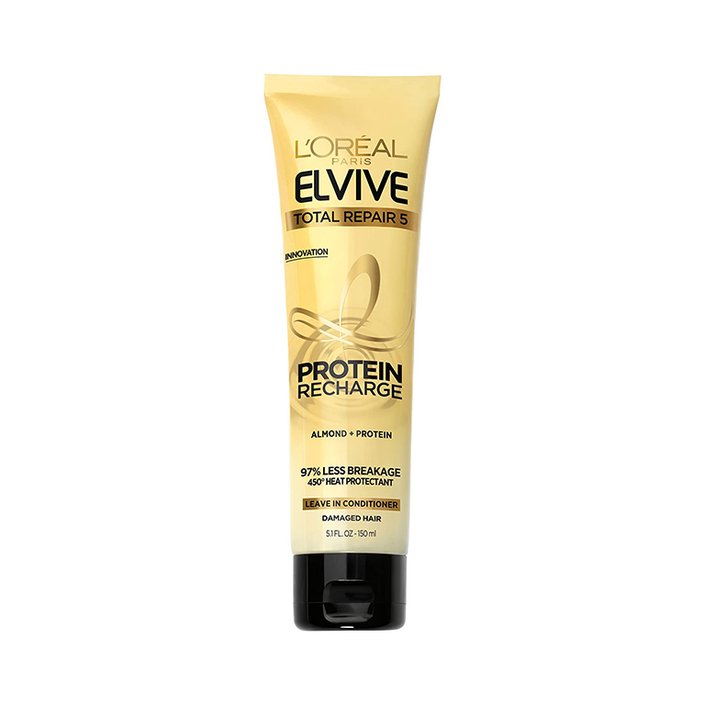 Cover Your Hair
The same way wearing clothes can prevent you from getting a sunburn on your body, shielding your hair color from the sun can decrease the chances of it picking up unwanted tones. "Put on a sun hat! It's an effortless way to protect your hair from the sun," says Papanikolas. Opt for a wide-brimmed one that's tightly woven as opposed to a straw option — it'll provide more protection from UV rays. Another idea? O'Connor recommends putting your strands up in a top knot instead of wearing them down. "This will not only protect your hair, but it will also shield your scalp from sunburn."
Use a Hair Sunscreen
Disclaimer: Using a hair sunscreen doesn't mean slathering your liquid face or body SPF on your hair. "SPF for your body and face is about protecting your skin from skin cancer, but you can't get cancer in your hair," explains O'Connor. "In this respect, a UV-protectant is more about protecting the quality and condition of your hair. UV protection will help prevent hair from drying out and color from fading." For a non-greasy option, we like the Rita Hazan Lock and Block Protective Spray.
Try a Color-Depositing Mask
Whether you left your hair down and exposed it to the sun or are just looking for a color boost, a hair mask is a great way to tone down brassiness and amp up color. "Because the sun can easily bleach out delicate toner molecules, a color-depositing mask is a good way to neutralize unwanted brassy tones and stretch out color," says Papanikolas. "I recommend the Matrix Triple Power Masks — they're heavily pigmented and will give you the closest toner experience you'll get in the salon." We also love the Color&Co Color Gloss Conditioner. It comes in six shades to subtly tint your hair. Just massage the product into your hair from roots to ends and leave it on for three to five minutes.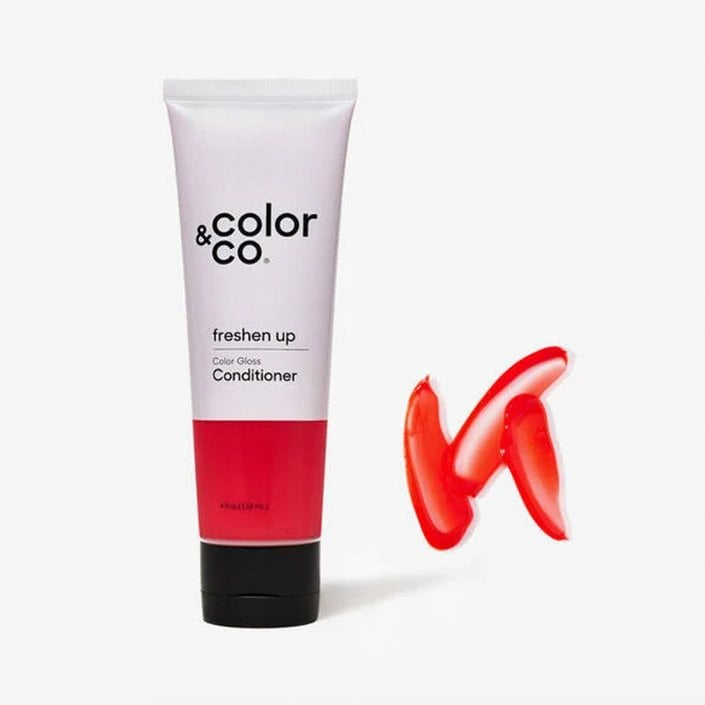 Photo: Becca Solovay, Design: Hannah Packer
Read more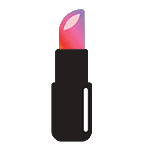 Back to top