How the Founders of Just B Cosmetics Are Making Lipstick More Inclusive
May 13, 2022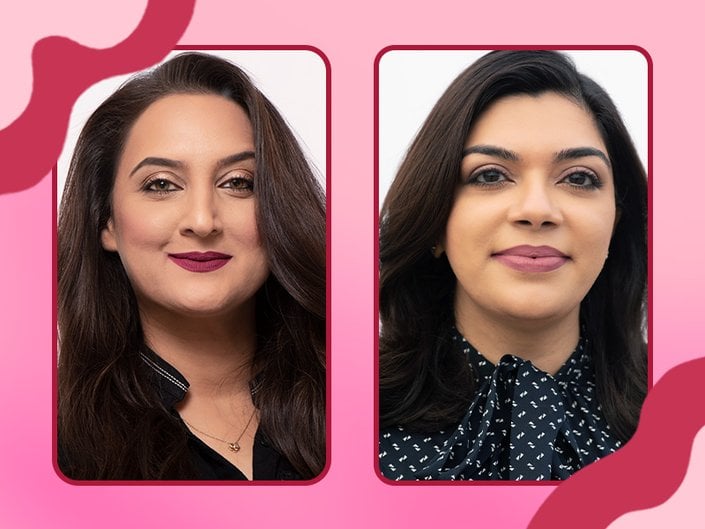 For Bina Khan, Madiha Chan and others across the South Asian community, finding a lip shade that complemented their skin tone felt impossible for years. According to Chan, many of her friends who are South Asian would play up their eyes because they couldn't find lip colors that worked for them.
"The right lip shade is difficult to find for brown skin," says Khan. "For us, it was key to bring this clear message that you can and should enjoy your lips."
That's why the professional makeup artist and Google engineer created Just B Cosmetics — a line of dual-ended, mix-and-matchable lip products designed for those with brown skin. Since launching in late 2021, the brand has strived to create a more inclusive beauty community. Below, Khan and Chan chat about the vision behind Just B and how their Lip Spectrums are making a positive change in the world.
How did Just B come to be?
Bina: I've been a makeup artist for 25 years, and in that time, I've been solving a problem that I didn't realize was so widespread — finding lip colors that work on brown skin. I started getting comments and messages like 'What was the lipstick you used on my wedding day? I've never found it again.' The thing is: It was never one lipstick. I would mix multiple products to get the perfect color for my Pakistani brides. That's how Madiha and I met: I did her makeup for her wedding.
Madiha: I put all my trust in Bina at the time [of my wedding]. Every lip color she put on me I loved, but I couldn't go to the store and pick them up because they didn't exist. There weren't any colors made specifically for those with brown skin. When Bina and I started chatting more about it seriously, we realized that a lot of women in the South Asian community internalize this problem. We're like: 'Oh, this is a great product, but it just doesn't work for me. Something is wrong with me.'
The lack of representation and the lack of available options created this vicious cycle. So, I wanted to solve the problem and knew that Bina would be able to help. We started Just B because we didn't see products that helped us and so many others see the beauty in their own skin.
The beauty industry has made strides towards inclusivity, but what do you think still needs to be done?
Madiha: It's one thing to say representation matters. It's another thing to make that happen. So while I agree that with some makeup brands that have been expanding their lines [shade ranges], I want my daughter to open a magazine and find someone that looks like her. That's what representation actually means. Not just color wise, but also age wise and different ways of life. At Just B, we feel and breathe representation in everything that we do. And we're trying to do that by being inclusive at the forefront, rather than as an add-on.
What truly sets the Lip Spectrum apart from other lip products?
Bina: I think the unique thing we brought is the concept of layering and having a spectrum. We're not saying, 'Here's your lipstick.' We're saying, 'Here's a spectrum to find your lipstick.' So we've given control to the customer while giving them very safe parameters to experiment with.
Madiha: What gets me really excited in the morning is deciding what lip I'll create that day. The problem is no longer, 'Is this going to look good on me?' It's more about, 'What do I want to do today?' It's about my mood and how I'm feeling. Today I mixed the pigment fluid Bougainvillea from the Not Just Magenta Spectrum with the pigment glaze Grapefruit Pink from the Not Just Peach Spectrum and created a happy accident. That's the amazing thing about the Spectrums. You can mix and match to create something totally unique.
Just B is all about women empowerment, which is something that Bina and I feel very passionate about. It's built on the whole idea of empowering, but with encouragement that you can create mixes that work for a set of people who have been under the impression that their skin has something wrong with them. To me, that's what makes it unique.
What was it like creating the brand during the pandemic?
Madiha: We started the company in February 2020, and 30 days later lockdowns started. Throughout this entire journey, Bina and I haven't been on the same continent, so we built the whole brand using technology wherever possible — through Whatsapp, Zoom and Google Hangouts. The name Lip Spectrum was decided over Whatsapp! We were constantly communicating, and as we were making progress, the pandemic was showing us ways to sharpen the brand.
For example, masks were becoming a norm, and we were coming out with a lip product. I would be lying to you if I said I wasn't scared. We questioned if people were even going to buy lip products. Then, we thought, 'Okay, we still need makeup for work calls. How do we create that?' Or, when we take our masks off and put them back on, how do we make sure our lips still look okay? We ended up creating colors that don't move around to address this.
My husband also created a 3D model of the Spectrum, and we overlaid different colors on the model to choose which Pantone we should use because we couldn't keep going back and forth with vendors. We had a lot of hurdles to jump through, but it all ended up working out.
The Lip Spectrum has seen great success so far, but what is next for Just B?
Bina: I'm very aware that lightning seems to have struck, you know, in a non-lethal way. We keep saying, 'Pinch me!' I think our customers are also along for this ride and are rooting for us because they're excited about the representation. So I feel like this is almost like a community project that we've done. All it takes is one swipe. And I literally see peoples' faces light up again and again.
Madiha: That said, we do plan on expanding the color range, but we're very selective. We don't want to add 40 or 50 shades to the line. A lot of our time actually goes into really nailing down exactly what we want to do next. We're figuring out how to bring makeup solutions to South Asian people. We want to play with the duality that we've discussed, but in a way that gives them pleasure and joy.
If people were to take away one thing from Just B, how do you want them to feel?
Bina: I mean it's in the name: Just be. Just be yourself. We want the brand to be your non-judgmental friend. Someone that you don't have to keep in touch with every day, but you can always go to that friend and can chat with them. It's not about fixing your flaws. It's just being comfortable in your own skin.
Photos Courtesy of Bina Khan and Madiha Chan
Read more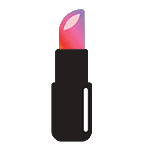 Back to top