Graphic Eyeliner Looks: Chic New Way to Wear Liquid Eyeliner
July 24, 2017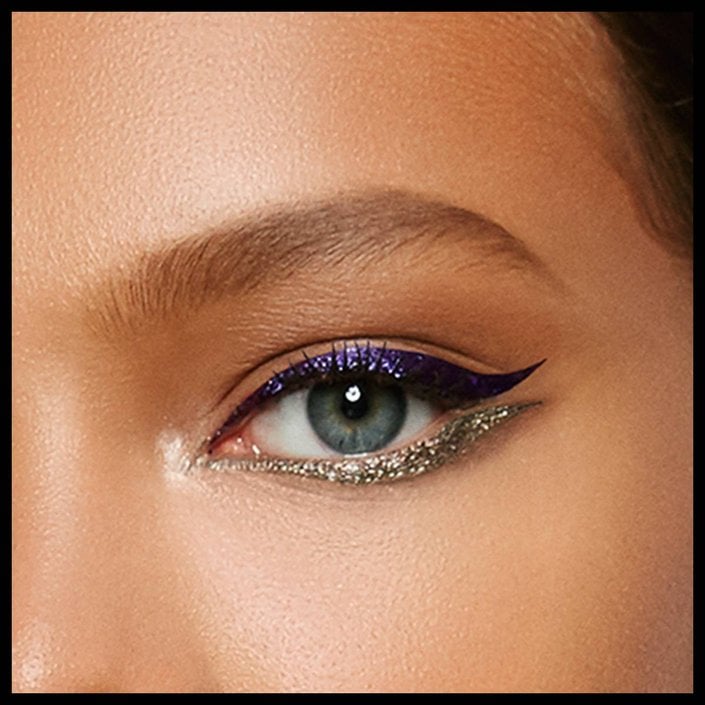 Eyeliner is really where budding artists get to play. After all, you may not draw a crazy design around your lips or pencil in a primary color on your cheeks, but you'll do all that and more when it comes to your eyes, especially when it comes to graphic eyeliner looks. We think we can all agree that graphic eyeliner looks are pretty much awesome—especially since you don't have to have the drawing skills of an architectural draftsman to get spectacular, eye-catching (heh, heh) results.
There will always be a time and place for a penciled-on smoky eye, but lately we've feeling partial to graphic eyeliner looks that use liquid liner. The reason? It's particularly cool as it gives you the precision you need to make sharp points or defined lines. And new versions of liquid liner are even easier to use than those of the past, which required a steady hand and a painstaking, often time-consuming application process. It's never been easier to draw on and head out the door.
In the past, we showed you how to create the dotted cat eye, followed by a reverse cat eye, which turned the bold cat eye upside down. Now we're bringing you winged eyeliner looks that involve not one, but two wings. With the right liquid liner, your graphic eyeliner options are endless—seriously. To prove our point(s), we're presenting you with not one, but two versions of the double wing.
Graphic Eyeliner Look #1: Cat with Wings
The first graphic eyeliner option is a simple, three-step, double cat-eye. Follow along with this tutorial to create your own take in always-chic black.
Step 1. Draw a Bold Cat Eye
Using a liquid eyeliner for definition, draw a bold cat eye along your upper lid and extend the wing upward and out.
Step 2. Create a Wing Along Your Bottom Lash Line
Using the same eyeliner, draw a second wing on the outer corner of your lower lash line. Keep cotton swabs and Maybelline New York Expert Eyes 100% Oil-Free Eye Makeup Remover on hand for wiping away any smudges.
Step 3. Apply Mascara
Add black mascara, and voilá, you're winging it in style!
Graphic Eyeliner Look #2: Two-Tone Lines
For the second graphic eyeliner look, we asked Maybelline New York Global Makeup Artist Grace Lee how to create yet another unrelentingly cool eyeliner look using two different brightly colored shades of Maybelline New York Master Precise Ink Metallic Liquid Eyeliner. Follow along with her how-tos and get your own sure-to-wow liner look!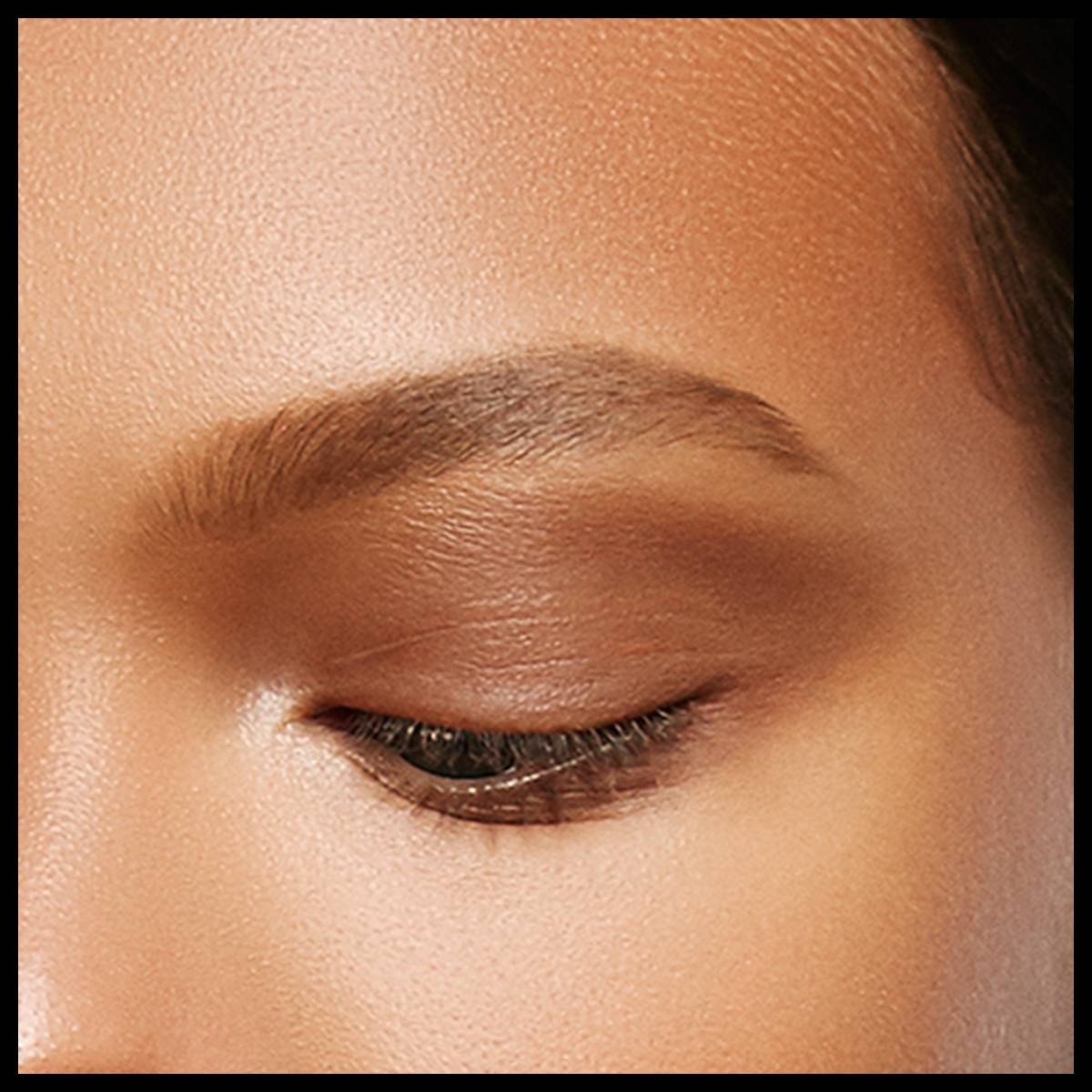 Step 1. Sweep on Shadow
Create a neutral base using eyeshadow (Grace likes Maybelline New York ExpertWear Mono Eyeshadow in Cool Cocoa or The Glo Down), sweeping it from lash line to brow. This will create a background so your colored eyeliner will really pop, as well as conceal any redness around the eye.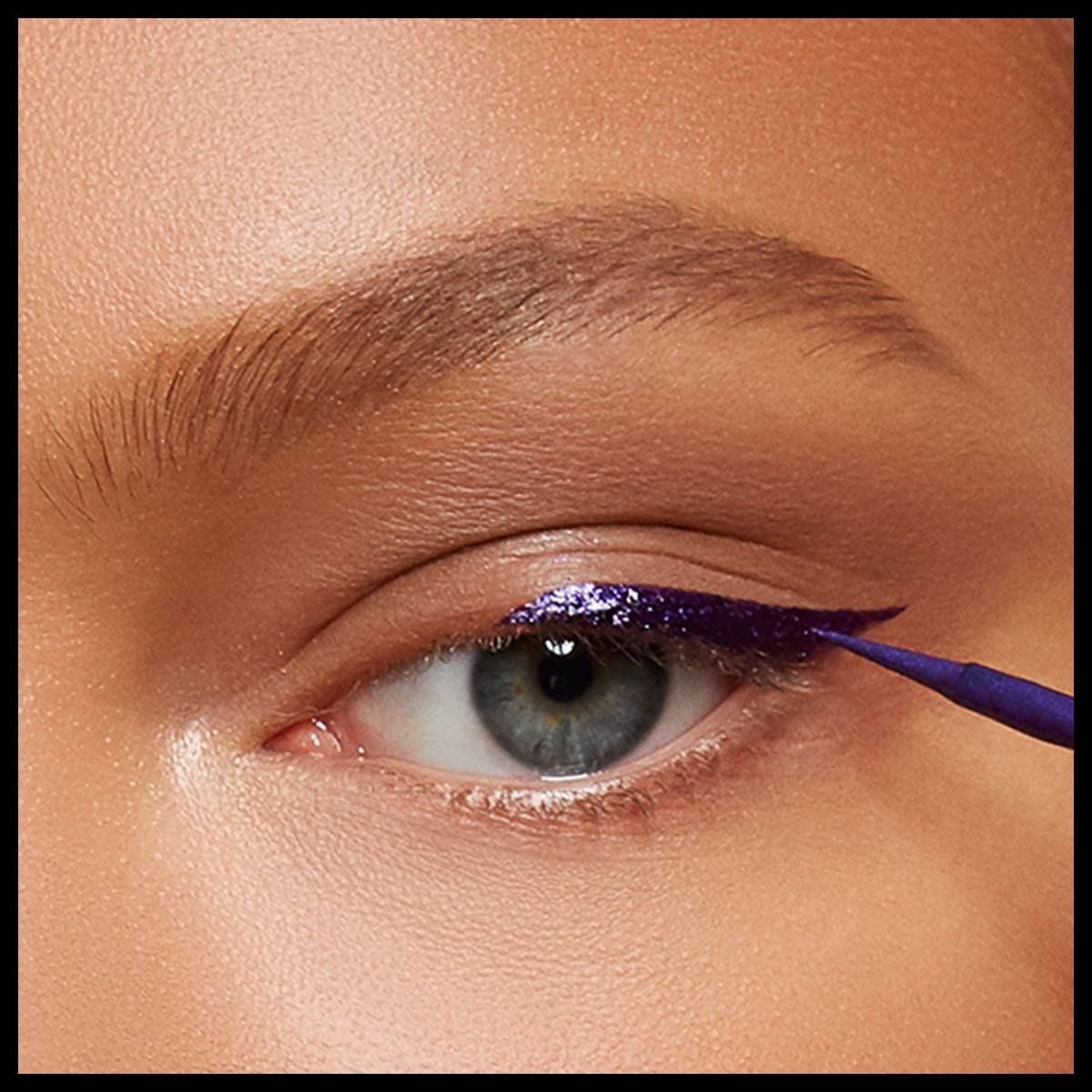 Step 2. Gently Line the End
Starting at the middle of the upper lash line, create a smooth, fluid line using small strokes of Maybelline New York Master Precise Ink in Cosmic Purple. You can accomplish the cat-eye tail end with a little upward flick.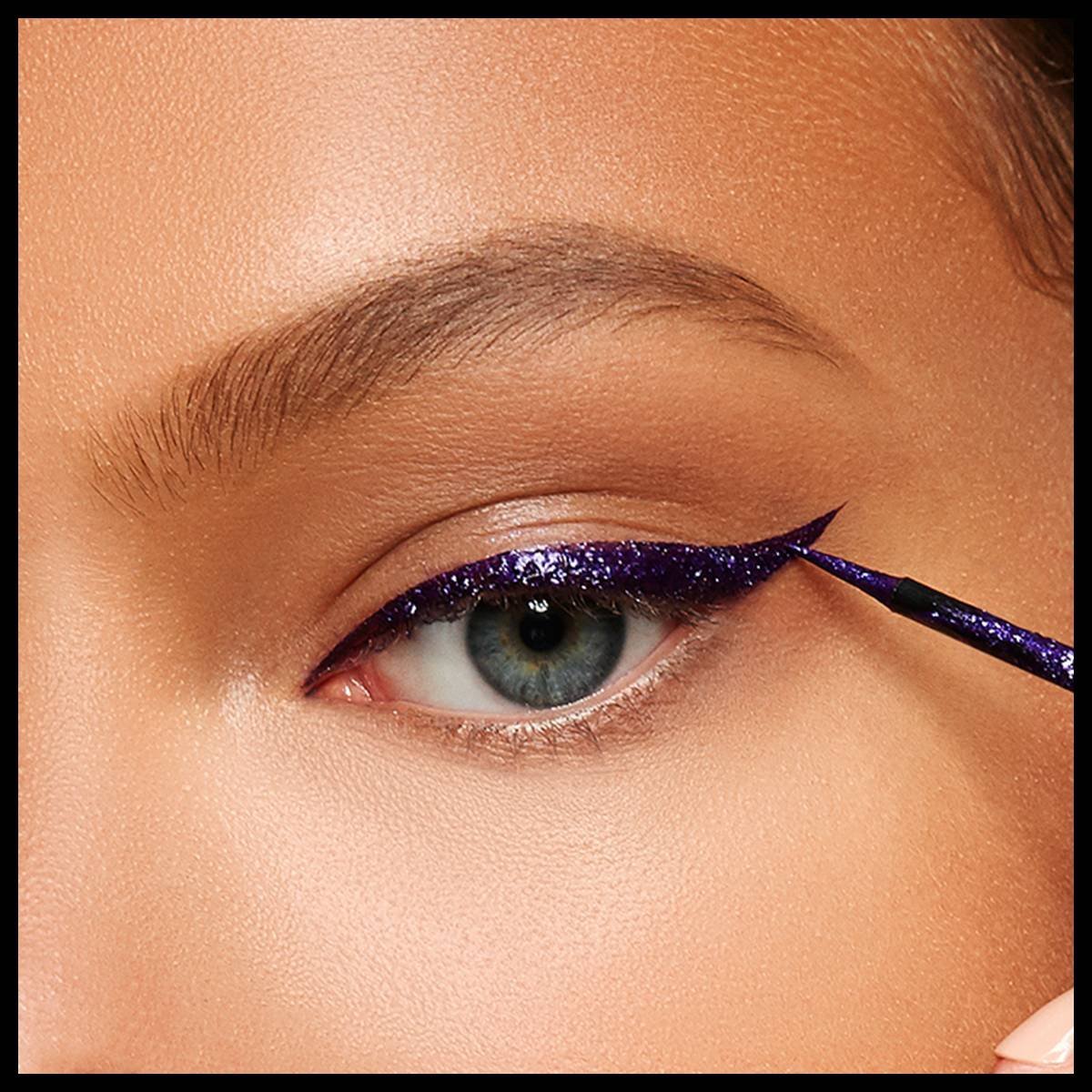 Step 3. Line From Inner to Middle Lash Line
Use your liner to trace along the upper lash line from the inner eye corner to the middle of the lid, meeting up with the line you drew in Step 2.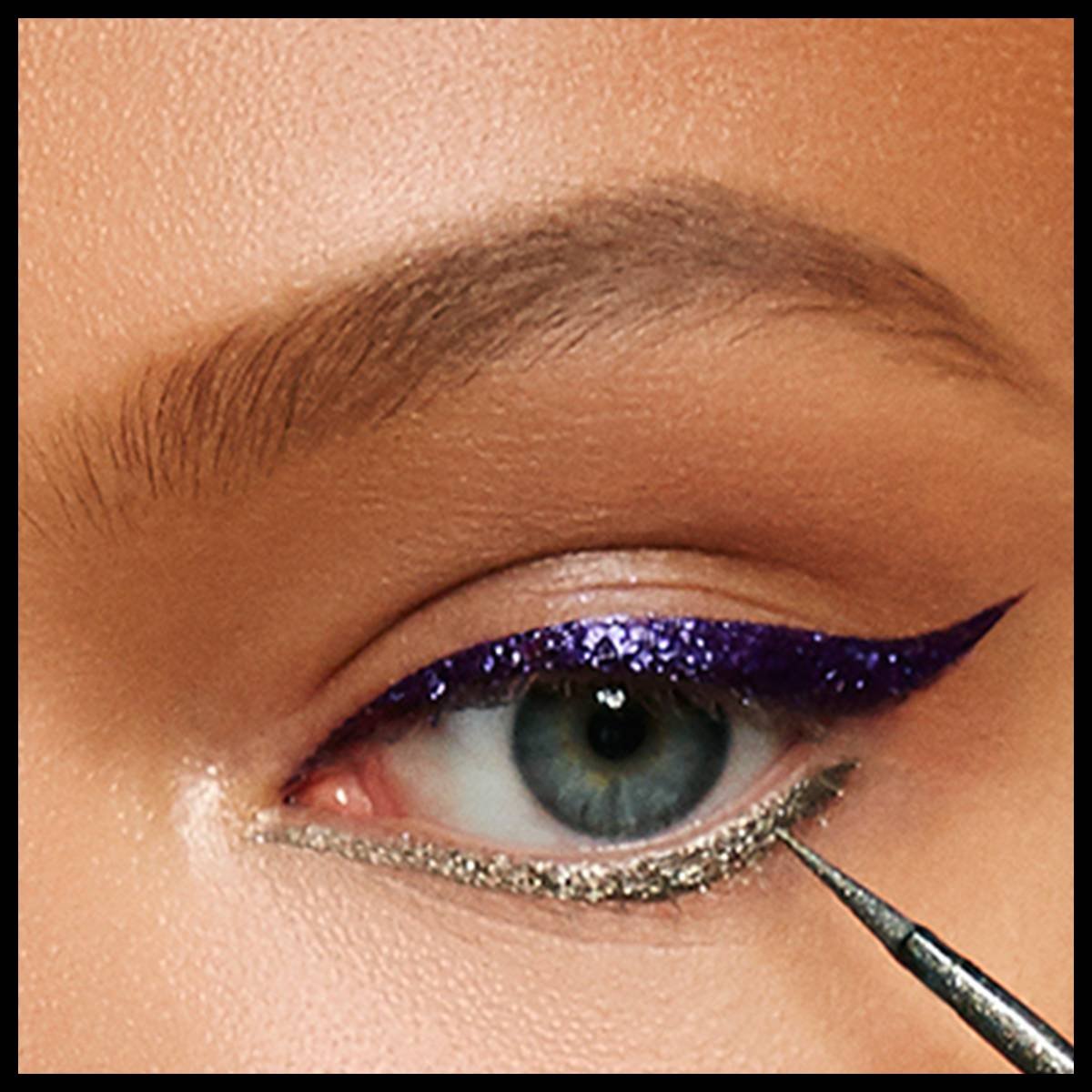 Step 4. Use a Pale Metallic Shade
Depending on how bold you want your go, choose either Maybelline New York Master Precise Ink in Stellar Sand or Solar Gold to draw along the lower lash line, starting at the inner corner and working your way to the outer edge.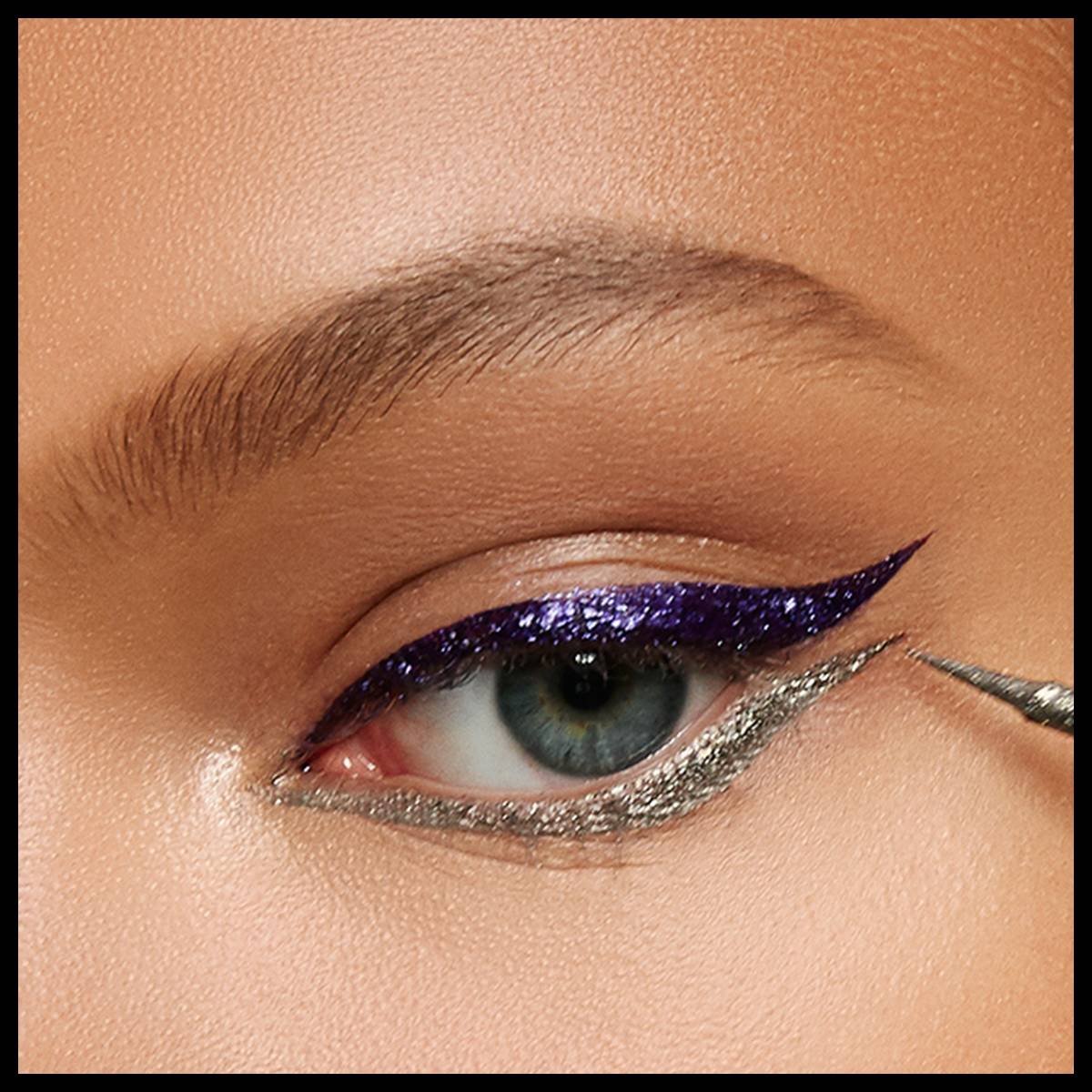 Step 5. Line and Flick Downward
You want to create a line that's almost the reverse flip of the line you drew along the upper lid, including the cat-eye flick at the tail. Use a pointed cotton swab to clean up in between the lines and sharpen the edges.
Step 6. Add Highlight
Add brightness to the inner eye corners with a touch of highlighter (try Maybelline New York ExpertWear Mono Eyeshadow in The Glo Down), and finish off with a couple coats of Maybelline New York The Colossal Big Shot Mascara in Blackest Black on the top lashes only.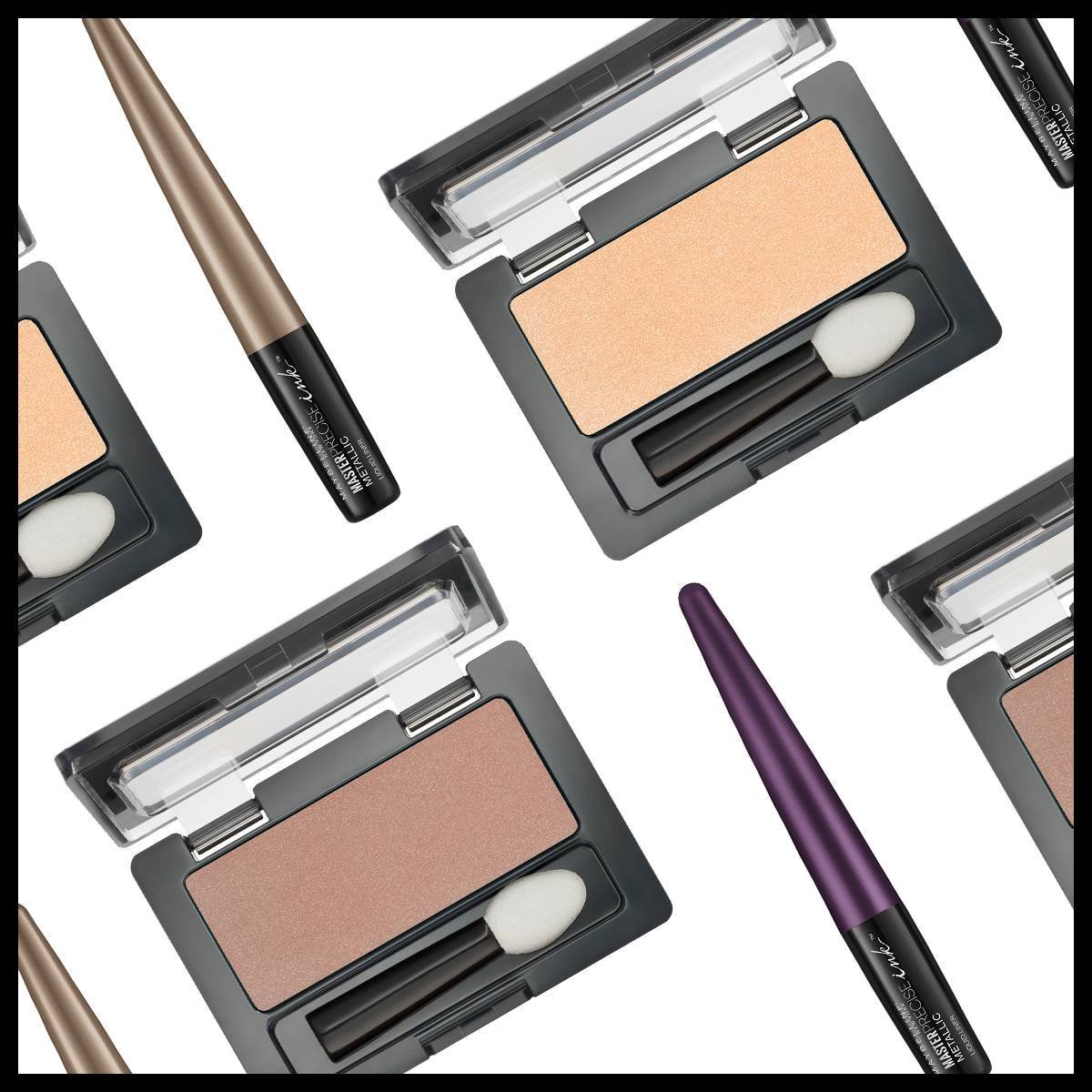 Graphic Liner Pro Tips and Tricks
Now that you have the smooth moves to create a number of graphic eyeliner looks, here are other insider tricks, and need-to-know beauty tidbits.
Play by The Rules.
"Make the statement all about your graphic liner, by keeping everything else on your face pretty neutral, so the liner is the hero," says Lee.
Best in Class.
As far as the ideal type of liquid liner to use, Lee swears by the Maybelline New York Master Precise Ink version. "They have so much pigment and make it super easy to achieve a precise line," she says.
Lose the Layers.
Lee advises against laying down several coats of liner when drawing your design: "When your liner has enough pigment, you don't need to."
Perfect Pairings.
For our blue-eyed model here, we used purple and gold liners. According to Lee, another option would be Maybelline New York Master Precise Ink in Solar Gold along the top lid with Stellar Sand on the bottom. But the fun isn't limited to those blessed with blue eyes! Those with brown irises would look fantastic if they tried Maybelline New York Master Precise Ink in Black Comet on top and Galactic Metal down below. For green or hazel peepers, reach for Maybelline New York Master Precise Ink in Cosmic Purple to line the upper lid and Violet Nova to do the lower one.
Mix, Not Match.
Feel like using a shimmer on your top lids and a cream on the bottom? Totally cool, says Lee. Textures don't need to be the same for the double play to be a hit. (Of course, if you want to use the same finish on both upper and lower lids, that works, too.)
The Shape of Things.
Good news: The dual-liner look works for any eye shape, as long as you make some modifications. If your lids are flat, just make the top line slightly thicker, so that it doesn't disappear when your eyes are open. For hooded lids, exaggerate the cat flick on the ends, so the effect of the liner isn't lost, says Lee.
Be Gentle with Yourself.
The great thing about liquid liner is that once it sets after a minute or two, it really sets. As in, not going to smudge, run, or otherwise come off. But that also means removing it isn't as simple as washing your face. Instead of rubbing and tugging at your delicate eye skin, saturate a cotton pad with an eye makeup remover like Maybelline New York Expert Eyes Moisturizing Eye Makeup Remover, then hold the pad against your closed lid for a few seconds before wiping down. Repeat, if necessary, until all traces of liner are gone.
**
Do you love winged eyeliner looks as much as we do? Share in the comments below!
Read more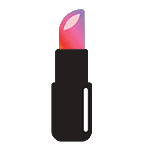 Back to top