How to Enhance Your Dimples With Makeup
December 09, 2020
The appeal of dimples cannot be denied. These cute little pockets on either side of the cheeks are deeply charming. If you're one of the lucky people born with dimples, there are ways you can augment and contour them with makeup to really make them shine. And if you don't have a dimple in sight, you can totally fake them, just as you can create faux freckles or the illusion of fuller brows. Whichever camp you fall into, we're sharing our dimple-enhancing tips below.
Use Eyeshadow to Contour Dimples
To make your dimples shine, a little contouring never hurt. Try grabbing a small, pointed makeup brush with an eyeshadow that's one to two shades deeper than your natural skin tone, and lightly fill in your smile pockets, being sure to blend the pigment out.
Watch the Placement of Your Blush and Highlighter
The trick to making your dimples stand out is to concentrate the rest of your face makeup elsewhere. So when using blush and highlighter, for example, apply the product toward the center of your cheeks and temples so it doesn't fill in your dimples unnaturally.
Fake It Until You Make It With a Pencil
If you aren't #blessed with dimples, fake it until you make it with a pencil and some shadow. Grab one of your favorite brown brow or eyeliner pencils like the
L'Oréal Paris Makeup Le Liner Signature Mechanical Eyeliner in Brown Denim
and lightly draw a half circle about an inch away from each end of your lips. Blend it out slightly with a brush to bring your fake dimples to life.
Read more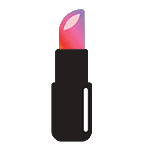 Back to top