The Ultimate Work Makeup Kit
July 13, 2017
Office life can be draining. And whether it's because of the countless meetings you barely made it through or the never-ending flow of pizza and donuts, an eight-hour workday can sometimes feel like an 18-hour one. However, that doesn't mean those sulky feels should be showing on your face! That's why celebrity makeup artist Stevi Christine, is here to explain the most flattering makeup bases for each work occasion, as well as the ultimate makeup kit you'll need to keep your game strong throughout the day.
Arm yourself with these office-friendly face guides and beauty essentials to keep your look fresh long past EOD.
Everyday Work Look
It takes just six products to achieve the most universally flattering office look, Christine says. Start with a tinted moisturizer to cut redness and infuse illumination to dull, cranky skin. Use a wand applicator to easily pat concealer under eyes and over discoloration peering through the tinted color. For stellar coverage, apply a dot of the hue over offending areas, let the concealer dry in place for a minute or two, and then blend. A little cheerful bronzer or blush will go a long way with that whole, "dress the way you want to feel" mantra. "But if you wear bronzer year-round, make sure to change the color per season as your skin tone will change," Christine added. Use a touch of brow pencil for strong arches followed by two swipes of mascara on lashes. Finish it off with a lip tint that can later double as a cheek and eye touch-up tool.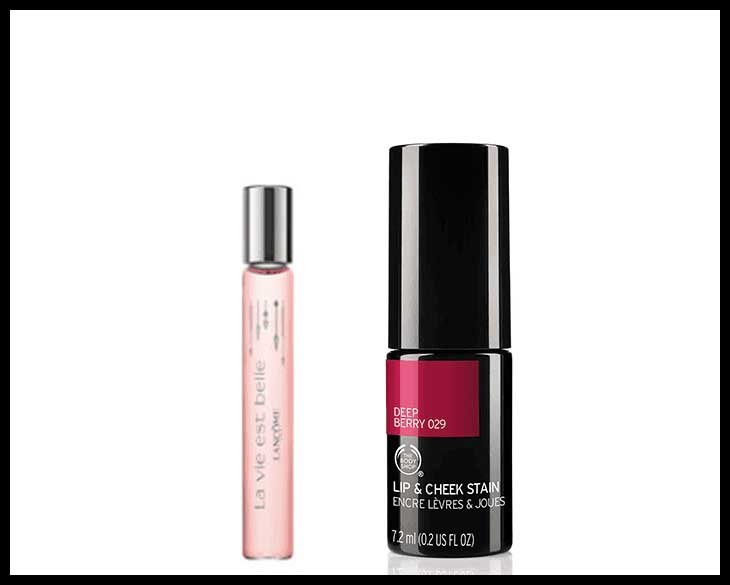 Keep in your desk:
1. Lip & Cheek Stain: The Body Shop Lip & Cheek Stain
Dab a bit of color onto your lips and the apples of your cheeks throughout the day for an instant, put-together look!
2. Hair Ties: Some days, a gal just has to get her hair out of her face. Buckle down for that presentation your client asked for at 5 p.m. and put your hair up in a chic, high pony!
3. Brow Gel: Maybelline New York Eyestudio Brow Drama Sculpting Brow Mascara
Because when brows start to go haywire, it seems like everything else is OOC. Groom your twin peaks with a matching brow gel to face your coworkers – and finally tackle that stack of papers – with organized confidence.  
4. A Rollerball Scent: Lancôme La Vie Est Belle Rollerball
Last-minute fire drills are enough to cause a girl to sweat! Mask the scent of stress with a fragrance strategically applied to wrists, neck and anywhere else that could use a little aromatherapy.
Fake-Awake Work Look
Whether you were up late crunching numbers on Excel or out socializing with friends (no judgments!), there's an easy way to fake that you got the whole eight hours of sleep. Play up those lips, Christine said. "A pop of color fixes everything." Use the same steps as above but instead of spreading a lip tint over your mouth, opt for a bolder lip look. And use your eyes as a guide to selecting the most flattering swatch. "If you have brown eyes, try a cranberry shade," Christine said. "With blue eyes go to corals or pink hues, which will bring out the aqua in your eyes," she added. And green or hazel eyes perfectly pair with a bright brick lip hue.   
Bonus tip: Click here for a complete list of crimson lipsticks that made it into our Beauty Haul of Fame.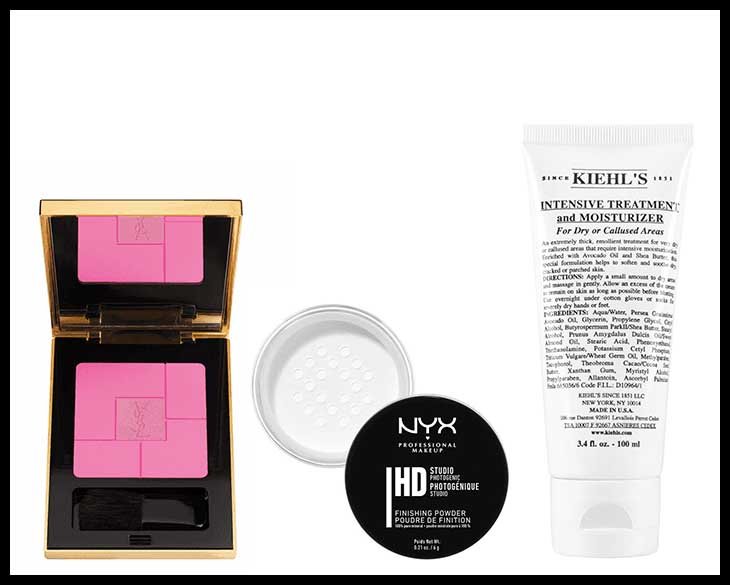 Keep in your desk: 
1. Oil-Absorbing Powder: L'Oreal Paris Infallible Pro-Matte Powder
A lack of zzz's and a stuffy, warm office environment sometimes causes your makeup to take a turn for the worst. Keep a compact handy to banish shine or cover up any surprise zits.
2. Dry Shampoo: Redken Pillow Proof Blow Dry Two-Day Extender Dry Shampoo
Tame a frazzled blowout by giving your roots a refreshing boost for hair that looks squeaky clean — even if it isn't — and full of body!
3. Lash Curler: NYX Professional Makeup Eyelash Curler
Oh, what a difference curled lashes can make. Give 'em a quick clamp for instantly bigger and brighter eyes — no one will know you got zero sleep last night!
4. Facial Mist: Urban Decay B6 Vitamin-Infused Complexion Prep Spray
Give yourself (and your skin) a "wake up call"! Chock-full of vitamins and antioxidants, a quick hit of this stuff will have you saying goodbye to oil, pores and any redness without messing up your makeup.
5. Red Lipstick: Urban Decay Vice Lipstick No-Tell Motel
No matter how budge-proof richly pigmented lipsticks are, they're bound to fade (slightly) after an eight-hour day. To elicit the full effect, keep a tube handy and reapply for instant bold, bright look-at-me (and not my sleepy skin) lips.
Special Occasion Work Look
Even though you may instinctively pile on more makeup for a presentation or big meeting, keep it minimal and chic, Christine urged. "Less is more, especially in these types of situations." In this case you don't want colored mascara stealing the spotlight from your deck. Just a touch of foundation, rouge, natural-looking mascara, and a nude lipstick will get the job done. 
That said; if the big event at work involves a camera (a Facebook live chat, interview, or TV segment), do the opposite. Double up on foundation, blush, and lip color since that camera tends to cause you to look washed out.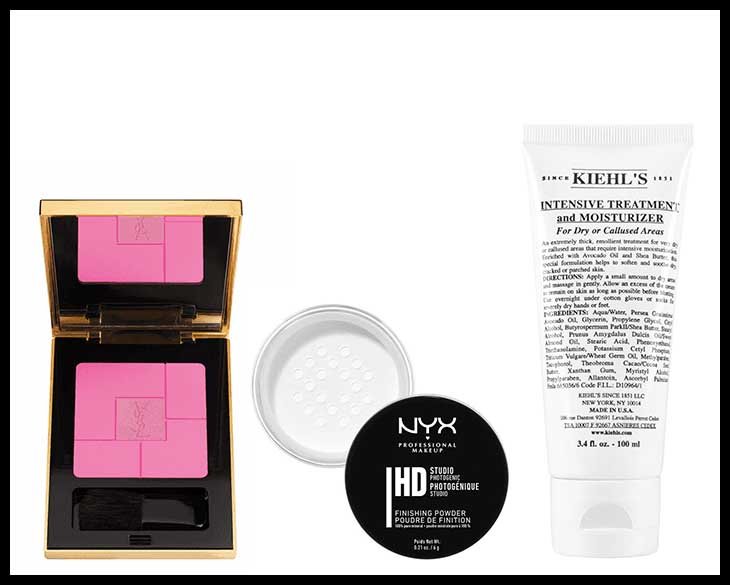 Keep in your desk:  
1. Mints: Pepperminty-flavored gum, mints, drops, strips – whatever you can find that will keep your breath smelling fresh – is a MUST. For those big meetings and interviews it's best if people can't smell your lunch … so just be safe, and have these on hand.
2. Hand Cream: Kiehl's Intensive Treatment and Moisturizer
You're probably going to run through this stuff quicker than you thought — especially after all the handshaking you'll do with clients or colleagues post-presentation. Plus, you'll have the softest hands in the office!   
3. HD Powder: NYX Professional Makeup High Definition Finishing Powder
If the day calls for camerawork, dab an HD finishing product allover before stepping in front of the lens. You'll be thankful studio lights won't capture oil and sweat on screen!
4. Blush: YSL Blush Volupté
There's no faster, better skin pick-me-up then a dusting of a vibrant blush along apples and cheekbones. Choose one that has color and highlight together in one compact so your skin looks radiant all day long.
**
What's your go-to office beauty essential? Tell us in the comments below! 
Read more