The Best Nude Eyeshadow Palettes for Every Budget (And Skin Tone!)
December 21, 2018
In a sea of colorful eyeshadow shades, it can be easy to overlook nude eyeshadow palettes — you know, taupe, chocolate-y and copper shades perfect for embracing a natural eye look. As much as we love stocking our makeup bags with the brightest and boldest palettes, it's entirely necessary to own (at least) one nude palette. Ahead, find out how to find your ideal shade of nude, then pick out one of our best palettes to make a permanent part of your get-ready routine.
Find Your Best Nude
Makeup artist Ashleigh Ciucci explains that there truly is no such thing as a universal neutral. "Nude eyeshadow is basically your skin tone. It's the color of the skin on the inside of your wrist. That's how you find the perfect nude for you." Ciucci notes that nude shadows are not meant to blend into the skin like a foundation should, but rather a shade that's subtle enough for someone to still see you are wearing color. Using a neutral palette, you can create everything from a smoky eye to a fun liner look.
How to Use a Nude Eyeshadow Palette
One easy way to make nude look its best? Add dimension. Ciucci creates a textured effect by sweeping on a flat, matte shadow first. Then, she pops a swipe of shimmer (or glitter if you want to go all out) in the center of the lid. This modern interpretation makes for a more impactful, yet still chic effect.
Another favorite of Ciucci's is the monochromatic look. Think early 2000s J. Lo. bronzed skin, bronze eyes, nude lips — sticking to one general hue makes for a beauty look that is anything but basic. "Playing with having the same tone on your full face is actually really modern looking," says Ciucci, adding that another perk is that it's next to impossible to mess up. "You're wearing a trend in a way that is more understated." She adds that mixing up your textures with this type of look is especially important because it creates a more flattering effect.
Nude Shadow Pairings
When it comes to nudes, there really are no rules. They can help you do no-makeup makeup like a champ, create sophisticated styles that make you look like the boss lady you are at work, and make application oh-so-simple for even the most novice makeup lover. But one of coolest tricks with nudes is that they allow you to unleash your sassy side.  "Nudes create balance — they make those brighter colors more wearable because you aren't competing with anything else. Nudes are just the perfect blank canvas but they make you look polished." Below, check out three perfect color combos to start you off.
Berry + Peach
Straight from the vine, a ripe berry lip is the perfect accessory for all of your summer soirées. While usually most popular in the fall, Ciucci says that berry is actually summer's best lip hue. "I love a berry lip because it makes your teeth look white! When you pair that with a peachy nude eyeshadow, it's very summery and girly."
Red + Copper
While it may sound a bit odd, Ciucci says that one of her favorite bright cheek looks is the faux sunburn. No, not the tomato-red "I forgot to re-apply my sunscreen" effect — she means naturally flushed post-sun skin. The key is to make it subtle and believable. To do this Ciucci suggests creating a chevron shape with your blush: Grab a red or orange-y blush (try NYX Ombre Blush) and apply the color at the top of your cheekbone, then apply color towards the apples of your cheek and then towards the jawline to make a small arrow shape. Then use your brush to blend the color upwards and you've got a beach-day complexion. A copper eye shadow pairs gorgeously with this, creating a kind of updated take on bronzer. "They compliment each other because they are from the same color family, and work together to achieve that sun-kissed effect," explains Ciucci.
Blue + Tan
Think you need to master all kinds of complicated tricks to pull off bright eye colors? Lucky for you, all you need to know for this one is how to apply mascara. "I love a tan eye with an electric blue mascara — it's slightly rock and roll but it's subtle at the same time," says Ciucci. Instead of a big block of color on your eye, which can be tough to pull off unless you are a makeup master, colorful mascara is quick and easy. "You get a cool look with minimal effort," she raves.
While there's no wrong nude, there are some shades that look extra amazing on certain skin tones. So click through to discover the best nude eyeshadow palette for you — at a price that fits your budget.
The Cult-Classic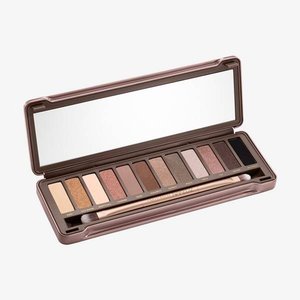 1 / 6
The Cult-Classic
Urban Decay Naked2 Eyeshadow Palette, $54
Surely, you've heard of this one before. It's a cult classic containing 12 taupe-hued neutrals to create everything from a low-key workplace look to a beauty vlogger-approved smoky eye.
The Drugstore Palette Feat. Every Shade You Need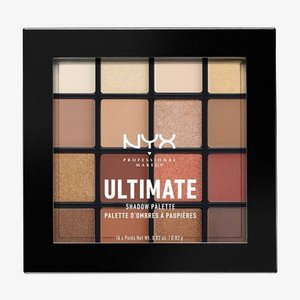 2 / 6
The Drugstore Palette Feat. Every Shade You Need
The Metallic Lover's Must-Have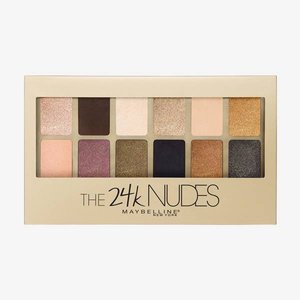 3 / 6
The Metallic Lover's Must-Have
Maybelline The 24K Nudes Eyeshadow Palette, $11.99
Perfect for the metallic lover or the babe who embraces a bit of color every now and then, the 24K Nudes palette won't disappoint. You'll get 13 shades including must have neutrals and fun touches of gold shimmer, smoky gray and light purple.
The Palette You'll Forever Gush Over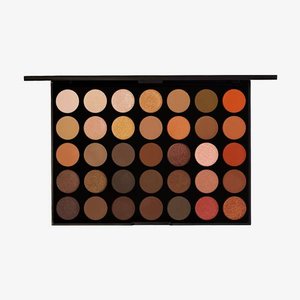 4 / 6
The Palette You'll Forever Gush Over
Morphe 350 Color Nature Glow Eyeshadow Palette
Meet the game-changing palette you'll probably use for the rest of your life. You can't beat the price for this palette containing every warm neutral shimmer and matte shade you could ever need.
The Portable, Easy-To-Use Palette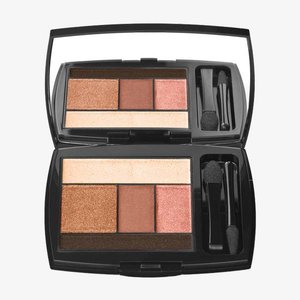 5 / 6
The Portable, Easy-To-Use Palette
Lancôme Color Design Eyeshadow Palette in Bronze Amour, $50
For a palette perfect for everyday use or for the frequent traveler, consider the Lancôme Color Design Eyeshadow Palette. It comes in 12 different color families, including a neutral-tone one named Bronze Amour. The five-pan palette contains all the shades you need to create an eye makeup look: all-over, lid, crease, highlighter and liner.
The Super-Pigmented Option Perfect for All Skin Tones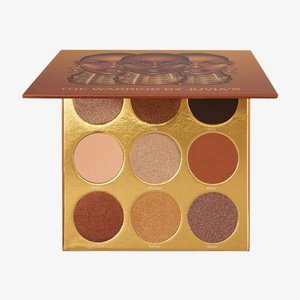 6 / 6
The Super-Pigmented Option Perfect for All Skin Tones
Juvia's Place The Warrior Eyeshadow Palette, $20
This palette has nearly perfect five-star reviews across the board for its stunning pigment, versatility and smooth application. It's great for all skin tones and fun fact: the shimmer shades in this palette can double as highlighter.
Read more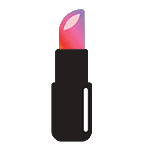 Back to top