Recreating This Colorful Marble Eyeshadow Look Will Make You Feel Like a Professional MUA
July 30, 2020
STEP 1: Create the Base

To start, Williamson mixed the shades Shock and Savage from the Urban Decay Wired Palette and applied it on her bare eyelid as her base. She applied the combo all over her lid, from just above the tear duct, up to the brow bone and out to the outer corner of the eye. For this step, she mentions that it's important to leave the inner corner of your eye bare.
STEP 3: Add Some Glitter

Next, she applied the Urban Decay Moondust Eyeshadow in Glitter Rock next to the shade Lithium and on top of the Shock/Savage combo to give the eye a glittery finish. Be sure to blend in the edges of Glitter Rock and Lithium so the colors seamlessly transition into one another.

STEP 4: Create the Outline of Your Marble

Using a wet eyeshadow brush, Williamson used the shade Current from the Wired Palette, a shimmery teal, to create an outline for the marbleized effect. Apply Current on the outer corner of the lash line in an upwards angle towards the temples. Williamson notes that you want to make sure you can see this eyeshadow when you're looking straight ahead and that it doesn't get lost in the socket of your crease. Then, she applied the same color on the inner corners and on the middle of her upper lash line — the two lines should not connect.
STEP 5: Make the Marbleized Effect

Williamson then applied the Urban Decay Wired 24/7 Eyeliner in Vivid on the inner corner and upper lash line where she originally placed the shade Current. Application in this area creates that marbleized effect of colors blending together. Also, she applied the bright eyeliner on her outer crease angled towards the temples, the same way she applied the eyeshadow in step three.

STEP 6: Finish With Mascara

Finally, she topped it off with a few swipes of mascara on her top lashes. If you need a recommendation, we love the Maybelline New York Lash Sensational Mascara. She kept the lower lashes bare to give all the attention to the stunning completed eyeshadow look.
Photography and Makeup: Jonet Williamson, Design: Hannah Packer
Read more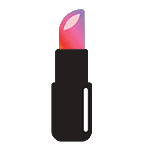 Back to top