24 Makeup Looks That Perfectly Complement Blue Eyes
March 29, 2023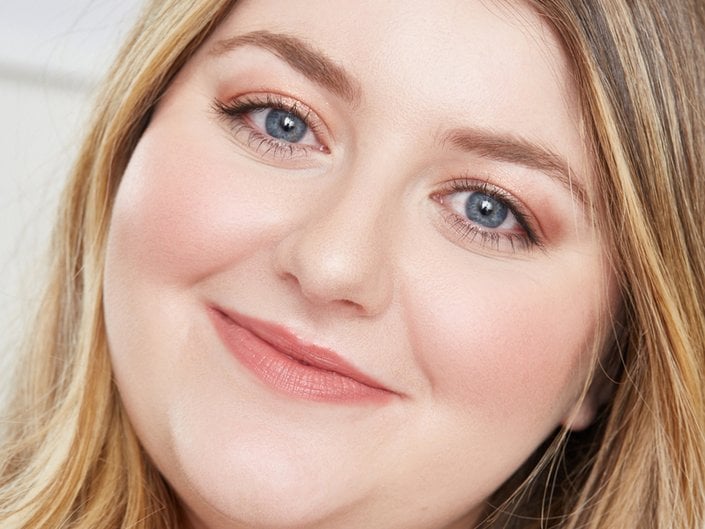 Blue eyes are striking on their own, but with the right makeup, you can make them pop even more. Even though we're big proponents of wearing whatever makeup you're feeling, it can be fun to change it up by opting for shades of makeup that complement your natural beauty features, such as your eye color. Luckily, there are tons of stunning ways to amp up blue eyes using makeup. Ahead, we've rounded up some makeup look ideas for blue eyes. But first, check out this easy and quick step-by-step tutorial on how to accentuate blue eyes with makeup below. Just make sure you have a neutral eyeshadow palette with bronze and orange shades, a brow pen and a great mascara handy.
A Go-To Eye Makeup Tutorial for Blue Eyes
Step 1: Prime Your Lids and Complexion
Prime your eyelids by applying a lightweight concealer, like the Lancôme Teint Idole Ultra Wear All Over Concealer. The doe-foot applicator deposits just the right amount of product. Swipe the concealer wherever you have discoloration and blend with your pinky, ring finger or a brush. Then use a hydrating foundation, like the Giorgio Armani Beauty Luminous Silk Foundation, to smooth out your complexion.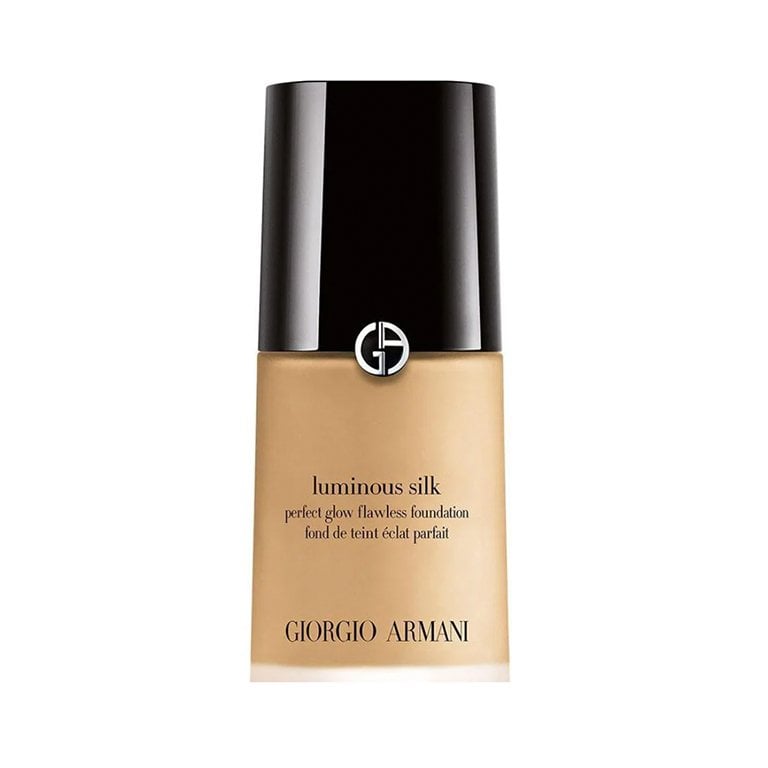 Step 2: Shape and Fill Your Brows
Accentuate your brows by filling in any bare areas and shaping them with the Maybelline New York Express Brow 2-in-1 Pencil and Powder. It'll help create a bushy brow look and draw attention to your eye area.
Step 3: Apply Your Eyeshadow Base Shade
Using a flat eyeshadow brush, apply a matte neutral base color from the lids to the brow bones, blending it up to the crease. We're partial to Sweet, a pale brown from the Urban Decay Naked Honey Eyeshadow Palette.
Step 4: Buff on a Bronze Shade
Blend a rich, warm brown into your crease, just above the matte shade on your lids. Make sure to blend the shadow well so the color transition is seamless. We love Hive from the Naked Honey Palette.
Step 5: Apply a Gold Shade to Your Lid
Using your eyeshadow brush, softly apply a gold eyeshadow shade on your lids. Make sure to blend it with the brown color in your crease.
Step 6: Layer With Taupe Eyeshadow
For a seamless transition between your skin and your crease color, buff around the edges with a soft taupe color until you have a subtle, diffused look.
Step 7: Highlight Your Inner Corners
Make the inner corners of your eyes glimmer with a pale, frosty shade, such as Flyby from the Naked Honey Palette (or your favorite highlighter!).
Step 8: Give Your Lashes Some Volume
Curl your lashes and apply two coats of black mascara to your top lashes followed by one coat on the bottom. The volumizing formula and lifting effect of the L'Oréal Paris Telescopic Lift Washable Mascara is perfect for this.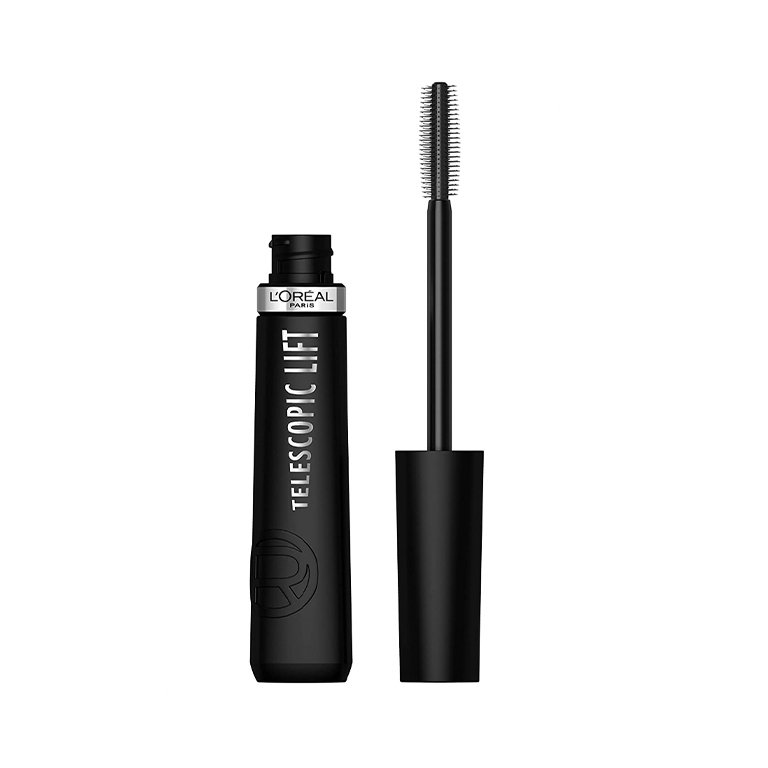 The Best Makeup Looks for Blue Eyes
Shimmery Pink Eyeshadow
A sheer wash of sparkly, rosy pink eyeshadow looks so ethereal for blue eyes. Remember to apply the color beneath your bottom lash line, as well.
Classic Glam
Sometimes you can't go wrong with a classic glam look consisting of matte foundation, sculpted brows, a winged eyeliner and matte red lips.
Cool Colors
If you want to try a bolder, colorful eye makeup look, stick to cool colors like greens and purples that will match well with your blue eyes.
Bedazzled Blue
Rhinestone-encrusted eyelids pack quite the punch. We like how the makeup artist stuck to a monochromatic palette of blue eyeshadow with blue gems. It's a win in our book, no matter your eye color.
Warm Golden Eyeshadow
Just like our tutorial, this photo proves that warm gold and yellow shades can work really well for blue eyes.
A Smoky Wing
A diffused, smoky wing is softer than a typical liquid liner wing, making it a great option for an everyday makeup look that won't overpower light eyes.
Maroon Graphic Eyeliner
Maroon eyeliner adds an unexpected twist to this sharp, negative space eyeliner look.
Blue Lashes
Channel an editorial beauty aesthetic by framing your eyes with feathery, cobalt blue false eyelashes.
Brown Eyeliner on Your Waterline
Trace your waterline with eyeliner in an espresso or chocolate brown color to make them pop.
Embellished Eyelids
Add a little bit of bling to your eye makeup look by decorating your lids and eye area with multicolored rhinestones.
Turquoise Waterline
A swipe of turquoise eyeliner on the waterline and under the lower lash line gives this monochromatic blue eye makeup look an electric flair.
Orange Eyeshadow
We love this bold, vivid orange eye makeup look for summer. The makeup artist paired shades of orange eyeshadow with peachy blush to pull the whole look together.
Wet Look
The wet makeup look is an edgy trend in which super shiny makeup looks almost wet or deliberately oily.
Bright Pink Ombré Eyeshadow
We think this bright pink ombré eyeshadow idea is super cool, especially how the makeup artist put her own twist on it by adding a strike of metallic eyeliner at the crease.
Yellow Eyelashes
If you're a makeup risktaker, take a cue from this creator and paint your eyelashes with sunshine yellow mascara.
Natural Glow
A natural makeup look is always going to be in style. The dewy finish of the model's skin in this photo is so fresh for spring.
Burgundy Eyeshadow
As illustrated by the burgundy eyeshadow in this photo and other examples on this list, red shades really make blue eyes pop.
Glittery Purple
This glittery eyeshadow look in shades of mauve and lavender gives us total popstar vibes, and we're not mad about it.
Glowy Glam
To get a radiant, glowy glam look, use shimmery bronzer or highlighter on the high points of your face.
Rainbow Pastel
Can't decide on an eyeshadow color? Wear them all at the same time!
White Kohl Eyeliner
A thick swipe of white kohl eyeliner looks unexpectedly edgy when paired with minimalist makeup.
Rose Gold Glam
For this bride's wedding makeup, she opted for sparkly pink lids with moody purple undertones and a peachy highlight under the brow.
Additional Reporting: Jordan Julian, Photo: Chaunte Vaughn
Read more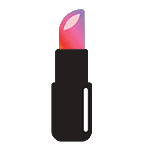 Back to top