This Glossy Black Eyeshadow Look Is Serving Major Vibes — Here's How to Recreate It
November 17, 2020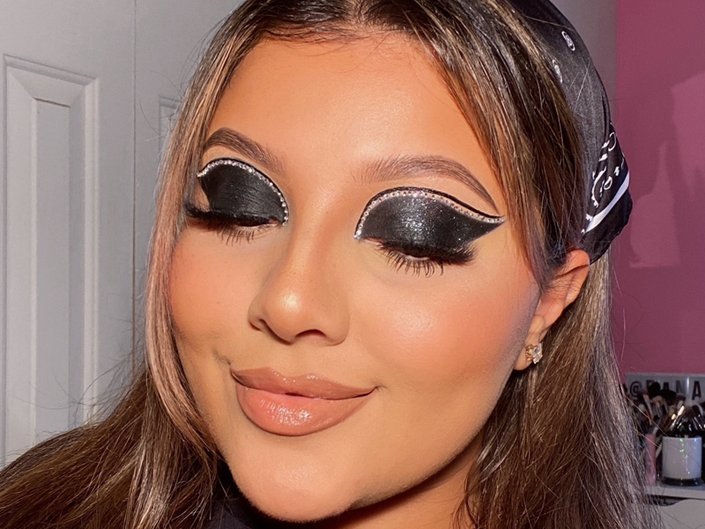 We get it — black eyeshadow can be intimidating. But when done correctly the dark shade can look super chic. Case in point? This glossy black lid with a rhinestone cut crease from makeup artist Juan David Ferrazzo. To figure out how to recreate the ultra-glam and edgy look at-home, we asked Tampa, Florida-based makeup artist Dana Renée to give us the lowdown. Here, she's breaking down her take on the high-shine look with a step-by-step tutorial.
STEP 1:

Prep the Lid

To start, you're going to want a clean base. "You can put a little concealer or eyeshadow primer," says Renée. "You want to blank out any redness or veins on the lid area." We love the Urban Decay Eyeshadow Primer Potion.




STEP 2:

Trace Your Liner

Using the NYX Professional Makeup SFX Créme Colour in Black, outline a wing shape that starts at your inner corner, goes over your crease and connects at the outer edge of your eye. "Take a detailed liner brush, preferably a straight one that's thin and pointed, and, with your eye open, create the shape of the wing," says Renée.



STEP 3:

Pack on Color

Once the shape of your wing is perfected, you're going to pack the black color inside the outline using a flat brush. "Once filled in, lightly set that with a translucent powder or a black eyeshadow to prevent transfer," says Renée. For a translucent powder, we like the Dermablend Loose Setting Powder.

STEP 4:

Stack Liner

"Now take the black NYX Professional Makeup Diamonds & Ice Please Epic Ink Liner and trace a line right above the line of the eyeshadow," says Renée. "I recommend keeping the liner pointed down — don't bring it parallel or horizontal to the eye — to keep the line nice and thin." If you do mess up, don't worry. Clean it up with a detail brush and some concealer.



STEP 5: 

Add Bling and Shimmer

While you can totally rock this look as is, you can also add some glam with rhinestones and shimmer. "Take any lash glue and dot it in the line between the shadow and liner," says Renée. "Then just apply rhinestones using tweezers, the end of a brush or a rhinestone applicator."

Want more shimmer? Add a gloss on the lid. "I put it on half of the eye, from the middle of the lid, going out toward the wing to create an ombré effect," says Renée. For a shimmery gloss, we like the Maybelline New York Lip Lifter Gloss in Pearl.




STEP 6:

Apply Final Touches

Coat your lashes in a volumizing mascara, or apply fluttery false lashes, like the Velour Snatches Mink Lashes. "I kept my skin pretty neutral because the eyes are so dramatic," says Renée.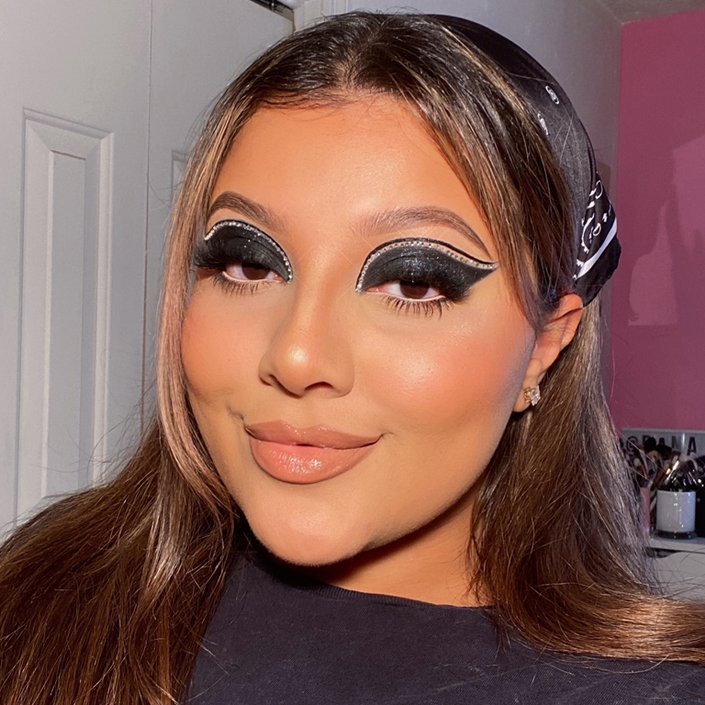 Read more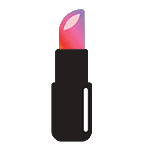 Back to top