How to Remove Every Kind of Eyeliner, From Liquid to Waterproof
November 11, 2022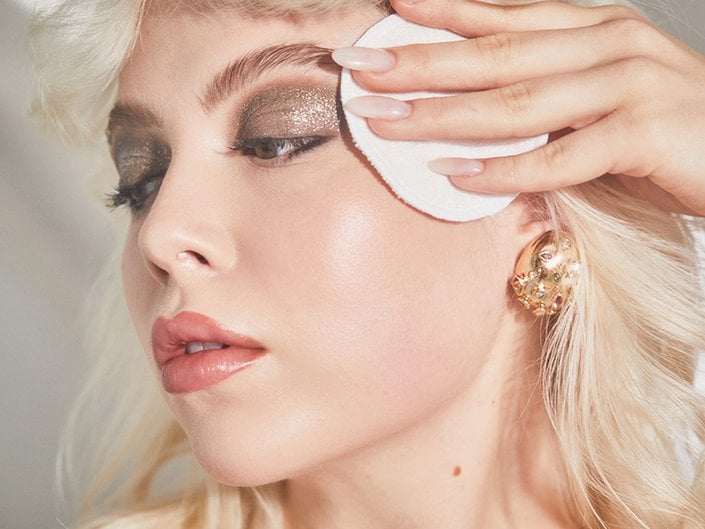 Applying a swipe of eyeliner is the perfect finishing touch to almost any makeup look. A rich black pencil adds extra depth and dimension to a smoky eye, a colorful liner along the waterline is the perfect way to make neutral eye makeup more exciting and a white or nude eyeliner instantly makes your eyes look bigger and more awake. As much as we love this versatile technique for finishing off our eye makeup, removing eyeliner from the waterline is sometimes easier said than done — especially if you choose to use a waterproof or liquid formula. Scrub at the eye area too hard and you may accidentally lose a few lashes, or end up with eyes that are bright red and irritated-looking.
To learn how to minimize eye irritation while taking every speck of your eyeliner off, we spoke to Erica Marie, an esthetician and makeup artist based in Los Angeles, California. She even offers tips on how to remove eyeliner if you've run out of your favorite makeup remover. Keep reading for her step-by-step breakdowns on how to remove even the most stubborn eyeliner formulas, ahead.
How to Remove Eyeliner in 5 Easy Steps
Erica Marie's favorite way to remove eyeliner without causing irritation is with a combo of cotton swabs and micellar water. "The reason why I like micellar water to remove eyeliner is because it's gentle, alcohol-free, and you don't have to remove it with water." One of her favorite micellar waters for removing eyeliner is the Garnier SkinActive Micellar Cleansing Water All-in-1.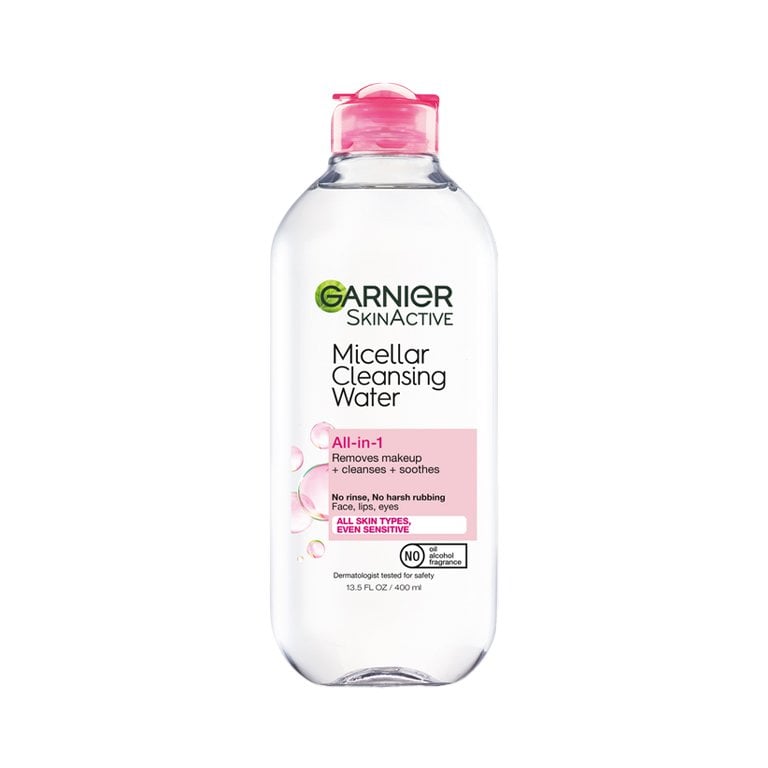 Step #1: Gather Your Cotton Swabs
First, grab your cotton swabs — Marie recommends using three. She likes using cotton swabs because "they are smaller, easier to control and you are less likely to get it in your eyes," she says. You can snag a two-pack of almost 200 cotton swabs from Amazon. Note that when you remove your eyeliner, Marie recommends working on one eye at a time.
Step #2: Dampen Your Cotton Swab
Shake up your micellar water, then dampen one side of the cotton swab with the product. Make sure the cotton swab is saturated but not dripping wet.
Step #3: Start to Remove Your Makeup
Gently run the cotton swab along your waterline and lash line to begin removing your eyeliner. "When you start to see the eyeliner beginning to smudge, that is a good sign the makeup is being lifted," says Marie.
Step #4: Switch Cotton Swabs and Repeat
Once one side of the cotton swab is covered in makeup, flip to the other side. Continue switching cotton swab and repeat the process one to two times, or until all the eyeliner is completely gone.
Step #5: Use a Cotton Pad if Needed
"If you feel like you can't remove all of the residue left on your eyelid, take a cotton round, dampen it with micellar water and gently wipe your eyelid," says Marie. "It should come right off." She notes that this eyeliner removal method is also ideal for those who have eyelash extensions and need to take extra care not to rip them out.
How to Remove Waterproof Eyeliner
Waterproof liners, like the Urban Decay 24/7 Glide-On Waterproof Eyeliner Pencils, are holy grail products for staying put through anything, from beach days to rainstorms and humidity. But because of their staying power, they can also be very hard to remove gently. "My favorite way to remove waterproof eyeliner is to do a double cleanse with an oil-based makeup remover and micellar water," says Marie. Oil attracts oil, she says, and because most waterproof eyeliners contain oil, an oil-based makeup remover will help remove them faster than a water-based formula might on its own. After using an oil-based remover, Marie removes any excess eyeliner with a micellar water.
Step #1: Gather Your Cotton Swabs
Similar to removing regular eyeliner, you'll want to grab a few cotton swabs — Erica uses three. Work on one eye at a time for the best removal results.
Step #2: Dip in Oil-Based Makeup Remover
Saturate one end of a cotton swab in oil-based makeup remover, making sure it's damp but not dripping. We love the Lancôme Bi-Facil Double-Action Eye Makeup Remover, a gentle yet effective bi-phase formula that's safe for sensitive skin and contact lens wearers.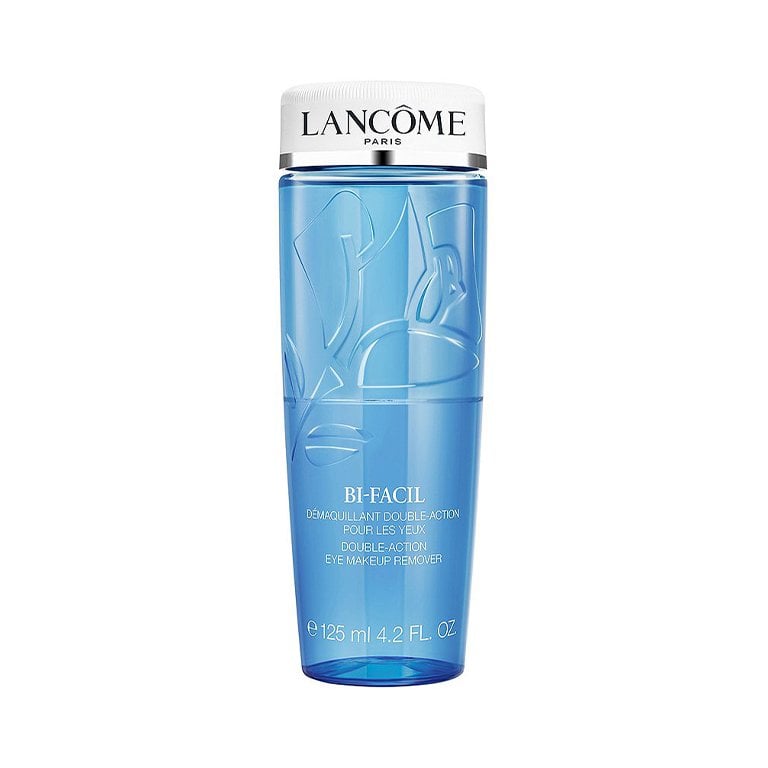 Step #3: Let the Makeup Remover Sit
Using the side of the cotton swab that has makeup remover on it, apply the product along your waterline and lash line (almost as if you're using the swab as an eyeliner brush). Let the remover sit for about 10 seconds.
Step #4: Rub Lightly
Next, rub the cotton swab lightly along your eyeliner line, allowing the makeup to smudge. Switch sides of the cotton swab as necessary. Marie recommends working in the direction of your lashes, rather than against them. Repeat one to two times until the eyeliner is almost completely taken off.
Step #5: Use a Micellar Water
To get rid of any final eyeliner residue, dampen a cotton pad with micellar water and gently wipe your lids and eye area. Try the Garnier SkinActive Micellar Cleansing Water All-in-1 Waterproof, which is formulated especially for waterproof eye makeup.
Step #6: Double Cleanse
Finally, for an extra-deep clean, follow up with a gentle cleanser suitable for your skin type. Those with normal and dry skin might like the CeraVe Hydrating Cream-to-Foam Cleanser, a creamy, lightly foaming face wash. If you have oily or combination skin, try the Vichy Normaderm PhytoAction Daily Deep Cleansing Gel, a foaming gel that helps clear excess oil.
How to Remove Liquid Eyeliner
Liquid eyeliner is one of our favorite eyeliner formulas — we especially love using the NYX Professional Makeup Vivid Matte Liquid Liner to carve out a crisp, sharp wing. But, Marie notes that liquid eyeliner is also one of the most difficult types of eyeliner to remove. "That is why I like using an oil-based makeup remover," she says. When following the steps below, work on one eye at a time and be gentle with your eye area.
Step #1: Use a Cotton Pad
First, take a cotton pad and dampen it with eye makeup remover — the Lancôme Bi-Facil Double-Action Eye Makeup Remover works well for this step. If you prefer a reusable alternative to cotton pads, we suggest trying the Garnier SkinActive Micellar Cleansing Eco Pads. Each pack comes with a set of three ultra-soft, double-sided pads that can be washed and reused for up to 1,000 washes.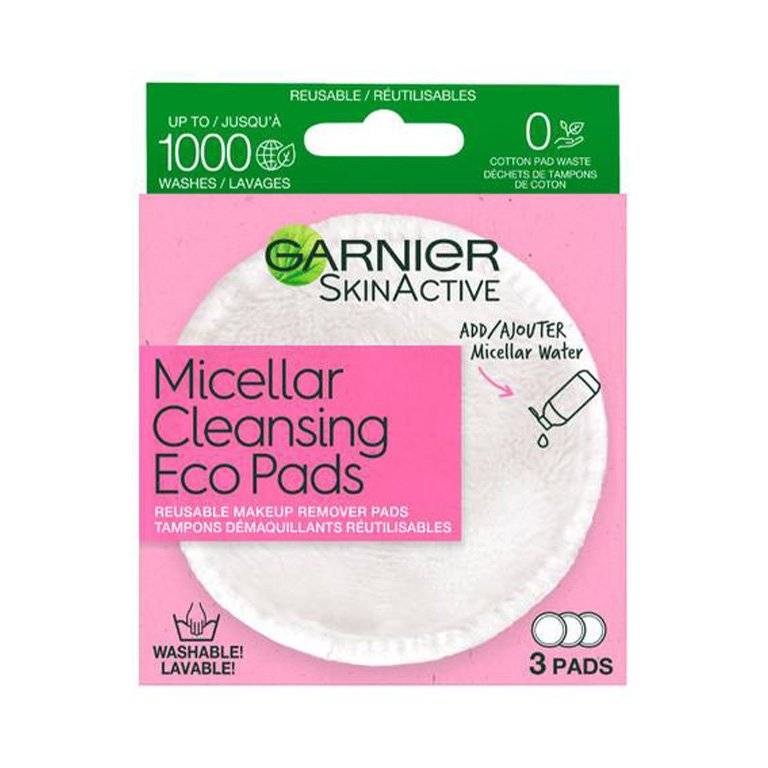 Step #2: Let the Makeup Remover Sit
Press the cotton round against your eye and let it sit for 10 to 15 seconds. You're effectively marinating the eyeliner in makeup remover — and softening the rest of your eye makeup so it's easier to wipe away in the following steps.
Step #3: Rinse and Cleanse
Finish by washing your face with lukewarm water and a gentle cleanser, using your fingertips to carefully smudge away any remaining makeup. The CeraVe Hydrating Facial Cleanser is a fragrance-free option that removes makeup without stripping the skin of moisture. Once your makeup is off, pat dry with a clean towel.
How to Remove Eyeliner Without Makeup Remover
Maybe you had an unexpected night out, or maybe you just got to the end of your favorite makeup remover and totally blanked on buying a new one. Either way, before you head to bed with your eyeliner still on, consider this quick and easy alternative to using an eye makeup remover.
Step #1: Grab a Tissue
No cotton pads or swabs? No problem. Grab a tissue instead, and dampen it with water.
Step #2: Add Cleanser
If there's a facial cleanser in sight, apply a small amount of it to your damp tissue. Otherwise, other soaps can work, Marie says — just use caution and try to make sure they are fragrance-free. A gentle hand soap, body wash or even a baby shampoo could work in a pinch — just try not to make a habit of the practice. We like the La Roche-Posay Lipikar Wash AP+ Moisturizing Body & Face Wash, a hydrating, non-comedogenic formula that's so gentle, it's been accepted by the National Eczema Association.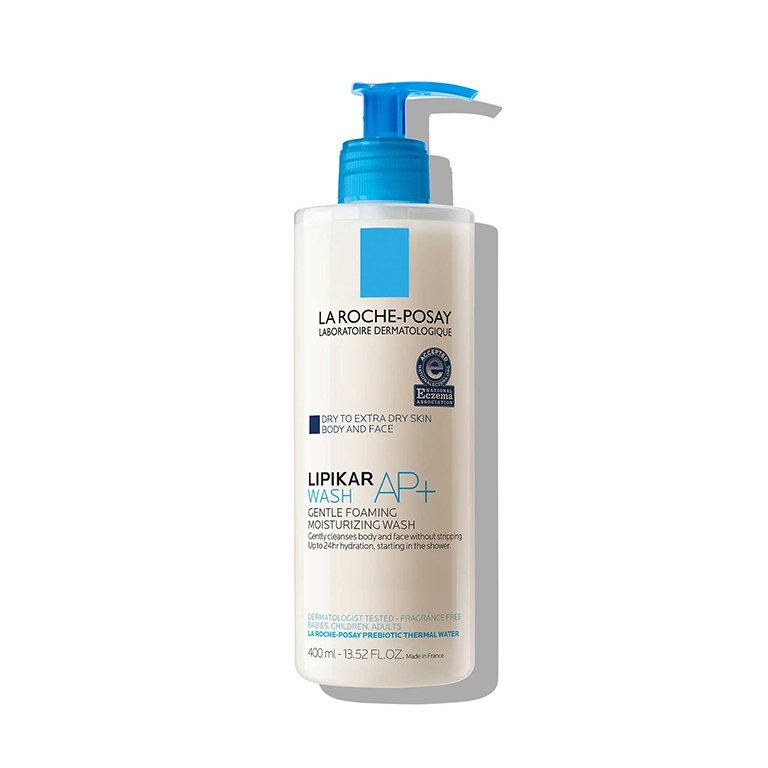 Step #3: Start Removing Makeup
Lightly run the tissue along your eyeliner line, working it into the skin in the same direction as your lashes to prevent them from falling out.
Step #4: Repeat as Needed
Fair warning: This removal process may take awhile, especially if you're wearing a waterproof or liquid eyeliner. Repeat two to three times (or more if needed), using a clean tissue once one becomes covered in makeup. Continue until the eyeliner is smudging and almost off.
Step #4: Use Your Hands
Using more cleanser and lukewarm water, use your fingers to gently rub away any excess makeup. If you have facial oil or even a moisturizer on-hand, you can also use this to melt away any more residue. Finish by patting your face dry.
P.S. The Garnier SkinActive Micellar Cleansing Waters also come in travel-size bottles, so you can stash one in your bag for days that you're on the go. As a bonus, you don't even need to wash your face with water after you use these, making them extra convenient for long days or for removing mid-day eyeliner smudges.
Photo: Chaunte Vaughn
Read more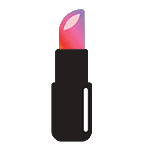 Back to top