The NYX Can't Stop Won't Stop Brow Kit Is Going to Replace Every Brow Product In Your Collection
July 11, 2019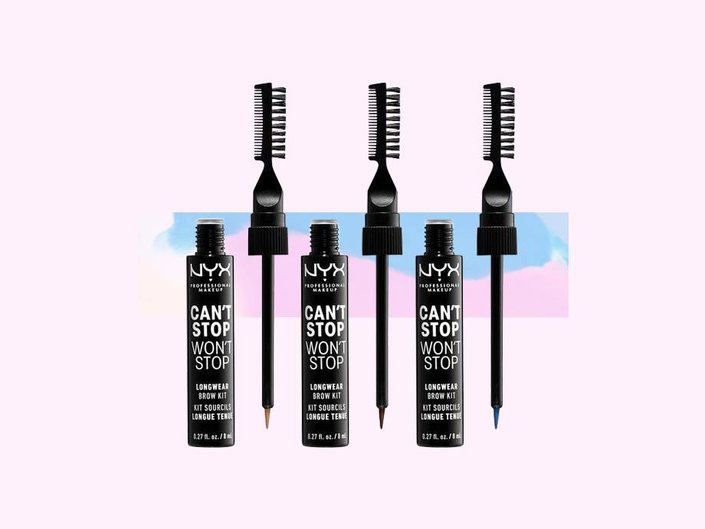 If you're anything like us, you know your brows deserve a full makeup routine of their own.  Not sure what we're talking about? Think brushing through your hairs, making sure they're combed down nicel, and then applying a brow product to fill in any empty patches. Even a basic routine like this requires multiple tools, though. At minimum, you'll need a spoolie, eyebrow comb and color applicator. But what if we told you that NYX Professional Makeup just combined all three into one easy brow product that you can literally take anywhere? You'd probably kiss all of those tools goodbye. Get ready to do just that. 
As an extension of its Can't Stop Won't Stop line, NYX just launched the Can't Stop Won't Stop Longwear Brow Kit, a three-in-one product that allows you to comb through your brow hairs, apply colored product (and we're not just talking natural hair shades), and blend it out with a compact brush. Ahead, we chatted with Mark Anastasios, Director of Education and Artistry at NYX, to get the scoop on how to apply these products like a pro. Here's how it's done.
STEP 1: According to Anastasios, the first step of applying this product starts with the neat little comb at the top of the applicator handle. "Start by brushing brow hair up with the fine-tooth comb," he says. "This will help identify areas that have gaps and need product."
STEP 2: Once you've combed out your eyebrow hair, remove the brush and make sure to wipe off almost all excess product on the inside of the rim. "This is key to building naturally, beautiful brows without looking heavy," says Anastasios. 
STEP 3: Use the tip of the brush on the handle side (an angled brush works just as well for this), and starting in the center of the brow, apply the color and blend it out with the fluffy portion of the brush as you go along.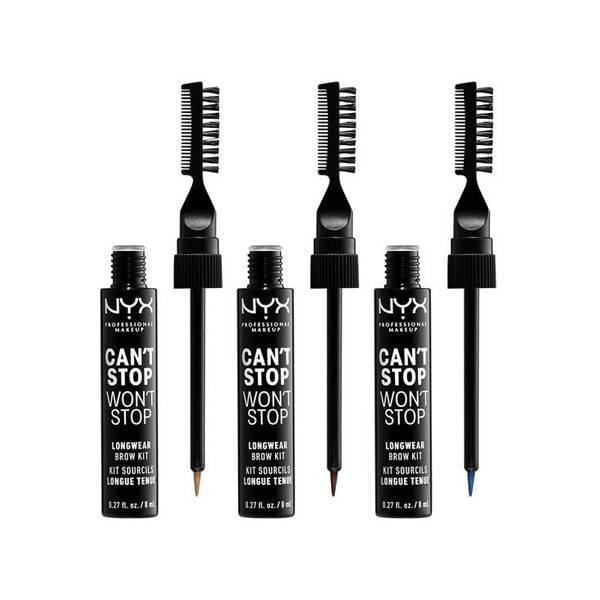 For Sparse Brows
If you have little brow hair to work with, Anastasios recommends using the tip of the brush to outline the lower and upper brow arch. "Work one brow at a time, and blend it out using the fluffy brush," he says. When you fill in the center of the brow, focus on short, quick strokes using light pressure to ensure you're covering just the right amount of surface area you need. "Blend it in with the fine-tooth comb, which will help create negative space between the product, mimicking the look of brow hair," he adds.
Choosing Your Shade
Deciding your shade is another no-brainer with this long-wear kit. Anastasios recommends using a shade one to two levels darker than your hair in the same undertone if you're blonde, or going for a shade one to two levels lighter if you're a brunette. Even better, the new longwear product comes in four rainbow shades of Pink, Purple, Teal and Blue — so you can match your dyed hair color or go bold with an out-of-the box look. If you want to go the extra mile, Anastasios also recommends setting the look with the NYX Professional Makeup Control Freak Eyebrow Gel to hold down your brow hair all day. 
"I love the Can't Stop Won't Stop Brow Kit because it's super long-wearing and allows you to build natural to more defined brows effortlessly, depending on your look for the day," says Anastasios. And we can't help but agree — especially because our routine just went from three products down to one. 
Read More:
The Deconstructed Eyeliner Tutorial You Have to Try
A Love Letter to the Gripping NYX Primer That Feels Like Jell-O
Read more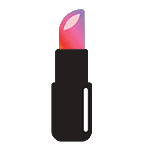 Back to top