This Pixelated Eyeshadow Look Will Give You Major Modern Art Vibes
July 20, 2020
While we have major respect, admiration and a dash of jealousy toward beauty bloggers who can paint actual works of art on their eyes (think: rainbow skies and butterfly wings). Unfortunately, our lack of artistic talent makes it a tad tricky to recreate those looks at home. But we were determined to find an eye makeup look that was not only easy to execute, but that also looked worthy of hanging in a modern art museum. Enter, this circle-filled, eyeshadow and eyeliner design we first spotted on Cătălina Hotin's Instagram feed. It's colorful, contemporary and perfect for summer. To figure out how to get the look ourselves, we asked New York-based makeup artist Jonet Williamson to recreate it and give us a step-by-step tutorial, ahead.
STEP 1: Prime the Eye

Before grabbing your colorful eyeshadow and pencils, it's important to prep the eye with a gripping primer, like the Urban Decay Eyeshadow Primer Potion, to ensure long-wear. Once your primer is placed, grab a fun, bright palette, like the Urban Decay Wired Palette. Using the shades Jolt (a neon lime), Switch (a matte tangerine) and Fluorescent (a pale turquoise), create a gradient from the inner corner of the eye to the outer corner of the top lid. "Apply a light wash of color that kind of looks like a watercolor," says Williamson. "This will serve as a base for the dots." Once the top lid has been shaded, turn your focus to the lower lash line. "Apply the shade Shock (a matte lilac) from your tear duct to the middle of the lower lash line."




STEP 2: Apply a Two-Toned Winged Liner

No eye makeup look is complete without a wing. To stay with the colorful and punchy theme, Williamson opted to do a two-toned pink and purple wing using the NYX Professional Makeup Epic Wear Liner Sticks. "I started with the shade Fierce Purple at the tear duct and brought it into the middle of the eye," she explains. "Then, from the outer corner I used the shade Pink Spirit to finish out the wing." Want your look to pop even more? Try layering on a bit of the shade Savage, a neon pink from the Wired Palette, on top of the pink liner.
STEP 3: Draw Your Bigger Dots

Now that the base is complete, it's time to start drawing your large dots. "For some of the dots, I drew them on with wet (simply spritz your brush with a setting spray) eyeshadow from the Wired Palette using a pencil or shader brush, and for others I used the NYX Epic Wear Eyeliner Sticks with eyeshadow packed on top," says Williamson. This not only creates dimension, but it also lets you experiment more with your colors. "Placement doesn't matter at all either — it can be super random, and the two eyes don't have to be the same." (Pro tip: Make sure you have Q-tips and micellar water on-hand so you can easily clean up any mistakes.)

STEP 4: Add Smaller Dots

While the larger dots will be the most noticeable, the smaller circles are really going to be what pulls this look together. "Place smaller dots either over the bigger dots or around them," says Williamson. "They should melt into each other." She suggests densely packing the circles along the lower lash line as well. "You want it to look like your lower liner is made up fully of dots." For the smaller pink, white and blue dots, it's easiest to use the NYX Epic Wear Eyeliner Sticks in Pink Spirit, Pure White and Intense Teal. For the rest of the dots, feel free to experiment with wet eyeshadow shades.
Photography and Makeup: Jonet Williamson, Design: Hannah Packer
Read more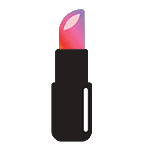 Back to top