The Plaid Eye Makeup Tutorial You Didn't Know You Needed in Your Life
October 22, 2020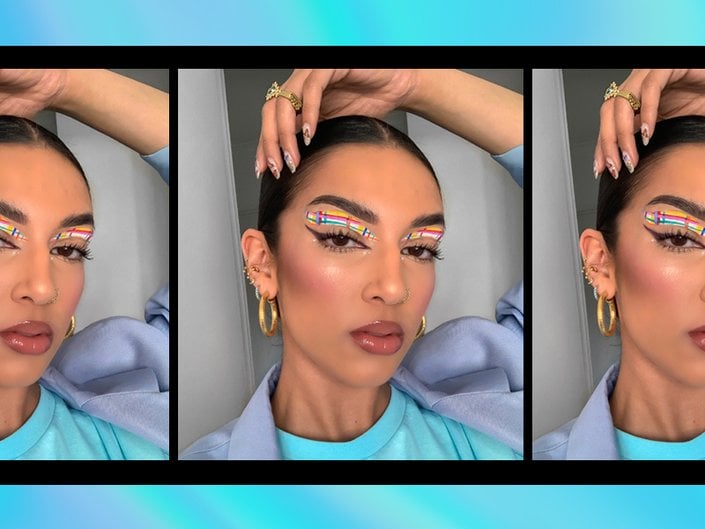 Plaid is the unofficial print of fall. As soon as the first leaf falls on the ground, we break out our plaid shirts, scarves and pajamas. This year, we were inspired to translate our obsession with all-things checkered and Tartan into a graphic eye makeup look after seeing a plaid shadow design on Rowi Singh's Instagram feed. We reached out to the influencer to get her tips for recreating it, and she dreamt up a whole new design for us to try. Read on for her step-by-step guide to creating a rainbow plaid floating liner look. It's the perfect reason to put all of those colored eyeliners in your collection to use!
STEP 1:

Paint on Your Base

Create your floating liner base by applying the NYX Professional Makeup White Liquid Liner between the crease of your eye and the brow bone. "Make the shape thicker towards the tail for a bit for a dimension," says Singh.

STEP 2:

Create Two Vertical Lines on Either End

Using a small brush, paint two yellow vertical stripes (try the SUVA Beauty Hydra Liners/FX in Dance Party) on the white base, one towards each end. Tip: Singh recommends spritzing your brush with setting spray first to help amplify the pigment.



STEP 3:

Apply More Vertical Lines

Add a couple more vertical lines of varying thickness and color (Singh used the NYX Professional Makeup Vivid Brights Liners), ensuring that some are close together while others are spaced farther apart. To help keep your hand steady, Singh suggests placing your pinky on your cheek as you paint.




STEP 4:

Go Horizontal

Go back in with the yellow liner and create a horizontal line at the top of the white base. Then apply a few more horizontal lines beneath it in different shades. Leave a gap between the second to last and last horizontal line to stay true to the plaid pattern.



STEP 5:

Add a Wing

To open the eyes, Singh suggests creating a winged liner look along the upper lash line. Using a dark purple shade, like the L'Oréal Paris Makeup Le Liner Signature Mechanical Eyeliner in Violet Wool, start by drawing a dramatic wing at the outer corner of the eye. "The key is to clean it up and make it look nice and sharp," she says. "I use a flat brush and a little concealer." Next drag the liner along the lash line towards the inner corner and trace along the tear duct to create a small triangle.




STEP 6:

Apply Your Face Makeup

Singh finished her look with a swipe of mascara, foundation, a bit of blush, highlighter and lip gloss.
Read more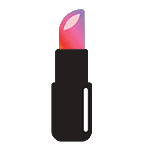 Back to top