Beauty PI: How the Urban Decay Naked Honey Palette Came to Be
November 07, 2019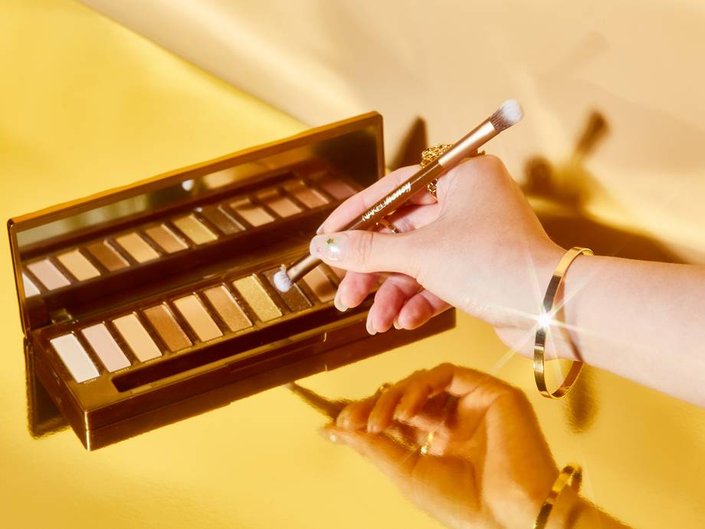 It seems like just yesterday that Urban Decay dropped its Naked Reloaded Palette, and before that Cherry, Heat, Smoky, Naked 3, Naked 2 and so on. Newest on the list is the Urban Decay Naked Honey — a version of the iconic original Naked palette that has the softest gold and brown color story that's as sweet as the bee's nectar itself. Ahead, we chatted with Urban Decay Founder and CEO Wende Zomnir about the origin of the new Honey collection, why the brand chose Lizzo as the face for its campaign, and what's to come for more Naked Palettes. 
Where did the concept for Urban Decay Naked Honey come from? 
The concept of Urban Decay's Naked Honey came from one of our beloved vintage products called Honey, a flavored sparkling body powder. It sold like crazy and came in this really great golden-amber colored box and it looked gorgeous on the skin. It really seemed like the right time in the makeup universe to launch a collection of shades that had honey- and amber-based tones in them. It really was the next natural step after Cherry. We had Naked Heat and then Naked Cherry was warm berry tones — so this was the next evolution to go toward amber and yellows and do them in a really flattering, beautiful way. 
Talk to us a little bit about the color story of Naked Honey — why the mix of golds and browns, as opposed to more yellows? 
We created the color story behind Naked Honey to be more golden and browns because to me, honey is a more golden and amber kind of liquid. It's really gorgeous in its undertone and those shades are really more flattering and beautiful on the skin. Yellows are definitely more difficult to wear, and there are some of those yellow-based shades that really brighten and blow out the colors that allow you the blend out the shadows. But really, the golden browns are what is flattering and beautiful on most skin tones. 
Did you draw inspiration from any of the other Naked palettes when creating Honey? 
We definitely draw inspirations from our vintage and historical Naked palettes when we create any new Naked palette and Honey is no exception. Of course, we have the piano key format, which we think is a really perfect format of the long pans where you can see your color range, and the 12 shades that is the perfect amount to get the variety of looks. Beyond that, we let the color-story of that Naked come to life on its own and really express its own story. 
Tell us about the concept behind the corresponding Honey Lip Plumper and the Holiday Honey Eyeshadow Primer Potion Ornament. How can you pair these with the palette? 
Well, of course, lip plumpers are always huge, and glossy lips are even bigger than ever. The honey-toned lip plumper is gorgeous on any lip, and you can use it on its own or as a topper. People talk about having a "bee-stung lip," and I actually have a personal experience with a bee-stung lip. I was stung in the lip by a bee one time and my lip really did swell up, so it's really funny to me that we would create a honey- flavored lip plumper.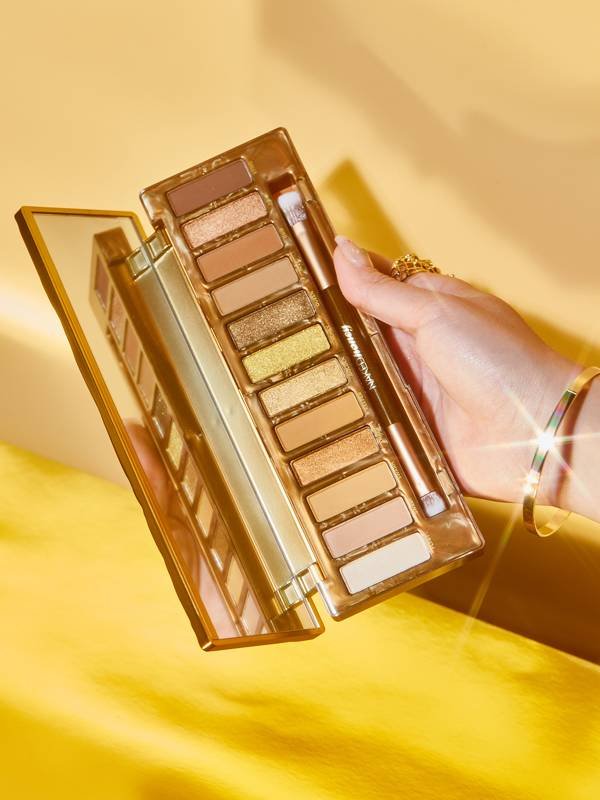 As far as our Holiday Honey Eyeshadow Primer Potion, I LOVE primer potion! It is one of my go-to products, and what I love about this one is that it has a golden undertone that really enhances the golden and amber shades in the Honey palette. On top of it, who can resists a little ornament? It's great for gift giving and great for gifting to yourself, too! 
What are your go-to shades in the Urban Decay Naked Honey Palette?
My favorite go-to shades in the Naked Honey palette are Flyby — a great pale nude to use on the brow bone — Swap and Keeper. These shades are great to use as transition shades and to bring the color out of the crease. I also like Hive, to bring in the crease and define the outer corners of your eyes, and Sting, a great deeper shade to create real definition around the eye.
Can you talk a little bit about Urban Decay's choice to enlist Lizzo to help launch the Honey Palette?
Well, Lizzo is so much fun to work with and this really is a fun palette, so she seemed like the perfect person. She also has great skin and loves eyeshadows — the golds looked amazing on her. It was the perfect fit. 
Anything else you'd like to add about Urban Decay Honey? Do you think we'll be seeing more Naked palettes coming our way in the future?
One of the things I want to say about Honey is that it's an evolution of Naked. I think it's a 
really great way to showcase how at Urban Decay we are always evolving our definition of beauty and Naked. I love how our products and our philosophy of constant evolution go hand-in-hand. As far as seeing more Naked palettes coming in the future — of course! We want to keep innovating and creating new things. Again, more constant evolution! Keep your eyes open for the new Naked to come. 
Read More:
History of the Urban Decay Naked Palettes
How to Apply Foundation the Right Way
We Swatched the Urban Decay Naked Cherry Palette
Read more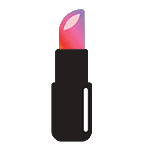 Back to top