Try This Viral TikTok Hack for Perfectly Lined Lips Every Time
December 27, 2021
I personally love a precise and defined lip look, but when it comes to actually putting my lip liner to work, I'm not exactly skilled. That was until I came across this technique from @lera_valesta that's garnered over 13 million views on TikTok. In the video, she creates the perfect outline by positioning her lips in a unique way. The hack is a must-try for anyone like me, who's ever struggled with getting the perfect lip line. Keep reading to learn how it works.
How to Get the Look
For me, getting an even finish with a lip liner in a saturated color like red is more difficult than with a neutral shade because mistakes are more obvious. But here, I wanted to use a super pigmented lippie combo to really put the hack to the test. The Maybelline New York Matte Ink Liquid Lipstick in Individualist and the Urban Decay 24/7 Glide-On Lip Pencil in Bang were my picks.
I pressed my lips together so just the outer edges showed. With my lips in the same position, I went in with my pencil along the lip line. I then went back in with my liquid lipstick and filled in only the area that was exposed. Then, I smacked my lips together to blend together.
I was left with a dreamy cherry red lip look without mistakes to fix. As someone who usually does their makeup in a rush, this easy trick will be a game-changer in my makeup routine.
Photo: Jazmine Ortiz, Design: Juliana Campisi
Read more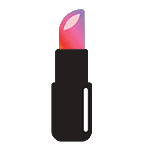 Back to top