23 New Makeup Products to Try This April
April 01, 2019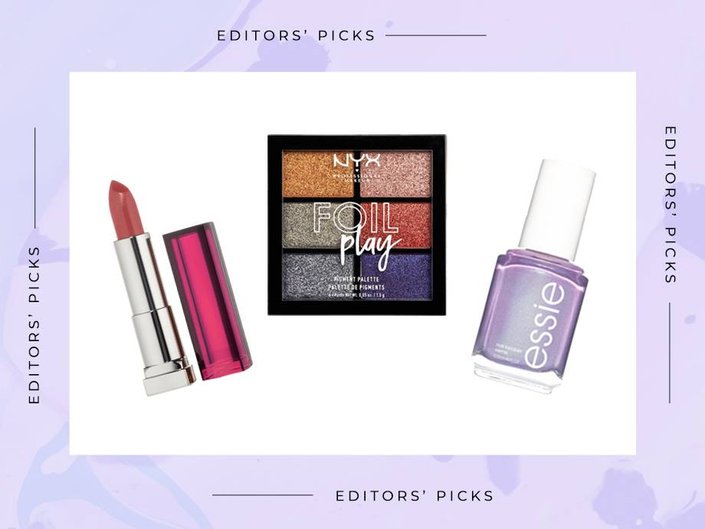 It's a brand new month, which means a new round of products is making its way onto store shelves and into our makeup bags. These are the products Makeup.com's editors can't live without this April.
Dawn, Senior Editorial Director
I practically wept when UD discontinued the original Naked palette, but then they brought it back, and it's better than ever. This palette is packed with great neutrals I can wear every day, and for once I think I'm going to use them all — instead of hitting pan on one or two favorites and wondering what to do with the rest.
I can DIY a decent mani, but my right hand never quite looks as professional as my left. Well, that's all changed thanks to this nifty, patent-pending device from Olive & June. It's a silicone handle that attaches to all of my favorite polishes and makes them so much easier to use. I may never go to a nail salon again.
Kosasport LipFuel Tinted Lip Balm
I'm a tinted lip balm connoisseur, and this natural option from Kosa is my current favorite. It comes in a sporty-chic tube, the colors are subtle but something and it has a delightful mint flavor. If you're looking for a new balm for spring, you can't go wrong.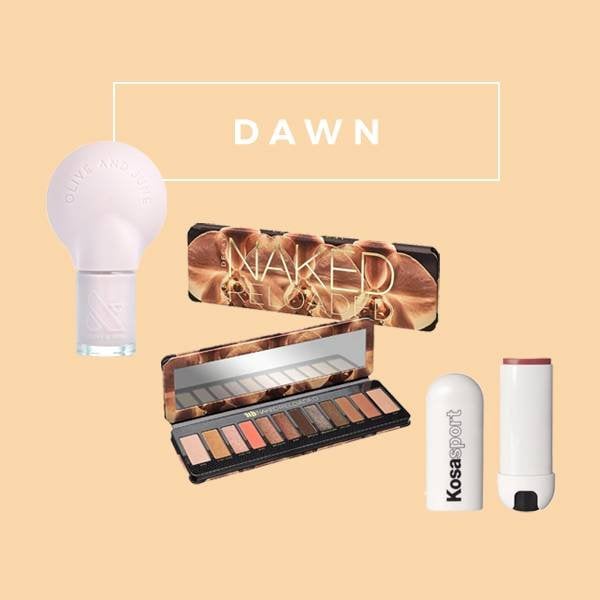 Lindsey, Content Director
NYX Professional Makeup Fill & Fluff Eyebrow Pomade Pencil
I've been a die-hard tinted brow gel fan for years now, preferring their easy-to-apply formulas to the patience a traditional brow pencil usually requires. After trying this dual-ended one from NYX, though, I've reconsidered by position. The color (I went with the shade Ash Brown) glides on easily thanks to the teardrop-shaped tip, and the teeny, tiny paddle brush on the other side helps diffuse the pigment in seconds for an arch with more depth and dimension than my typical go-tos provide in the same amount of time.
Lancôme Le French Glow Bronzer (Coming Soon)
I'm a sucker for anything that looks remotely nautical. Seriously, my friends joke that the only shirts I own are ones with stripes, so it's not exactly a shock that I was drawn to the red, white and blue limited-edition packaging of this bronzer. Inside the chic compact, though, is the real star — a four-shade bronzing palette that adds just the right amount of warmth to my very un-sunkissed skin.
RMS Beauty Luminizing Powder in Grand Dame
Even though I love the look of a blinding cheek highlight on my fellow editors (talking about you, Marisa and Alanna!), it's usually not for me. I prefer a subtle glow that I can sweep across my face without worrying about precision, which is exactly what this ultra-fine champagne-tinted powder lets me do.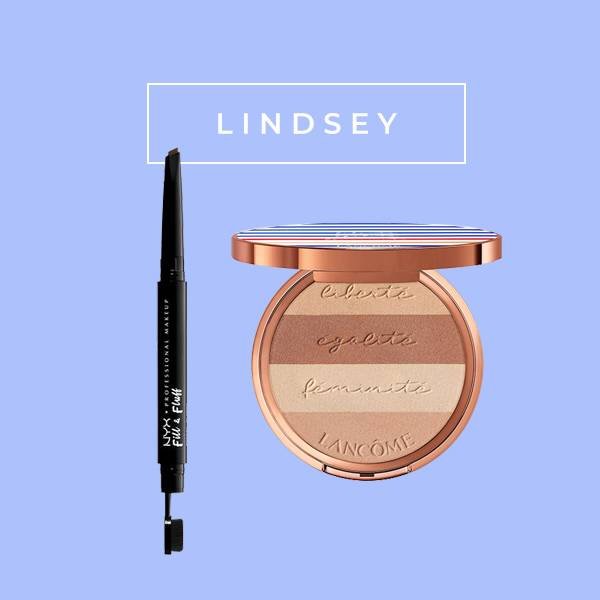 Minou, Growth Strategist
Maybelline Pink For Me Lipstick
This is the perfect everyday pink lip color and it doesn't dry out my lips — it feels super silky smooth with every application.
Urban Decay Brow Endowed Eyebrow Gel & Primer
I've always filled out my eyebrows with a brow pencil, but this gel is so much easier to apply and it looks way more natural. Pencils create too thick of a finish for me, so this is my new go-to because it works with my brow hair.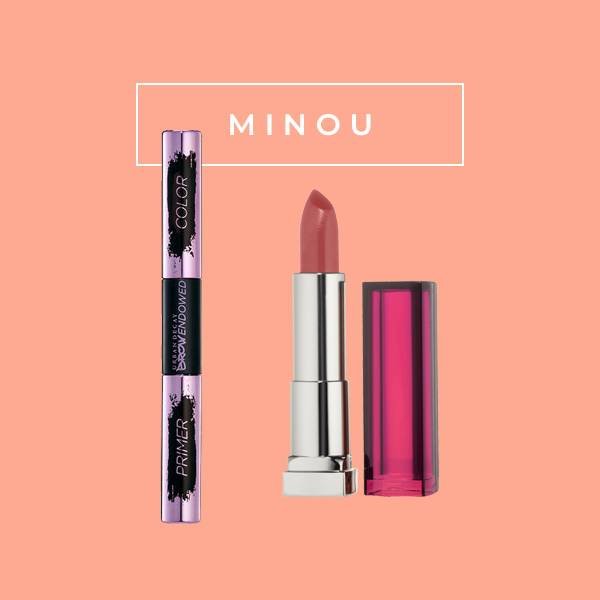 Hannah, Graphic Designer
I've been loving cream blushes lately. This one is super lightweight yet buildable and will fit in even the tiniest of makeup bags. Not to mention the shade "Puff" is the perfect pop of pink for spring.
Proenza Schouler Arizona Body Lotion
If you're like me and love Proenza Schouler's Arizona fragrance, you're going to freak over the Arizona body lotion. The smooth texture and velvety finish will keep your skin feeling silky smooth, while the light, floral scent will make you feel fresh all day.
For those of you who don't know, Essie's Spring 2019 collection is beautiful, and I've been swooning over one shade in particular: Essie Tiers of Joy is a purpley, blue polish with a beautiful lilac iridescent finish. I love that the color isn't overly saturated and allows the iridescence to truly shine. It may be a "spring" color, but you'll catch me wearing this shade the rest of the year.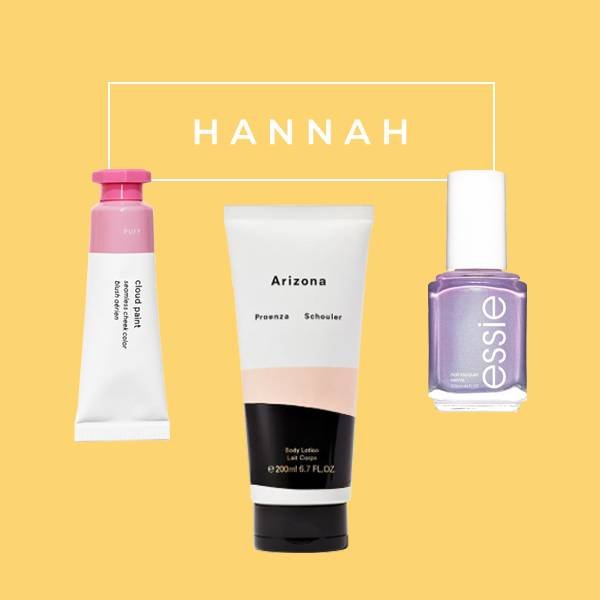 Marisa, Associate Editor
L'Oréal Paris Unlimited Mascara
I'm so obsessed with this new drugstore formula. It goes on super-smoothly, doesn't clump and its bendable wand shape allows you to reach each and every lash. I apply it after using my eyelash curler for voluminous, natural-looking lashes.
Nudestix Magnetic Nude Glimmers
This new multipurpose highlighter can basically be whatever you want it to be. I use it on my cheekbones, eyelids, the inner corner of my eyes and Cupid's bow to make my skin look extra glowy. I've been using the rose gold shade named 99% Angel, and I promise — it's the highlighter you've been dreaming of.
Meet the toothpaste that's about to make your shelfie look even cooler. Not only will it make brushing your teeth more fun, but the spearmint flavor will also leave you feeling refreshed and ready to take on the day (or head straight to bed).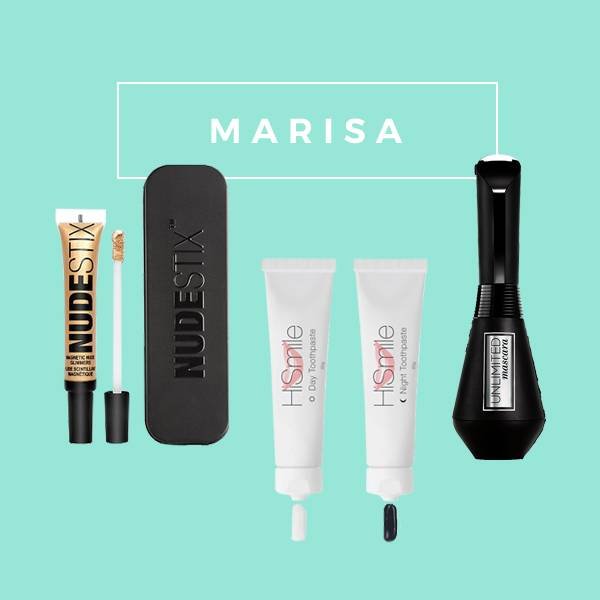 Alanna, Associate Editor
Glossier Play Color Slide in Disaster Class
If you know my makeup style, you know that I love a good eyeliner on both the top and bottom lash lines. I like to lightly line my lower lash line to give it a little definition and pop, and I always reach for a shade that's dark — but not black. Lately, I've been going for a maroon or wine shade in this area (softly buffing it out with a brush for a little smoke), and Disaster Class has been getting the job done right. It's a sleek, gel pencil that stays on for hours and gives me just the right amount of definition and pigment I want.
NYX Professional Makeup Foil Play Pigment Palette
I love a good foil shadow, so when I came across this gorgeous new palette from NYX, I was immediately hooked. Each shade is as spectacular, thick and rich as the next. If I'm going for a major eyeshadow look in minutes, I'll swipe one of these shades across my lid once, slightly blend it out into my crease and I'm good to go.
Stila Mystére HighlightingFace Gloss
I'm a sucker for a novelty face gloss or highlight, so when I got my hands on this one, I knew I had to try immediately. First, I love how the texture of this feels — pliable but still buildable — and the multi-colored finish is just an added bonus. I love to wear this on the high points of my cheekbones, down my nose and around my temples for a really striking look.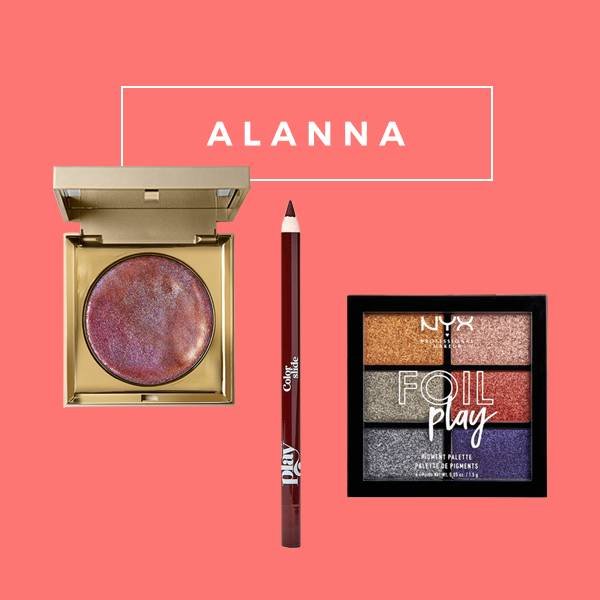 Tembe, Associate Editor
IT Cosmetics Confidence in a Foundation
I'll preface this by saying I'm not a regular foundation wearer — and by not regular I mean rarely, if at all. When I do reach for a formula I want something that doesn't feels weightless and offers a skin-perfect effect without hiding my skin. Although the IT Cosmetics Confidence in a Foundation can be built up to offer full-coverage, half a pump offers just a little coverage and gives me the luminous matte look I love. I like to buff it out using a beauty blender, which ensures I look flawless, but still natural.
KISS Lash Couture Naked Drama in Chiffon
I love a flared out lash — it gives eyes that sultry winged out look without obscuring your eye – which tends to happen for me with fluffier, full-fan lashes. What makes these so good is the flexible band which practically melts into the lash line. They feel fairly weightless (I genuinely forget I'm wearing them) and are easy to apply. 10's across the board.
INC.redible Roller Baby Lip Gloss
I'm all for a nostalgic moment, and few things remind me of childhood more than an ultra-glossy roller lip gloss from the beauty supply store. This updated version is thankfully more cosmetic elegant, featuring ingredients like vegan collagen. It's currently available in three hues in three shades — clear, lavender and peach — and it's no surprise that I want to collect them all.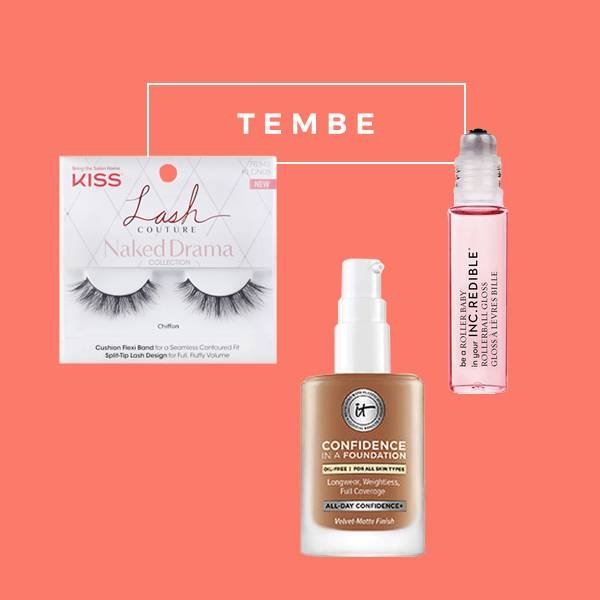 Jessica, Assistant Editor
IT Cosmetics Heavenly Skin Brush
I have to say, I was sincerely intrigued when I saw this new Heavenly Skin Brush by IT Cosmetics because I don't own a single brush that looks anything like it. The unique shape contours to my face and provides super smooth, even coverage, and the super soft bristles not only feel amazing but are also infused with collagen, silk, peptides, niacin and antioxidants to promote healthy-looking skin. I use it to apply my liquid foundation in the morning and it gives me a flawless finish.
Giorgio Armani Beauty Power Fabric High Coverage Stretchable Concealer
I'm always on the hunt for a new concealer that will give me flawless full-coverage – bonus points if it looks natural. The new Power Fabric High Coverage Stretchable Concealer by Giorgio Armani Beauty has a matte finish and easily blends to cover even the worst dark circles and breakouts. I put it to the test for one of my ten-plus hour days, and the formula didn't crease or wear off like most full-coverage concealers do.
Anastasia Beverly Hills Dipbrow Gel
I'd like to thank this product for giving me perfect brows in three easy swipes. Because I'm more of a boy-brow kind of gal than an Insta-brow type, I like that the brush applicator gives me full, natural-looking eyebrows in seconds and even allows me to fill in my brows on the go. I simply brush up the hairs and the spoolie distributes the gel. The formula is waterproof (a must) and boasts up to 12 hours of flawlessness wear — not to mention, it also comes in 11 highly-pigmented shades.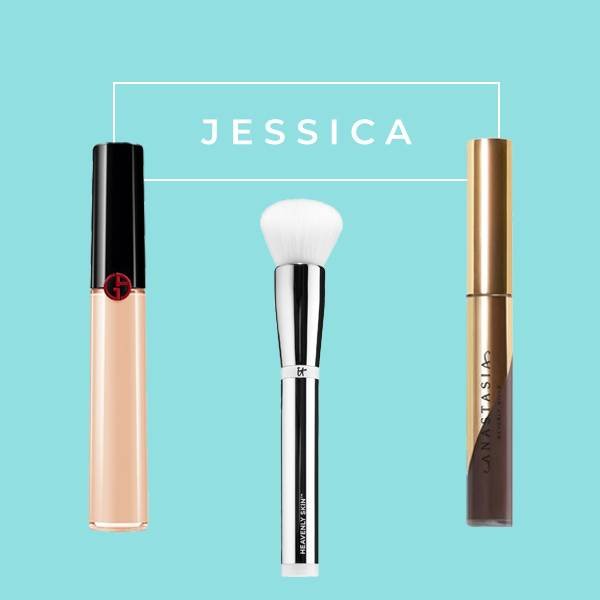 Read More
How to Master Negative-Space Nail Art
Should I Be Using a Glass Nail File?
Read more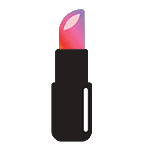 Back to top