24 New Makeup Products to Try This May
May 01, 2019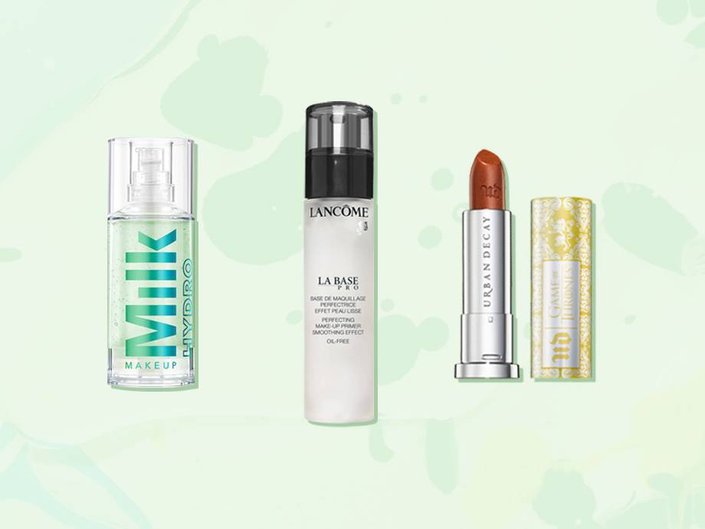 It's a brand new month, which means a new round of products is making its way onto store shelves and into our makeup bags. These are the products Makeup.com's editors can't live without this May.
Dawn, Senior Editorial Director
Urban Decay x Game of Thrones Jon Snow's Long Claw Eyeshadow Brush
Yes to everything "Game of Thrones" including the Urban Decay collection and this extra special brush. Putting on eyeshadow just became so much more fun — I can fight imaginary White Walkers in my bathroom between blending.
Lancôme L'Absolu Rouge Liberté
I'm a sucker for French, striped anything, and this lipstick is no exception. Not only is the packaging beyond adorable — and perfect for all my nautical summer fantasies — the lipstick comes in the perfect shade of cherry red, called Idole.
Patrick Ta Major Glow Highlighting Mist
This highlighting mist is next-level amazing. It's incredibly fine, the sheen is beyond gorgeous, and it smells like heaven. It comes in three beautiful shades, and I don't even know how to choose; they're that good.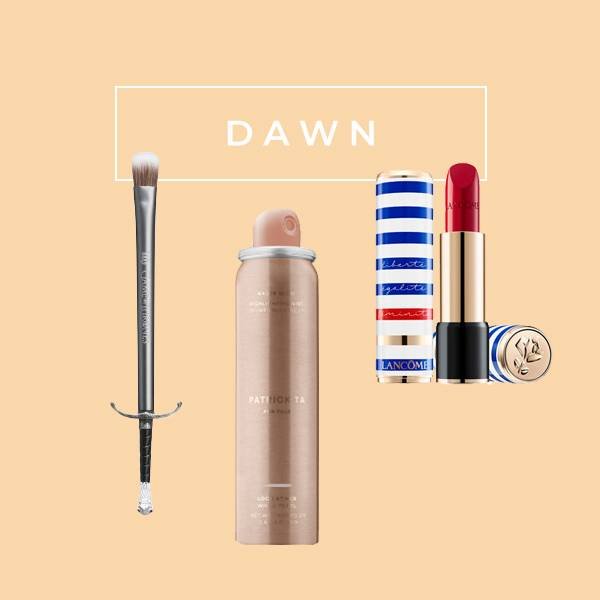 Lindsey, Content Director
Giorgio Armani Beauty Sì Fiori Eau de Parfum
I've been a fan of Armani's sultry, floral scent Sì since it came out, and this new iteration is just as good — if not better — than the original. The mandarin and blackcurrant nectar notes give it a hint of citrus that feels very of the moment and seasonally appropriate. I'm 100% asking for a bottle engraved with my name for Mother's Day.
I don't usually have time to touch up my makeup during the day, so whatever I put on in the A.M. needs to last. When I started swiping on this new Lancôme eyeshadow primer before doing the rest of my eye routine, I noticed that the midday fallout I usually get was virtually non-existent. My eye makeup looked almost the same when I walked in the door after work as did when I left in the morning.
Maybelline New York Dream Urban Cover Full Coverage Foundation
I'm very picky when it comes to my face base and tend to opt for a CC cream over a foundation because they feel lighter on my skin and generally have more skin benefits. Maybelline's latest foundation innovation is different though. It feels like a CC cream but offers more coverage (which I desperately need right now) and is infused with both SPF 50 for sun protection and antioxidants to help ward off damage from pollution.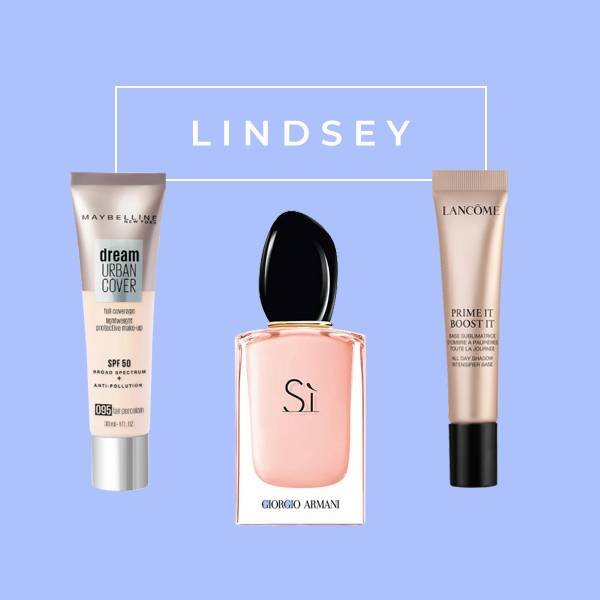 Hannah, Graphic Designer
To be perfectly honest, primer has never really been a part of my makeup routine because it always seemed like a waste of time. It wasn't until I tried Lancôme's La Base Primer that I really fell in love and realized the importance of it. Since using this primer, my skin looks super smooth and even, my foundation glides on and my makeup stays all day.
NYX Professional Makeup Off Tropic Pro Liner
I'm SO here for the neon makeup trend, which is why I'm loving all the eyeliners from NYX's Off Tropic Pro Liner collection. These liners are so much fun to mix and match with. If I'm feeling bold, I may even try a duo-chrome eye look, using one color on the top on my lid and another on the bottom.
My go-to scent right now is Tocca's perfume in Stella. I cannot get enough of its fresh and floral scent. If you're in the market for a new spring perfume, I highly recommend sampling this one (or any of Tocca's amazing perfumes)!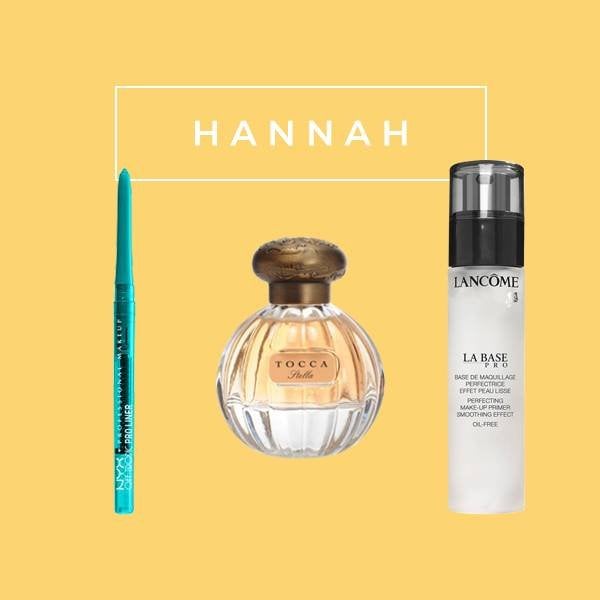 Marisa, Associate Editor
Pacifica Alight Clean Foundation
This is my new go-to foundation. It's a full-coverage formula that leaves my skin looking super dewy and natural. It's also free of harmful ingredients, cruelty-free and vegan.
Maison Margiela Replica Under the Lemon Trees
I get all sorts of excited when Maison Margiela launches a new Replica fragrance. This is one of my favorites so far, as it's perfect for the spring and summer months. It's a fresh, lemony- scent that's bright, earthy and perfect for everyday wear.
Hipdot Crystals Pressed Glitter
Calling all glitter lovers: this palette is a must try. Seriously, just open it up and you'll gasp. The colors swatch so beautifully on all skin tones and make for easy application. I've been using the silver shade on my eyelids, simply by using my finger to apply the velvety-glitter formula. It also doubles as a great colored highlighter for festival season.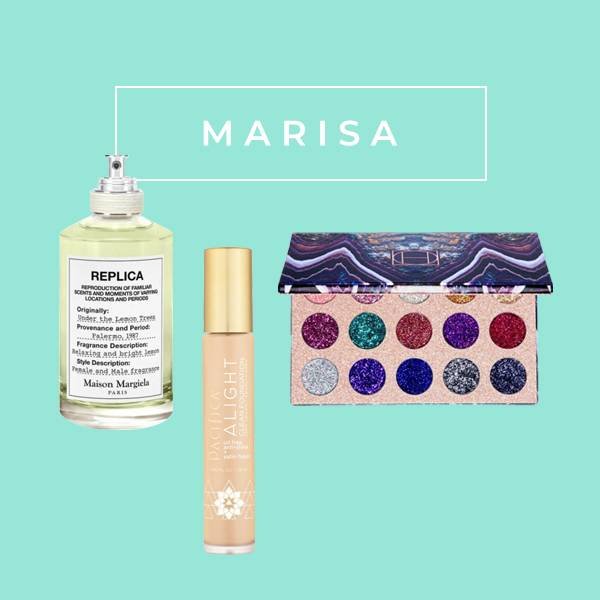 Alanna, Associate Editor
Pixi by Petra Flawless Beauty Primer
I'll be honest, this primer has been sitting at the back of my cabinet for while. I was hesitant to try it at first because of its shimmery, almost sparkly formula, which I feared that would make my already semi-oily skin look even more shiny. But one morning, I got the courage to try it, and I'm so happy I did. Instead of making me appear excessively oily, it gave me a luminous glow underneath my makeup and kept my CC cream and concealer in place throughout the day. Needless to say, I was shocked at how matte yet glowy I looked and would recommend it to everyone with any type of skin, hands down.
Urban Decay Mother of Dragons Game of Thrones Highlight Palette
There's not much else that excites me more than a good character-inspired makeup line, so when I heard Urban Decay was releasing a "Game of Thrones" collection, I was pumped. My favorite of the bunch is the Mother of Dragons Highlight Palette, complete with three gorgeous shades named after each of the show's dragons. Each shade builds to a blinding pink, gold or copper highlight that suits my olive skin beautifully.
Lime Crime Plushies in Milk Tea
This spring I was on the hunt for a new, quick everyday lippie, and when the Milk Tea Plushie landed on my desk I decided to figure out if it would be The One. Spoiler alert, it was. This stain-like liquid lip softly pigments the lips and leaves behind a matte, dried finish (which I love) but doesn't feel heavy like a liquid lipstick at all. It's versatile, smells like popsicles, and I'll be wearing it all summer for sure.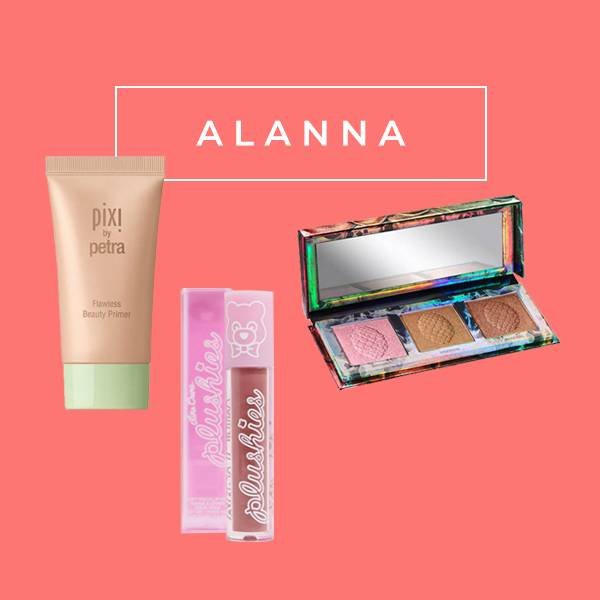 Tembe, Associate Editor
NYX Professional Makeup Bare With Me Tinted Skin Veil
As self-appointed President of the No Foundation Club, I am happy to report that NYX Professional Makeup Bare With Me Tinted Skin Veil has earned a permanent spot on my vanity — and forced me to take a *slightly* different position on regular face product usage. It's weightless and gives skin a natural-looking, flawless finish, and it's easy to swipe on after my sunscreen. I'll definitely be rocking this all summer and beyond.
Flesh Beauty Hot Sauce Lip Gloss in Wind Whirled
Good tinted lip gloss is hard to come by, especially when you have two-toned lips like mine. My favorite shade is Wind Whirled, a warm, berry hue that looks like my lips but better.
Sigma Beauty Tint + Tame Brow Gel in Clear
Brow gels are a dime a dozen, but Sigma Beauty Tint + Tame Brow Gel in Clear is particularly good. The small, pointed brush makes it easy to deposit product throughout your brow and holds them in place without making them stiff and crunchy. I recommend this for anyone with bushy brows like me — just a few swipes will snatch your brows into shape.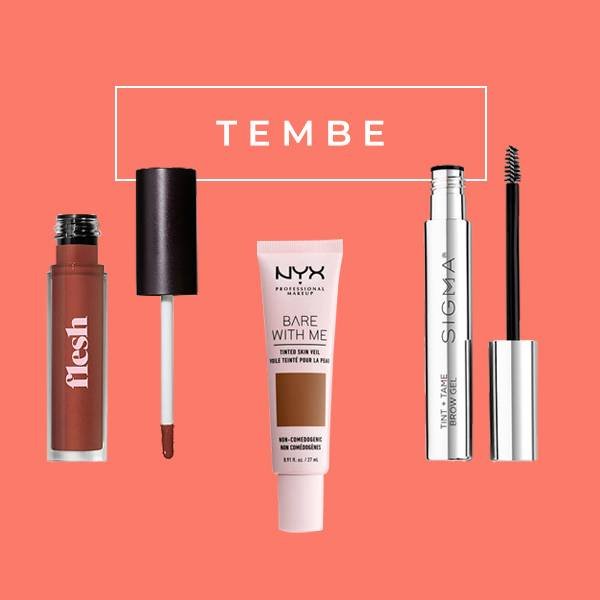 Jessica, Assistant Editor
Lime Crime Softwear Blush in Hyperlink Soft Matte
I'm someone who wears blush every single day, so when the Lime Crime Softwear Blush dropped, I couldn't wait to get my hands on it. The cream-to-powder formula has an ultra-soft texture that is both buildable and blendable for an airbrushed look. I use my fingers to smooth the blush onto my cheeks, and it leaves me with the perfect amount of glowing color.
Urban Decay Game of Thrones Vice Lipstick in Sansa Stark
I own an obscene number of Vice Lipsticks (my absolute favorite shade is Stark Naked), so when the Urban Decay x Game of Thrones collection hit our desks I immediately reached for one of the new shades. Sansa Stark Vice Lipstick is a warm, peachy nude color with a sheer finish. It looks just natural enough to become my new go-to lipstick for spring.
I rock variations of, more or less, the same two nail polish shades all year: blush/pink in the spring and summer and red in the fall and winter. For that reason, Stirring Secrets, a new shade from Essie's spring collection is quickly growing on me. It's a nude beige cream color with hints of rose in it, and right now, I swear I'm never taking it off.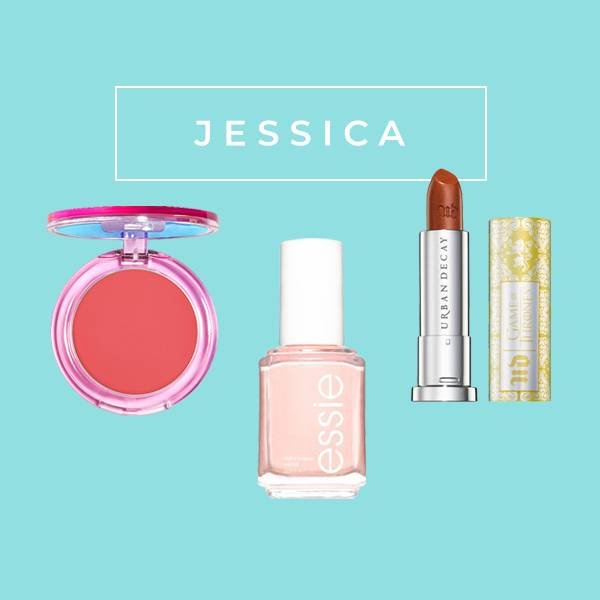 Jillian, Social Media Editor
Maybelline Snapscara in Black Cherry
What I love most about this mascara is that the formula feels so lightweight, and it applies smoothly. Some mascaras can dry clumpy or leave fallout as you wear them, but I found that the Snapscara has a very natural finish and totally enhanced my lash length without looking artificial. The color selection is also bold without going overboard, so I usually go for Black Cherry to mix things up with my look.
Laneige is one of my newest discoveries (I first fell in love with the Lavender Water Sleeping Mask), so I've been dutifully searching all the brand's products for my next go-to, and decided to give the Lip Glowy Balm a try. As we transition seasons, my lips are taking the brunt of chillier days and spring winds, so I needed to find a solution to my perpetually-chapped lips that I can use constantly. It's almost like having the brand's Lip Sleeping Mask in my pocket to use whenever, except with a sheer pop of color.
I have the *worst* dry skin that needs constant exfoliating and double-moisturizing, so I try to make sure my makeup products are just as hydrating as my skin-care routine. I've never used anything with cannabis seed extract, so this was definitely a risk for me (once I find products I find hydrating enough, it's hard to get me to switch), but I was pleasantly surprised by how well it worked as not only a primer, but a pseudo-moisturizer.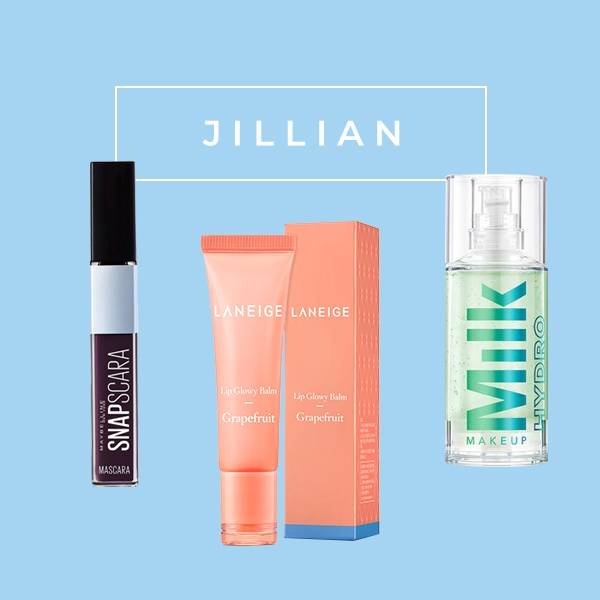 Read More
Your New Spring Fragrance, Found!
6 Water-Based Makeup Primers to Try STAT
Read more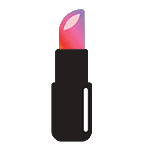 Back to top