3 Halloween Makeup Tutorials in One — All With Drugstore Makeup!
October 10, 2017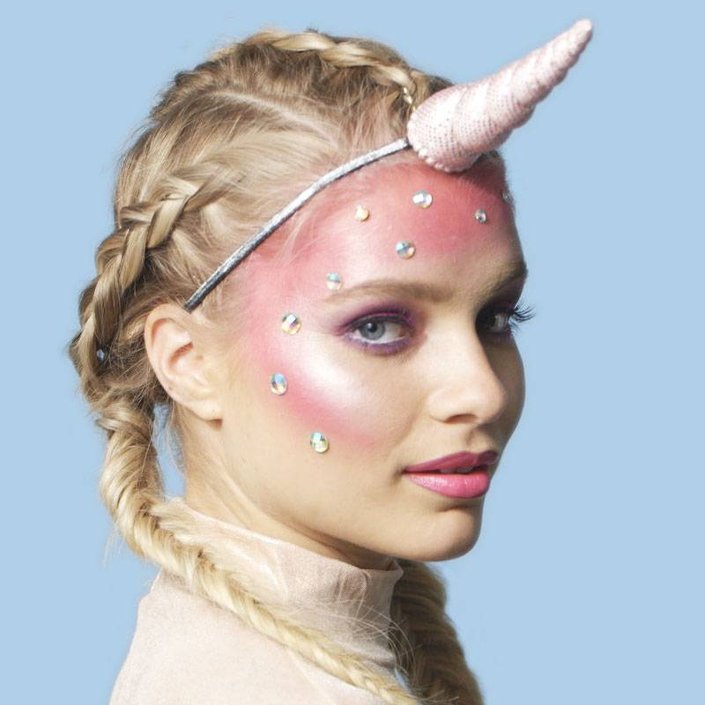 There are few things in life more stressful than finding the perfect costume for Halloween. Now that we've all graduated from trick-or-treating age, Halloween is more than just one night — more often than not it's an entire weekend (or two!). If you don't want to spend a ton of money on multiple costumes or don't think it's worth the hassle, don't worry; we've come up with a tutorial that gives you three looks in one. This drugstore Halloween tutorial takes you from a glittery unicorn to an underwater sea babe (more commonly known as a mermaid) to a galactic superstar. Pick one or morph from one to the next as you party hop — either way you're gonna look bomb.
Watch the video, ahead:
The Base Look
The key to this is a good base — the eyes and lips stay the same in each of the three looks. So mastering the first step is the most important part.
You'll Need:
NYX Professional Makeup Brights Ultimate Shadow Palette
NYX Professional Makeup Jumbo Eye Pencil in Milk
Step 1: Using the pale purple color, place the shadow all over your lid, stopping at the crease.
Step 2: Layer with a light pink shade; use a stiffer brush to really pack that color in.
Step 3: Take the dark purple shadow and define/shade in your crease.
Step 4: Take that dark purple shade under the eye for a pop of color.
Step 5: Finally, using a white eyeliner, line your waterline.
To Become a Unicorn...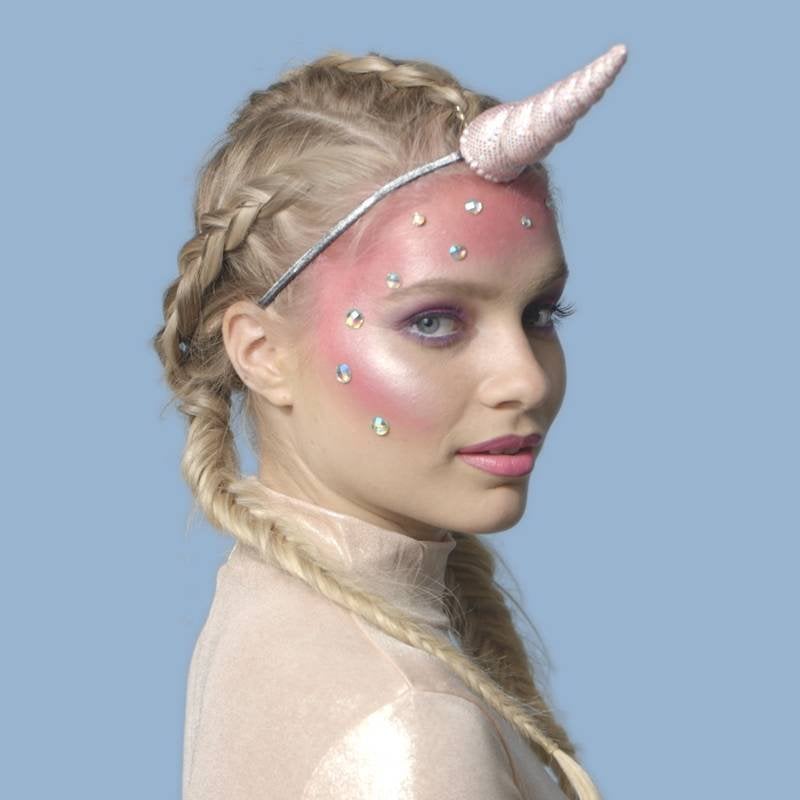 The unicorn makeup trend may have reached fever pitch, but it shows no signs of slowing down.
You'll Need:
NYX Professional Makeup Brights Ultimate Shadow Palette
Maybelline FaceStudio Master Fairy Highlighter
Crystals/gems
A unicorn horn
Step 1: Dip back into that pale pink shade, and pack it onto your face using a fluffy brush. Don't blend too much though — you want people to see your unicorn look from across the room.
Step 2: Layer Maybelline Master Fairy Highlighter on top for an ethereal finish (the more highlighter, the better).
Step 3: Add some crystals to your face (eyelash glue comes in handy here) and a unicorn horn to complete the look.
To Transform Into a Mermaid…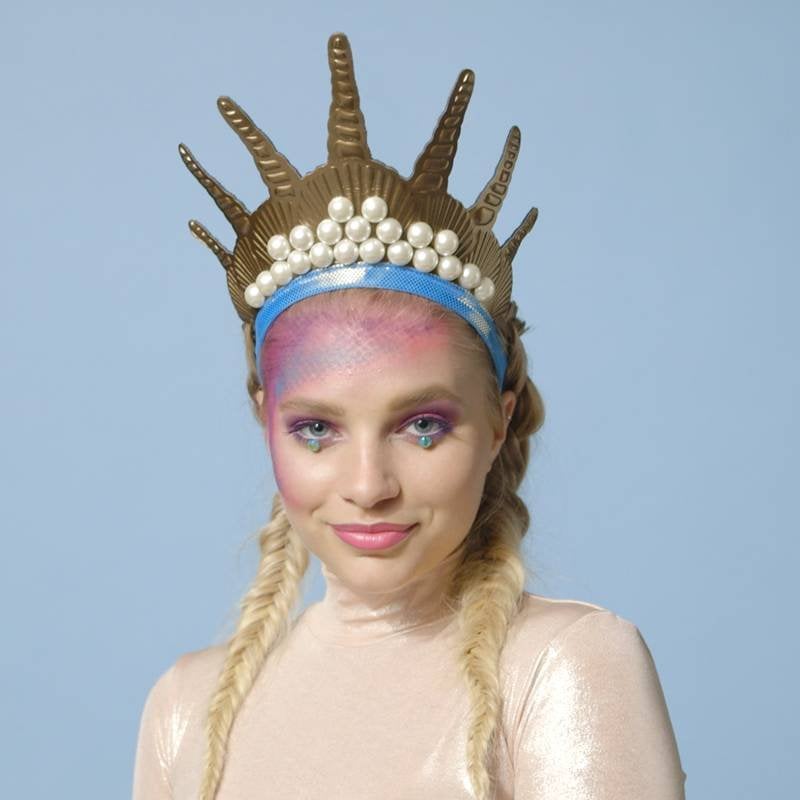 Move over Ariel — this is how to get the mermaid look right in 2017.
You'll Need:
NYX Professional Makeup Brights Ultimate Shadow Palette
Fishnet stocking (a smaller fishnet is ideal — it really gives you the "scaly" look)
Mermaid crown
Gems
Step 1: Place the fishnet over the area where you want scales.
Step 2: Using the purple shadow, place the shadow on top of the fishnet.
Step 3: Take the teal shadow and place that it on another section of your face (place them close together for a fun, gradient look.
Step 4: Add a sea crown and some crystals underneath the eye and turn into an underwater goddess.
For a Look That's Out of This World…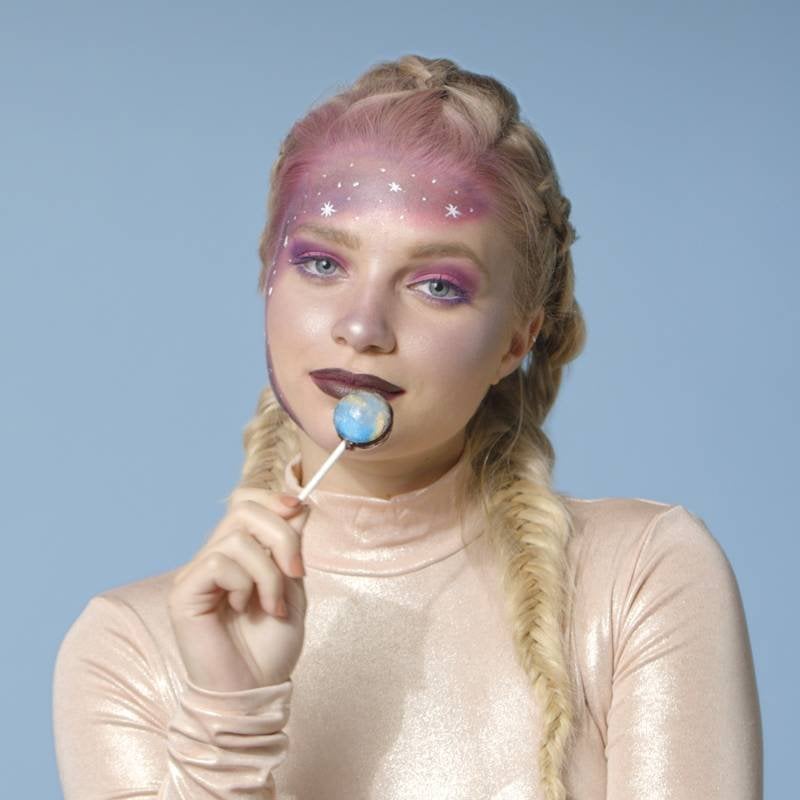 Galaxy everything is so hot right now — makeup included.
You'll Need
NYX Professional Makeup Brights Ultimate Shadow Palette
NYX Professional Makeup White Liquid Liner
NYX Professional Makeup Color Mascara in Purple
NYX Professional Makeup Matte Lipstick in Goal Digger
Step 1: Apply purple mascara to your top and bottom lashes.
Step 2: Using the darkest shadow in the palette, pack the color on top of the initial pink shade. (Space is deep so you have to be too — but don't forget to blend!)
Step 3: Using white liquid liner, draw small asterisks (stars) and dots on your face.
Step 4: Add a dark lip to finish it off.
Will you be trying one or all three?
Read more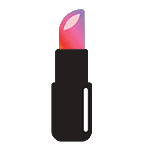 Back to top