5 Easy Expert Tips for Making Your Eye Makeup Last All Day
February 27, 2020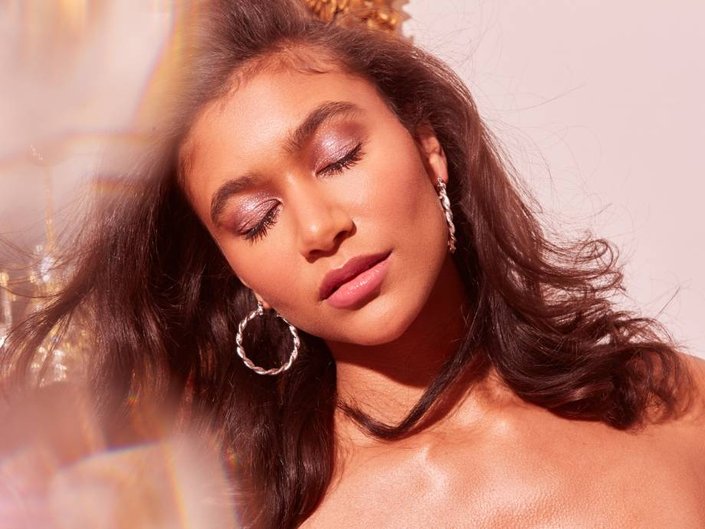 Every morning I wake up and issue a plea to the makeup gods that my eyeshadow lasts throughout the day without creasing or smudging. A big ask for someone with oily eyelids, I know. Never have I ever found a setting powder, primer or longwear shadow that could single-handedly prevent my eyeshadow from congregating in my lid's crease. Still, with a collection of dreamy palettes, glitter pigments and a Pinterest board full of eye makeup inspo, I was determined to find a solution, so I turned to makeup artist Dominique Lerma for some tips. Ahead, find out how she makes eyeshadow stay put all day long. 
STEP #1: Prep the Skin 
While skin care is 100% a must, Lerma explains that it's best to steer clear of applying creams too close to the eye area. "Regardless of your skin type, avoid applying serums or heavy creams to the eyelid area because the oils and product will cause the shadows to crease," says Lerma. An extra precaution to prevent greasy eyelids? Dab the area with a tissue to soak up excess oil before applying a primer. 
STEP #2: Pick the Best Products for the Job 
If you want your shadow to last all day, using a heavy-duty primer on the lid is non-negotiable. Our recommendation for 24-hour wear is the Urban Decay Eyeshadow Primer Potion. Apply a generous amount all over your lid, down to your lash line and up to your brow bone, to help the eyeshadow adhere. Next, select a longwear eyeshadow. "If you're prone to oily eyelids throughout the day, it's best to work with matte shadows," says Lerma. "Aim to use shadows that say 'long-wearing,' 'water-resistant' or 'waterproof' to ensure the longevity of your wear."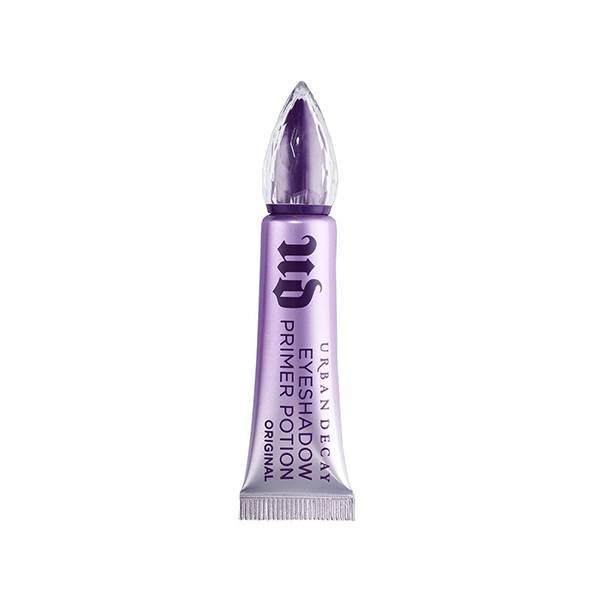 STEP #3: Execute in Multiple Layers
Grab an eyeshadow brush, like the Omnia Pro Shader Brush, and start packing eyeshadow on your lid. "Do so in layers to allow for a more impactful application and to protect it from diminishing throughout the day and night," says Lerma. She explains that this is especially important in the crease area. 
STEP #4: Set Your Look 
Once you've finished your glam for the day, make sure to set your eye makeup with a five-star setting spray. Lerma recommends the Skindinavia The Makeup Finishing Spray which is oil-free, hypoallergenic and works for up to 16 hours. We also love the NYX Professional Makeup Setting Spray Matte Finish to keep creasing and smudging at bay. 
STEP #5: Clean. Your. Brushes.
It may not be the first thing that comes to mind when thinking about longwear eyeshadow, but Lerma confirms that cleaning your brushes is easily one of the most important steps. She explains that leaving your brushes dirty causes the bristles to get hard. This in turn makes it more difficult to pack on the product in uniform layers, which helps shadow last longer. What's more, buildup in the brush can add unwanted oil into the mix that will increase the chance of creasing and smudging. 
Read More:
Ouch! Why Are My Nails Sore After Getting Acrylics? 
Best Full-Coverage Concealers (In Easy-to-Use Pots!) 
7 Fun Facts About Makeup Every Beauty Lover Should Know
Read more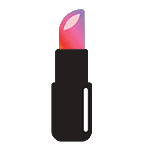 Back to top