Lipstick Queen Founder Poppy King Shares What Beauty Means to Her (and Reveals Her Favorite Lipstick)
January 08, 2020
Poppy King may as well be crowned the lipstick queen herself. Whether it's designing a tube of red, bright pink or mauve, King has proved her magic lipstick touch in the three brands she's created over the years: Poppy, Lipstick Queen and Femme de Poppy. Like her journey with makeup, she hopes to give you a swipe of confidence with each lip product she creates.  Ahead, we chatted with King about her typical day, her advice for future beauty entrepreneurs and the biggest query of all — why lipstick? 
Tell us a little bit about your background in beauty and how you got started in the industry?
The only background I had in beauty when I started was being very disappointed with the way lipstick looked on me. It went a garish pink when I was looking for true vintage glamour lipsticks like the Femme Fatale wore. When I finished school, on a crazy whim I decided to see if I could start a lipstick company, and guess what? I did! That was back in 1992 when I started my first company in Australia called Poppy. Ten years later, I moved to NYC to work for the Estée Lauder Corporation, but realized I wanted to go back to starting my own company, so I founded Lipstick Queen. My first adventure is pretty well documented in my book Lessons of a Lipstick Queen which I published in 2008. (I am also writing my next book now!)
What makes your lipstick different?
I try to create lipsticks that are like none other in look, feel, wear and ideas. I try to make every one of my lipsticks magical in its own way because I believe lipstick is not only cosmetic magic, but wearing one also changes what you think of yourself and what you're capable of. Femme de Poppy is one of the many new concepts I have coming up in lipstick … stay tuned for much more.
What does a typical day look like for you?  
A typical day for me always starts with my biggest source of inspiration, my kitty cat Meowsy. This is followed by coffee and breakfast. As long as I have that to start, I can tackle the rest of my day, which involves admin, emails, meetings and product development, whether at my little office or on the road. On any given day, I am in some way working on a new lipstick idea, and that hasn't changed since I was 19!
Describe your relationship with beauty. 
My skin is much better now that I have changed my diet to avoid dairy, sugar and gluten more than I used to. I have very fair skin and am now 47 years old, so it's holding up well, but I can see more changes in my skin. My goal for the second half of my female life is to not get sucked into the idea that women only have one pinnacle of beauty and it's in their youth. I am learning to embrace my skin for the way it is now.
What's your favorite Femme de Poppy shade to wear?
Well Red, the intelligent looking red.
What moment in your career are you most proud of so far?
I am very proud of the donation and collaboration with WNYC Studios I did to benefit intelligent discourse in the media with Brooke Gladstone. 
If you weren't in beauty, what would you be doing?
My dream would be writing. It would be a reach goal for me to make a living off of that alone, but I am very focused on writing my next book at the same time as working on my beauty business.
What's your holy-grail makeup product of the moment that isn't lipstick?
I am amazed at the Marianella Face Primer Detox Gel created by my friend and his mom! 
What's your advice for aspiring beauty entrepreneurs?  
Beauty is a mind-body connection; it's our job to move beauty away from the realm of aspiration and judgment and into the realm of the imagination. 
What does beauty mean to you?
It's a feeling. It's something you sense much more than you see. Real beauty excites all the senses, not just one.
Read More:
7 of the Best Powder Foundations and Why You'll Love Them 
7 Hydrating Lipsticks for a Moisturized Pout 
How to Fix Any Eyebrow Mistake
Read more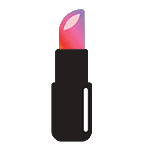 Back to top