Meet Jules Miller, Founder and CEO Of Chic Supplement Brand, The Nue Co.
June 26, 2019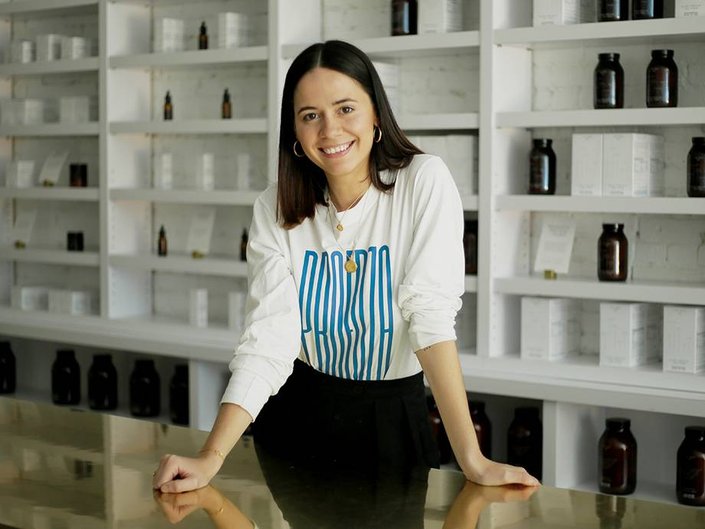 A recent dive into the latest and greatest offerings in the wellness space led me straight to The Nue Co., a seriously chic supplement brand developed to help you live your best, healthiest life. But this wasn't the first time I laid my eyes on the brand's signature, dark-colored glass packaging. I was previously attracted to Debloat Food + Prebiotic, which has "relax a bloated stomach" written on its packaging (a problem I most certainly deal with). And I can't help but gush about the brand's new Functional Fragrance, which has packaging that looks like something out of a chemistry project (in the best way).
We digress, but the takeaway here is that there's a uniqueness to these products that, just at first glance, makes the experience of taking supplements a little less intimidating. Take a deeper dive into the brand, and you'll discover a range of products meant to tackle certain issues, like the aforementioned fragrance for relieving stress (and smelling really good), sleep drops for promoting a restful night of zzz's and glowing skin food for, well, your most radiant skin ever. Ahead, we chat with founder Jules Miller to learn more about how the brand was founded, what makes the supplements different from other brands and what advice she has for aspiring female entrepreneurs.
Tell us more about The Nue Co. What's the mission of the brand?
Our mission is to guide everyone to take control of how they feel. We do this by enabling people to listen to their bodies, often starting the conversation with "how do you feel" rather than with a set of dos and don'ts. We work together with each customer to find a personalized approach to developing a supplement routine that actually drives results.
How should someone who's totally new to supplements find the right match for them?
The best place to start is with yourself, asking yourself how you feel. From there, take our free consultation service online, in which we ask a series of questions that help us formulate a plan depending on your concerns.
What inspired you to launch the company?
I started The Nue Co. after battling with severe IBS (Irritable Bowel Syndrome) for five years. I was inspired by the philosophy of my grandfather, a doctor and former chemistry professor at Cambridge University, to develop a line of supplements that put nature first, science second and never one without the other.
What makes The Nue Co. different from other supplement brands?
We always rely on data and science to kick off any sort of new product development. We look to ingredients as close to the food source as possible to deliver a nutrient or vitamin, whilst focusing on absorption in its format. A good example is our Magnesium Ease. Almost 1/4 of Americans are deficient in magnesium yet most people don't know what it is. This mineral isn't naturally made in the body, and therefore we must include it in the diet. It's an essential mineral that's vital for everything from sleep to stress management to maintaining a healthy metabolism. Our Magnesium Ease contains lavender and arnica and is sprayed directly onto the skin.
Can you tell us more about the inspiration behind the brand's minimalist packaging?
The most important factor when considering packaging is function and footprint. Although many people comment on the look of our jars, they were actually selected because of their pharma heritage. Using amber glass helps protect food-based ingredients from heat and sunlight, meaning we can preserve our formulas without the need of preservatives. Glass can also be recycled forever.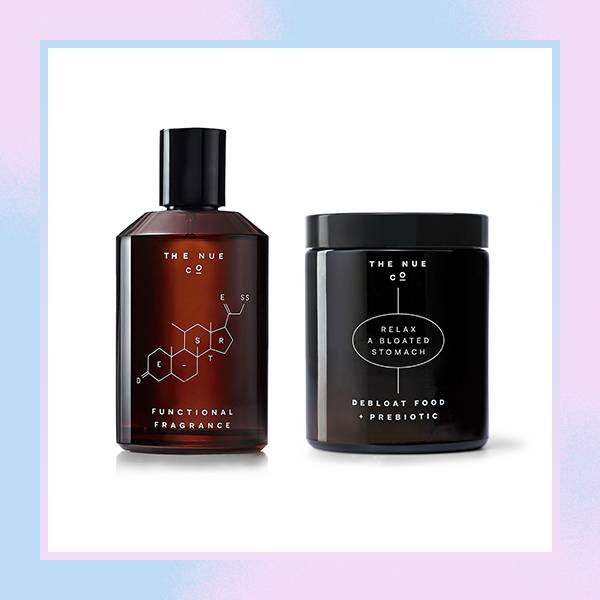 Any advice for aspiring female entrepreneurs?
Stop worrying about gender and focus your efforts on breaking the stereotypes. The celebration of female leaders needs to, and must, include men. The success of The Nue Co. is in equal parts thanks to my (mostly) female team and (mostly) male investors. Together, we are paving the way to what I believe should be the future of the beauty industry, and in fact, any industry — a gender agnostic approach to leadership.
What's a day in your life like?
I'm usually up by 6:30AM, even on the weekend (unfortunately). I'm in the office by 7:45AM — that first hour is always my most productive time of the day. I truly love my first coffee of the day, but I always force myself to drink a massive glass of warm water first. I limit myself to one, sometimes two coffees a day and never after midday because it can mess up my sleep. My days are usually filled with meetings in and out of the office. In the evenings, I walk our French bulldog Lola and stay in to cook, unless it's over the weekend where we'll go out for a meal. In the evenings, I use Sleep Drops and Magnesium Ease as my nightly staples. That duo guarantees I will wake up feeling restored and refreshed. I also love wearing the silk eye mask from Lunya. In short, my bedtime routine is longer than my skin-care routine!
Your favorite The Nue Co. product and why:
As someone who suffered from IBS for over five years, I'd say our signature Prebiotic + Probiotic is one of my favorites. The probiotic we have used has been specifically researched for those who suffer from IBS. Rather than live bacteria (which usually dies in transit and digestion), our formula is a spore-forming complex, which is activated in the small intestine. Our capsule has a delayed response technology, meaning it breaks down in your small intestine rather than your stomach. If you've had stomach issues and have tried everything with no luck, you'll know what finding a solution feels like. It's LIFE CHANGING!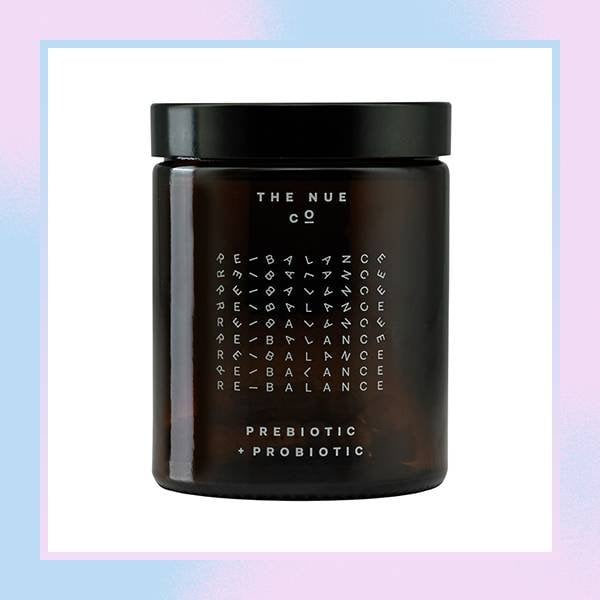 What's your everyday beauty routine (skin + makeup)?
My morning beauty regime changes up quite regularly, but at the moment, I cleanse with the Pai Camellia & Rose Cleanser, then apply the Joanna Vargas Rescue Serum mixed with our Topical-C. As for makeup, I've been using a new Chanel foundation which I love, I think it's the Vitalumiere. It leaves my skin glowy and bright.
What does your daily supplement routine look like?
I take our Prebiotic + Probiotic in the morning and our Nootro-Focus with my coffee after breakfast. If I'm feeling lethargic or sluggish after lunch, I'll have some Debloat Food + Prebiotic, and before bed, I use Sleep Drops and Magnesium Ease without fail.
Any advice for sticking to your supplement regimen?
I'd say the easiest way to remember to take your supplements is to keep them in areas where they're visible. For me, this means my Sleep Drops and Magnesium Ease are next to my bed, my Topical C is by my serum, and my Prebiotic + Probiotic is on my kitchen bench. Also, use products you actually need. If you have a problem like bloating, and finally find a solution that works, you won't need any reminding to take your supplements!
What does beauty mean to you?
Beauty means being kind to yourself. Maybe it's because I'm a Leo, but I'm thankful for what I have (skin, body, mind, brain) and don't really compare myself to those who seem to have something better. I think that gives me confidence, which is beautiful.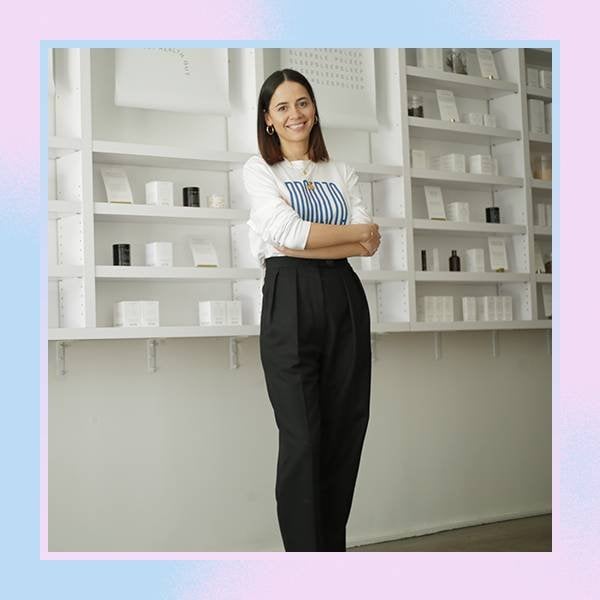 Read More:
We're So Inspired by Lillian Tung and Laura Schubert, Co-Founders of Fur — Here's Why
Meet Brook Harvey-Taylor, Founder and President of Pacifica Beauty
Meet the Olive & June Founder Changing the At-Home Mani Game
Read more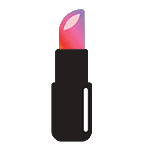 Back to top