5 Best Train Cases for Makeup Artist Wannabes
February 07, 2019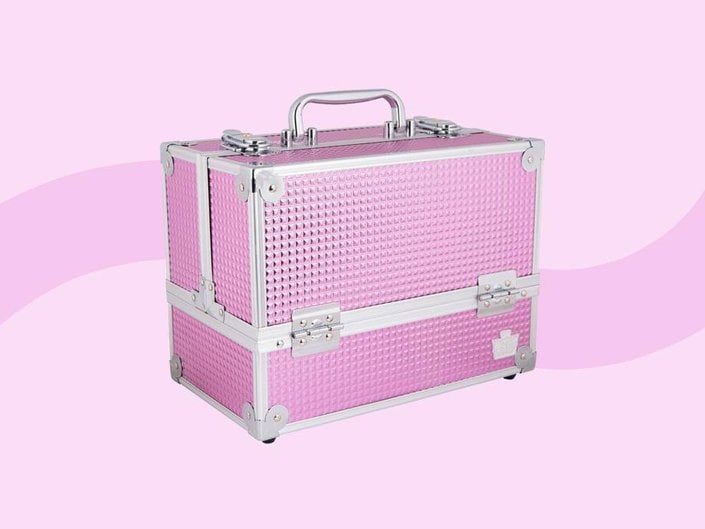 So you own approximately 75 lipsticks, 45 brushes and one million palettes — same. Some days this feels really good, like we're swimming in a sea of beauty products with endless options and a supply of lip gloss that'll definitely last us a lifetime. But other days, it feels like we need another piece of real estate to house everything, even though we sure as hell know we're not sending our Urban Decay Naked Palettes to another address. Such woes can be solved by serious organizational methods, one of which is a train case to store our beloved products.
A train case is basically just a smaller piece of luggage meant for housing a ton of beauty products while you travel the globe, or work on set as a makeup artist. They range from laptop-sized bags that double as storage for the gym to luggage-sized cases that transform into a makeup station with lights — ya' know, casual. Obviously, you don't need to be a makeup artist to get one, but they're especially helpful for those who are.
We've rounded up five of our favorite train cases to keep on your radar in 2019, in case your makeup supply gets a little out of hand.
The Amazon-Famous Option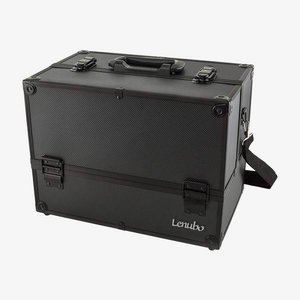 1 / 5
The Amazon-Famous Option
Lenubo Professional Makeup Train Case, $49.95
For a case full of dividers to fit just about everything (i.e. nail polish, lipstick, palettes, tools and brushes), check out this top-rated option on Amazon. It comes in three different colors (pink, silver and black) and even has a shoulder strap in case you need to carry it around.
The Organized Makeup Lover's Dream Come True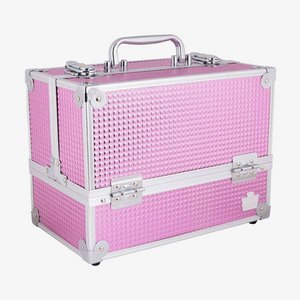 2 / 5
The Organized Makeup Lover's Dream Come True
Caboodles Pink Bubble Stylist Train Case, $44
Open this train case to reveal six roomy, stacked compartments perfect for fitting a variety of makeup, skin care and fragrances. This train case is ideal for housing your everyday makeup or for travel. Check out all of the five-star reviews on Ulta if you need any more convincing.
The Portable Case for Travel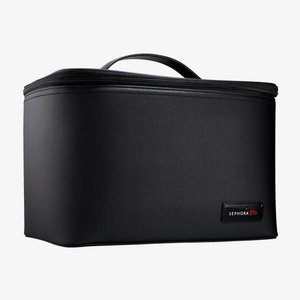 3 / 5
The Portable Case for Travel
Sephora Collection Pro On the Go Traincase, $52
Create a customized train case with this sturdy, sleek option from Sephora. Customers rave about this option because its depth makes room for bottles to stand straight up. It also comes with a brush holder and inner compartments to house just about every product you could need while traveling.
The Rolling Train Case for Professional MUAs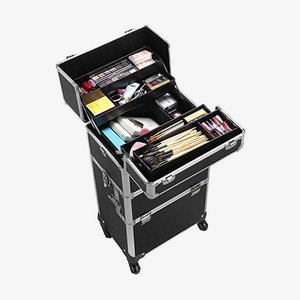 4 / 5
The Rolling Train Case for Professional MUAs
Yaheetch Professional Rolling Train Case, $85.99
For under $100, this professional train case is a serious steal. The top case detaches for when you don't need the entire trolley full of products (though it still fits a great amount of stuff!) This is perfect for those with a ton of tools and bottles. Trust us, this will make your life easier.
The Train Case That Doubles as a Makeup Station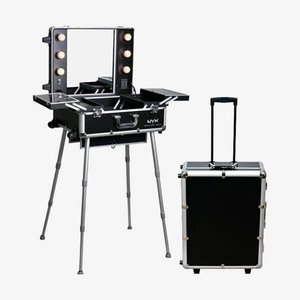 5 / 5
The Train Case That Doubles as a Makeup Station
X Large Makeup Artist Train Case with Lights, $500
Behold, a makeup artist's dream come true. This is the largest train case NYX Professional Makeup offers. It's on wheels to make traveling a breeze, but the best part of all is that it converts into a free-standing, portable makeup station with mirror lights.
Read more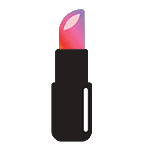 Back to top