Skip the Eyeshadow and Go for This Three-Tiered Eyeliner Look
February 03, 2020
Picture this: You're getting ready for a special night out and you're about to start doing your makeup. Do you go with a traditional winged eyeliner, or are you someone who likes to try out a new eyeshadow look right there on the spot? Before you decide, consider a happy medium, like this three-tiered eyeliner look. It has the comfort of everyone's favorite winged eyeliner but with a subtle glam that still makes it feel as full and vibrant as a poppin' eyeshadow makeup look. Not to mention, it's straight-up gorgeous and giving us all the cool-girl vibes. To learn how to create this look for your next special occasion, or hell, a casual day at work (we're here for it), follow our step-by-step makeup tutorial with Professional Makeup Artist, Jonet Williamson, ahead.
STEP #1: Start With a Neutral Eyeshadow Base While the main focus of this look is the eyeliners, you're going to want to apply a neutral eyeshadow shade as a base all over your lid to give the eyes an even canvas to work on. Williamson says to use a skin-like shade that has a little bit of a flush to it to add some color to your eyelids without stealing the limelight from the eyeliner. On this model, she used a peachy nude color.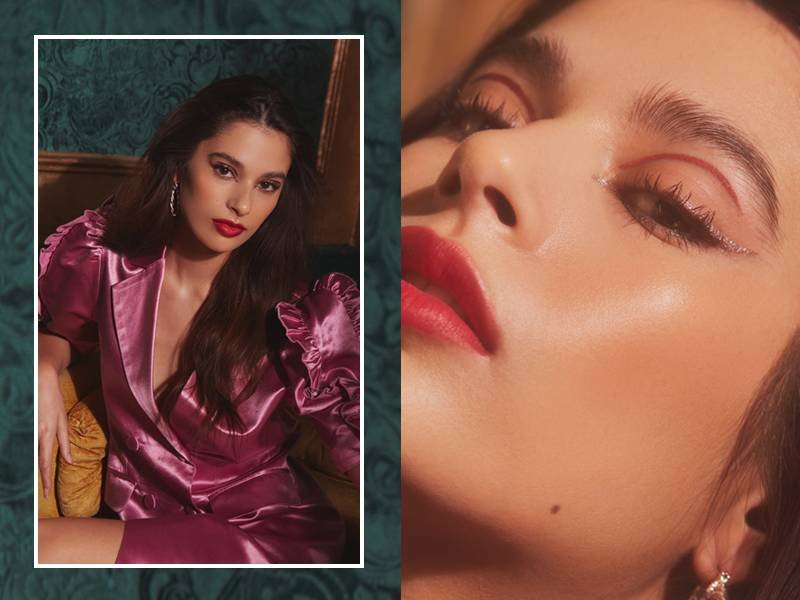 STEP #2: Make an Outline of Where Your Liner Will Go It's best to start out with a sketch of where you're going to place the three tiers using eyeshadow. Williamson recommends using a color that's one shade darker than your complexion so you can see the outline without ruining the finished look. First, sketch the lower lash line by starting from the tear duct and stopping about halfway, where the pupil ends. Then, you're ready to sketch the winged liner on the upper lash line. It's only a half a wing, so don't bring it all the way across the eyelid near the tear duct; start drawing at the middle of your lid and flick upwards. For the third tier, you're going to start a little above where your eye naturally creases so that it doesn't disappear when you open your eyes. Draw a half-moon shape in one fell swoop.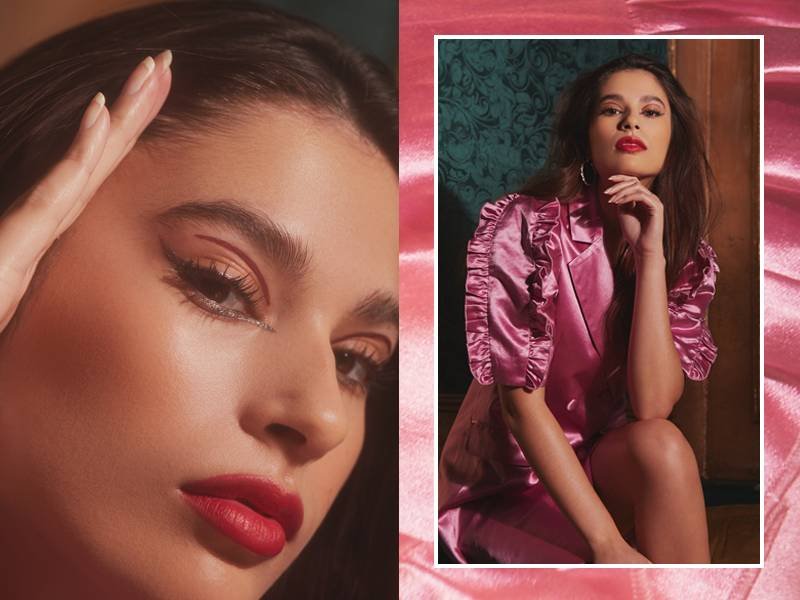 STEP #3: Fill in Your Outline With Liquid Eyeliner Now it's time to fill in the outline using a liquid eyeliner, so that it stays in place all day — or night. For this look, Williamson used the L'Oréal Paris Matte Signature Liquid Dip Eyeliner in the shade Burgundy in the crease to make the eyes pop. For the upper and lower lash line, she used the Karl Lagerfeld X L'Oréal Paris Matte Eyeliner in Metallic because the deep charcoal hue gives the eye definition while the shimmer gives the look a subtle wow-factor. She finished things off by tightlining the base of the upper lash line with the burgundy eyeliner, only extending to the end of the eye (not the wing), to tie the entire look together.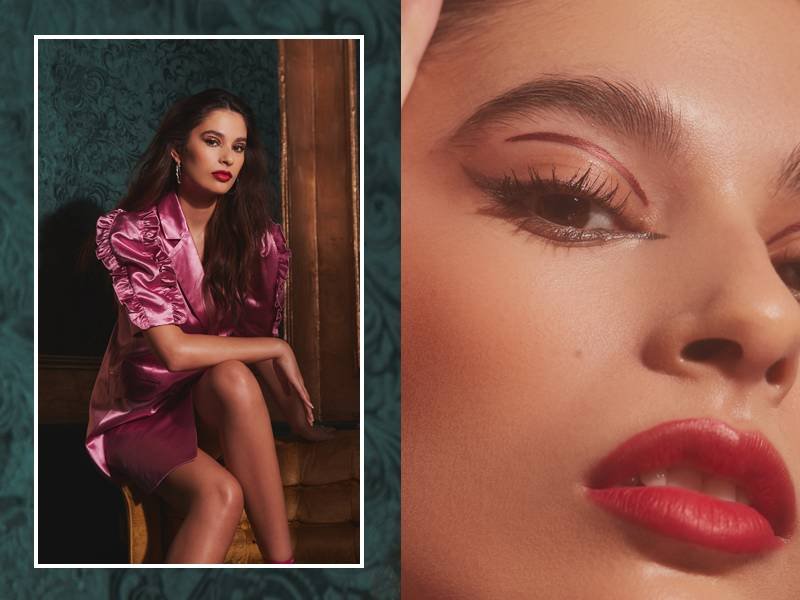 STEP #4: Finish With a Bright Lip Color Sometimes a look isn't complete without a bright lipstick, and this look is a perfect example. Williamson applied the NYX Professional Makeup Dazed and Diffused Blurring Lipstick in Let's Party for a beautiful pop of color. Pro tip: Make sure you apply lip balm on your lips first to ensure your pout is smooth and moisturized.
Read More:
Create This Negative-Space Cut-Crease Eyeshadow Look in 5 Easy Steps
How to Get Natural-Looking Flushed Cheeks With Blush
How to Fake Fuller Lips Like Your Favorite Beauty Influencer
Photographer: Chaunte Vaughn, Art Director: Melissa San Vicente-Landestoy, Makeup Artist: Jonet Williamson, Makeup Assistant: Crisdanil, Wardrobe Stylist: Monet Luhrsen, Hair Stylist: Kiri Yoshiki, Visual Designer: Hannah Packer, Producer: Jessica Thiel, Production Assistant: Kaela Francesca, Digital Tech: Paul Yem, Model: Kanta
Read more