TikTok's Dot Contouring Filter Has Changed My Makeup Routine for the Better
July 10, 2023
If you're tired of TikTok filters that leave you looking like a completely different person, the platform's dot contouring filter is a welcomed surprise. Instead of slimming your nose or plumping your lips, the dot contouring filter maps out placement for your contour or bronzer, concealer and blush. This viral filter has quickly taken over BeautyTok (#dotcontourfilter currently has 1.1 million views and counting!) because it makes for a quick and easy makeup look. As evidenced by TikTok creator @jamievanslooten, the result is seamlessly blended, glowy makeup that looks fresh and natural. Obviously, I had to test it out myself — keep scrolling to learn my thoughts on TikTok's viral dot contouring filter.
My Thoughts on TikTok's Dot Contouring Filter
When I apply my makeup, I tend to apply my concealer first, followed by my contour or bronzer and my blush, blending everything out between each step. TikTok's dot contouring filter simplifies these steps and has you apply all your products before blending. Because of this, you have to use all liquid or cream products.
Since it's summer, I opted for liquid bronzer in place of contour to give my skin a sun-kissed glow. I used the Giorgio Armani Beauty Luminous Silk Liquid Glow Bronzer in Medium; it's my favorite because it feels weightless on the skin and is easy to blend.
In an effort to keep my makeup light, I skipped foundation and chose a full-coverage concealer to highlight my face. The Urban Decay Quickie 24HR Full-Coverage Waterproof Concealer is a great option for fuller coverage that lasts. If you are looking for a drugstore option, I suggest the Maybelline New York Instant Age Rewind Eraser Concealer.
For the final step, I dotted liquid blush onto the apples of my cheeks. The Urban Decay Hydromaniac Dewy Liquid Blush or the Saie Beauty Dew Blush are great choices for a dewy glow.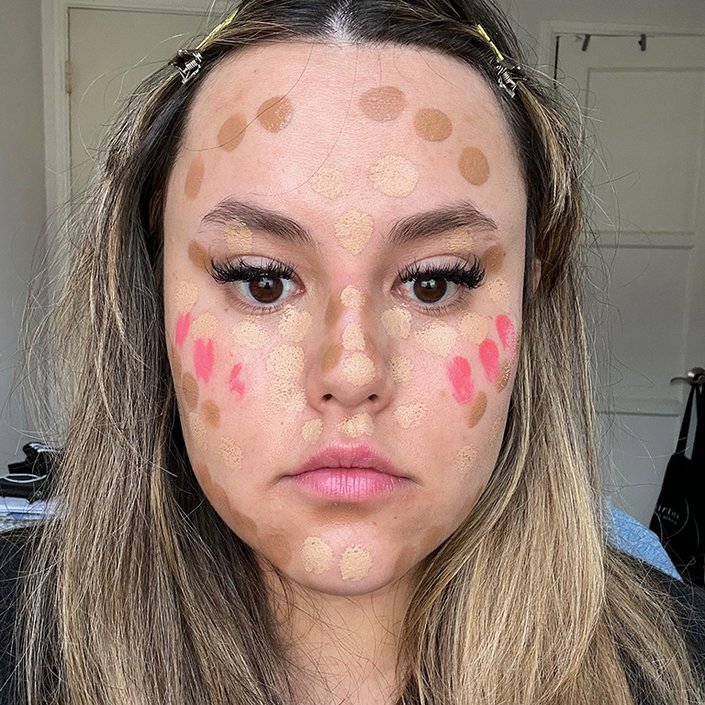 Once you've applied everything to your face like the filter demonstrates, it's time to blend. I used a stippling brush, but a damp beauty sponge could also work. In my opinion, the most difficult part about using this filter to do your makeup is deciding what product to blend out first. I started in the center of my face with the concealer and then moved onto the bronzer at the perimeter of my face. Finally, I finished with the blush.
I recommend reaching for cream or liquid products that don't dry down immediately because you're going to need some time to blend everything out. If you don't know what to blend first, start with the center of your face and move outwards. This blends everything together seamlessly while keeping the center of your face bright.
Since discovering this dot contouring filter, it's been my go-to for makeup when I'm not wearing foundation. However, I've also tested it out with foundation, and the results look good — I just prefer how fresh and glowy it is without it. Unlike other TikTok makeup-application filters I've tried, this one has changed my makeup routine for the better.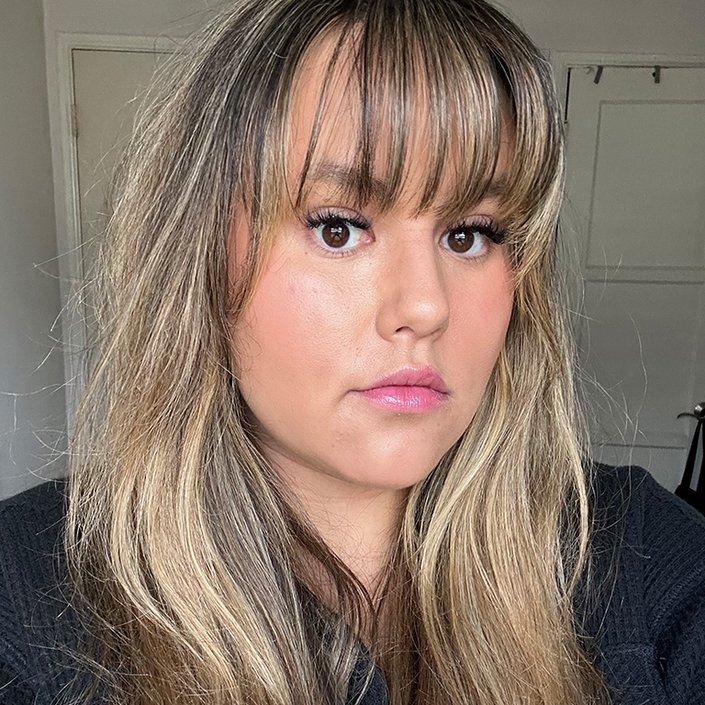 Read more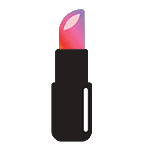 Back to top