The Ultimate Colored Glossy Eye Tutorial
February 13, 2019
The glossy eye has easily become one of the most sought after makeup trends on the beauty internet, and while we've nailed down the glassy finish using products like lipsticks, creating our own glossy eye with eyeshadow has eluded us — until now.. We reached out to NYC-based makeup artist Anne Kohlhagen to get her take and expertise on creating the ultimate colored glossy eye. Here, she breaks down how to get the look using a flaming hot pink shade.
STEP 1: Mix Your Gloss Together
Creating your colored gloss is the first step toward making this trend come to life. "Mix either a loose pigment or cream color with a clear gloss to create your product," says Kohlhagen. If you're more comfortable with a powder pigment, we recommend the NYX Professional Makeup Primal Colors Pressed Pigment in Hot Pink. Or, you can opt for a hot pink cream shadow like the NYX Professional Makeup SFX Creme Colour like Kohlhagen uses here. As for the clear gloss, look no further than your lip stash for a transparent product like the NYX Professional Lip Lingerie in Clear. When mixing, try combining even parts color and gloss to ensure you don't compromise the color or consistency of either product. Basically, you don't want to make it too pink or too glossy.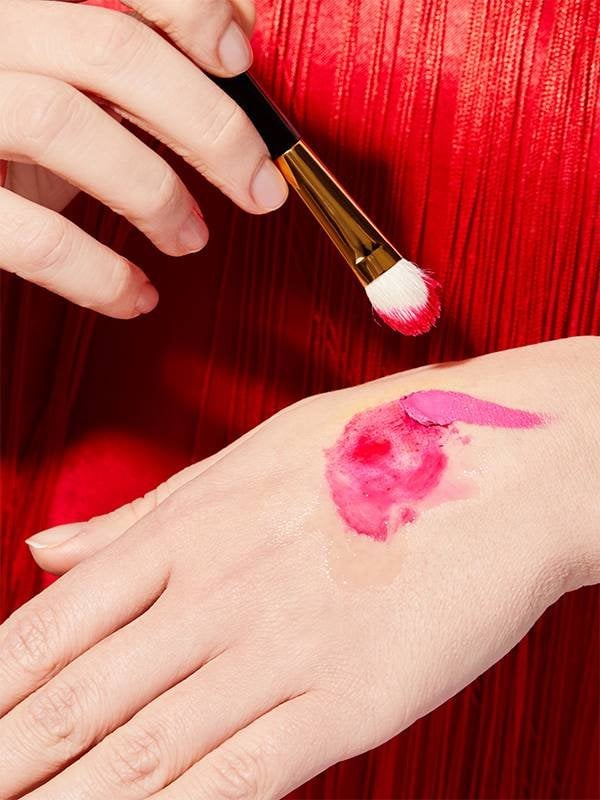 STEP 2: Create the Eye
Use a flat brush to pack the colored gloss on the eye.. Then, "blend the edges out with a round blending brush to soften them," says Kohlhagen. This way, there won't be a harsh line in between the color and your natural crease.
STEP 3: Set and Repeat!
After you've completed your color glossed eye, lock it in place with a setting spray like TK. As the day or night goes on,Kohlhagen urges you to pay close attention to the look while wearing it. "Keep brushes and gloss with you, so you can touch up throughout the day or night."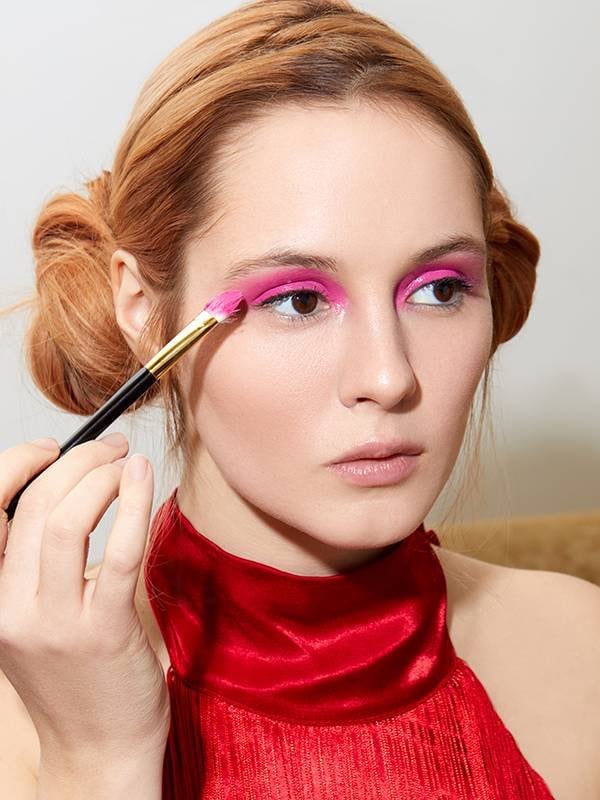 Photo: Chaunte Vaughn, Makeup: Anne Kohlhagen, Hair: Jonathan Rackleff, Model: Tara Devon Gallagher
Read More
6 Winged Eyeliner Hacks That Will Help You Master the Look
How to Wear Pink Eyeshadow and a Red Lip
The Makeup Techniques You Should Master In Your 20s
Read more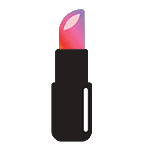 Back to top