This Gold Foil Mani Is Like a Holiday Party for Your Nails
November 24, 2020
Even if you plan on spending more time in sweatpants than party-ready outfits this holiday season, you can still dress up your look with a glitzy manicure. Sure a metallic gold polish will do the trick, but if you're looking for a challenge, we suggest taking the glam factor up a notch with a gilded, gold foil look.
We asked nail artist Stacey Bushay to create a festive, on-trend nail art look embellished with gold foil. Keep reading to learn how you can recreate the luxe mani at home.
STEP 1:

Prep Your Nails

Bushay recommends starting by pushing your cuticles back with a cuticle pusher and filing the edges of your nails to achieve your desired shape. For this look, she went for a square shape. Buff the nails for a smooth finish.




STEP 2:

Apply the Base

Apply a matte top coat like Essie Matte About You on each nail as a base — the matte finish is the perfect contrast to the metallic gold foil.



STEP 3:

Apply the Polish

Once dry, Bushay applied a horizontal swipe of festive green polish (get the look with Essie Nail Polish in Off Tropic) on the top inner corners of each nail. To ensure a straight line, apply a small piece of tape horizontally across the bottom half of each nail before application. Gently remove the tape once you've painted on the negative-space design. Finish by applying a glossy top coat on the green polish, avoiding the bare areas of your nails.




STEP 4:

Apply the Gold Leaf

Apply a thin strip of glossy top coat along the edge of the green polish, and when it's still wet, position your gold foil flakes using tweezers. Bushay recommends using larger pieces than you'd think because the foil can bunch up once applied. When the top coat is tacky, gently pat the pieces into the nail to secure them.



Read more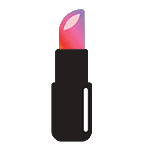 Back to top