I Tested a NYX x DC Comics Halloween Makeup Set — Here's Why It's Worth It
October 08, 2018
If I'm being honest, I'm pretty bad at Halloween.The problem is that I'm too lazy to commit to an all-out makeup look or plan things more than a few days in advance. The look generally comes to life day-of using makeup products I already have in my makeup bag. But this year, NYX Professional Makeup dropped a collection of Halloween makeup sets with DC Comics (shop all six of 'em here), and I decided to up my game. The sets included the essential makeup products needed to create makeup looks inspired by superheroes and supervillains.
Despite my anti-Halloween-makeup stubbornness, I sucked it up to bring you all a detailed review so that you can plan your look ahead of time. The look I recreated? Colorful makeup inspired by Harley Quinn. I've never been one for pigtails or mismatched eyeshadow, but the fun, Instagrammable look caught my eye.
Is the Kit Worth It?
Inside of your Halloween makeup set, you'll get an array of full-size products needed to complete your look along with a guide to what the finished result should look like and step-by-step instructions. As you may have already discovered, they're not cheap, but unlike purchasing costume makeup you might never use again, these products will be useful in everyday life, too. My advice when purchasing one of these six makeup kits is to check what products come in each one and ask yourself if you think you can use them again — chances are you will be able to. So in our book, it's worth it, especially for makeup lovers who want a plan and the products to execute it.
My Experience Using the Kit
Overall, I was a little surprised to find out that the makeup look was super easy to recreate since I had all the tools, steps and a photo showing what the final look should resemble. A good thing to note is that the makeup sets don't contain complexion prepping materials. Prior to going about the steps listed in your guide, I recommend prepping your skin with primer and your favorite foundation. Similarly, once you finish the look, set with your favorite long lasting setting spray.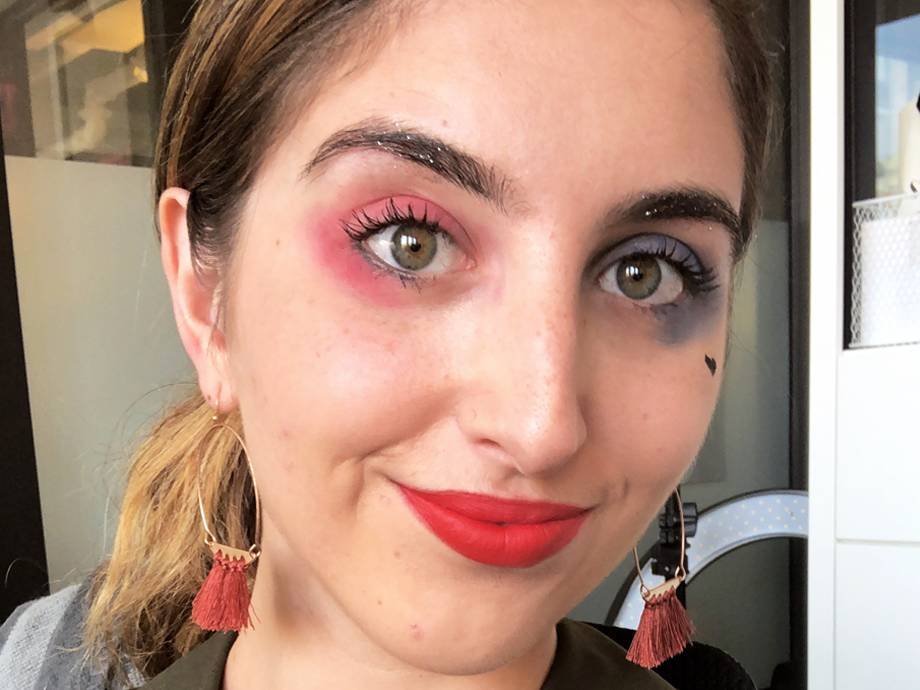 If I was to do it all over again (and I seriously might this Halloween), I'd add a pair of false lashes to really enhance the eye look. In addition, I'd put my hair in pigtails (despite my hesitations), potentially use red and blue hair clips and finish the look with red and blue clothing.
So if you already have all of the NYX products in the world and you still want to get the look, check out a handy list of step-by-step instructions, below:
STEP 1: Apply your foundation or complexion products as normal and then apply a generous amount of Studio Finishing Powder with a powder brush.
STEP 2: Blend the brightest red shade from the Ultimate Shadow Palette all over your lid on the left eye using a fluffy crease brush.
STEP 3: Usingthe palette's bright blue shade, repeat the same steps on your right eye.
STEP 5: With the Slim Eye Pencil, line your lash line and under the eye. Smudge the line using a flat detailed brush by making short, small strokes.
STEP 6: Apply Slip Tease Full Color Lip Oil on your lip and define your lip line using the doe foot applicator.
STEP 7: Complete the look by drawing a small heart underneath your right eye using Matte Liquid Liner. Or, for better results (in my case), have your friend do it for you.
STEP 8: OPTIONAL: Add glitter into your brows by prepping them with Glitter Primer and then dip a spoolie into Silver Glitter Brilliants to apply.
Not sure if you want to jump into the look just yet? No worries, you can virtually try on all six DC Comic Halloween Sets on the NYX Cosmetics App. This way, you'll get to see how the costume makeup fits on you before your purchase — Happy Halloween!
Read More:
The Vampire Makeup Look We're Recreating This Halloween and Every Weekend TBH
5 Steps To the Cutest Clown Makeup You'll See This Halloween
This Halloween Makeup Look Is Blowing Up On Reddit and We Hope You Like Bats
Read more