5 Things People With Amazing Skin Do Every Morning
October 29, 2019
Radiant skin is the foundation of natural beauty. Fortunately, healthy, clear skin is achievable with the right skincare routine. Here we share the top five things that women with amazing skin do every morning.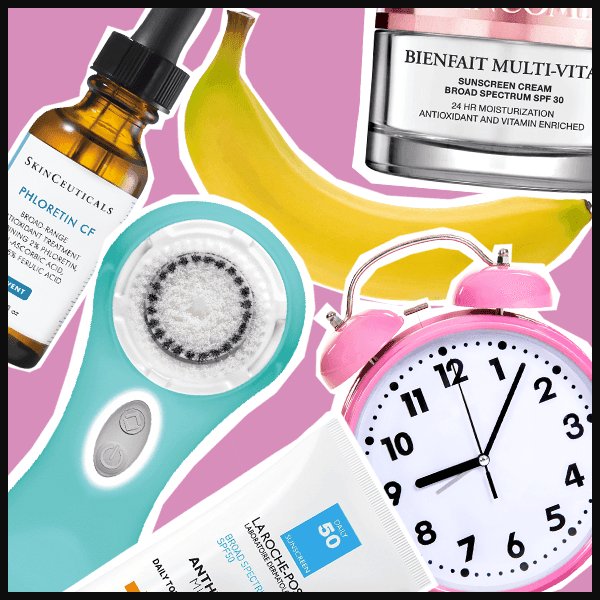 1. They Wash Their Faces Twice a Day
If this seems like a no-brainer to you, then you are one step closer to getting some seriously lovely skin. Cleansing the face regularly—twice a day, ideally—is the number one habit of women with impeccable skin. Skin is susceptible to pore-clogging dirt, toxins and other unpleasant things that can build up and wreak havoc on your complexion. Giving your face a good cleaning in the morning and at night is essential to ensure you're helping the skin along with its natural process of shedding dead skin cells. And by "good cleaning" we mean going above and beyond your soap-and-water routine. Get a cleanser that caters to your skin's needs and invest in a gentle facial brush to give your face a good cleanse in the morning and then again before your head hits the silk pillowcase.
Product Recommendation: GarnierClean + Shine Control Cleansing Gel, Kiehl's Ultra Facial Cleanser
2. They Apply SPF Like It's Their Religion
Again, this may seem like an obvious tip, but you'd be surprised how many skip this crucial step when they're rushing out the door in the morning. Applying sunscreen throughout the day is just as important to your overall skin health as cleansing and moisturizing, so if you haven't already incorporated sunscreen into your daily regimen, the time is now. Sun damage is the leading cause of premature aging and no one wants that. You know that beautiful brown leather bag you can't leave the house without? Your face might start to resemble it, if you're not religious about sunscreen application. Make things a bit easier by mixing it in with your moisturizer or BB cream in the morning.
Product Recommendation: La Roche-Posay Anthelios 50 Mineral Tinted Primer, LancômeBienfait Multi-Vital SPF 30
3. They Throw Antioxidants Into the Mix
Antioxidants can ward off premature aging, and they go a step beyond SPF to help protect your face from damage caused by free radicals, pollution and even stress. They're the silent majority of any good skincare routine! Pick up a serum or moisturizer infused with antioxidants, and layer it under your sunscreen and moisturizer every single morning.
Product Recommendation: SkinceuticalsPhloretin CF, DecleorAromessence Excellence Ultra Regenerating Serum
4. They Spot-Treat Like a Pro
Different parts of our faces have different needs. Many women struggle with an oily T-zone, yet they find that their cheeks have a tendency to get dry. Give each area of your fave the proper TLC it deserves and needs. Apply an acne cream infused with salicylic acid to the oily or acneic regions and a moisturizing solution to your dry areas.
5. They Wear the Right Makeup
Just because a product is hot and trendy doesn't mean it's ideal for your face. We all have unique skin concerns, and sticking to makeup that suits your skin's needs is an important step in avoiding beauty emergencies. We recommend consulting your dermatologist or asking your esthetician which ingredients you should and shouldn't be using.
**
Do you have a skincare beauty tip of your own to share? Spill it in the comments below!