What You Should Know Before Getting Tooth Gems
April 18, 2022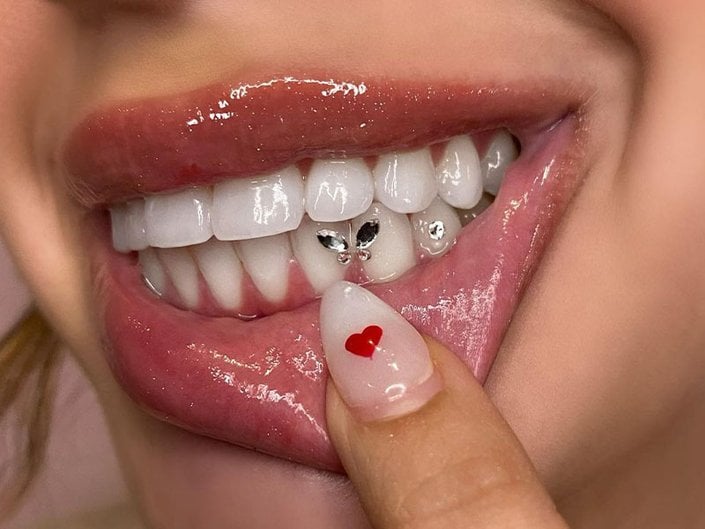 Between bedazzled hair and glittering makeup, 2022 is shaping up to be the year of shiny beauty trends. But if hair and makeup embellishments aren't quite right for you, you can also get your sparkly fix with tooth gems. That's right, according to the Pinterest Predicts report, adhering tiny accents to your teeth is projected to be one of the biggest trends of the year.
"We've had a lot of people come in for tooth gem applications," says Dr. Sharon Huang, a cosmetic dentist and founder of Les Belles NYC Dentistry. "Many people are still doing video conferences on Zoom, and, you know, they can't exactly wear their best outfit, so they're wearing it on their teeth."
The discreet bling isn't new though. In fact, as reported by POPSUGAR, teeth embellishments can be dated back to the ancient Mayans. Larger teeth enhancements like grills were popularized in the '90s by hip-hop artists, too. Aside from size, Dr. Huang says one of the major differences between grills and tooth gems is reversibility. "You can pop most grills out on your own, but tooth gems require a professional to remove."
The tiny embellishments come in a variety of shapes and sizes, so you can customize your look. Though circular gems are the most popular, you can find fun shapes like butterflies, crosses, and even scissors.
If you're thinking about getting tooth gems, keep reading for a complete rundown on what to expect — from the application process to care and removal.
How Are Tooth Gems Applied?
First and foremost, tooth gems should only be applied by a professional — not only to prevent tooth damage, but to also ensure the gem doesn't fall off.
According to Dr. Huang, the application process is pretty straightforward. "It's similar to a tooth filling," she says. "Like a filling, we use a bonding material to seal the gem onto the tooth. Once complete, there's actually a clear layer of protection over the gem."
The whole process takes about 15 to 20 minutes per gem and is completely safe because the gems sit on top of the teeth and don't penetrate the enamel. The gems can be placed on any tooth, too, but Dr. Huang says that the canines are the most popular spot.
How Long Do Tooth Gems Last?
Tooth gems are a long-term commitment — when correctly applied by a professional they can last for years, says Dr. Huang.
How Do You Clean Your Teeth With Tooth Gems?
You can continue to brush and floss as you normally do after getting a tooth gem. Like with braces, it's important to keep the area around the tooth gem clean. "The gem essentially becomes part of the tooth, kind of like traditional braces or a filling, and you don't brush fillings any differently than you brush your teeth," says Dr. Huang. "Just remember to bring the toothbrush to the face of the teeth and brush in circular motions."
How Do You Remove Tooth Gems?
Similar to the application process, tooth gems should only be removed by a professional — otherwise you run the risk of damaging the enamel of your teeth. "I've had patients come in after they've tried to take them off, and we had to fix the tooth because the enamel came off and it didn't look the same anymore," she says. "It's just not worth the headache [to remove them yourself]."
To remove the gems, Dr. Huang uses a drill that essentially polishes the gem and bonding off the tooth. "The whole process is similar to removing braces," she says. Tooth gem removal takes more time than the application because it won't simply pop off. It requires extra care and precision to safely remove the gem and remaining bonding without damaging the enamel. That said, the procedure shouldn't last more than 30 minutes.
How Much Do Tooth Gems Cost?
The cost of tooth gems varies by location and gem type. Some cosmetic dentistry practices, like La Belles, supply gems, but you can also bring your own in. "At our practice, the application is about $500 plus the price of the gem(s)," says Dr. Huang.
The gems themselves don't have to be pricey. Though Dr. Huang regularly applies gold, diamond or platinum gems, you can also find gems made from more affordable materials like acrylic and cubic zirconia.
Read more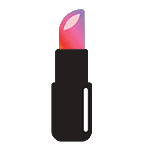 Back to top