50 Coffin Nail Designs to Try in 2023
November 14, 2022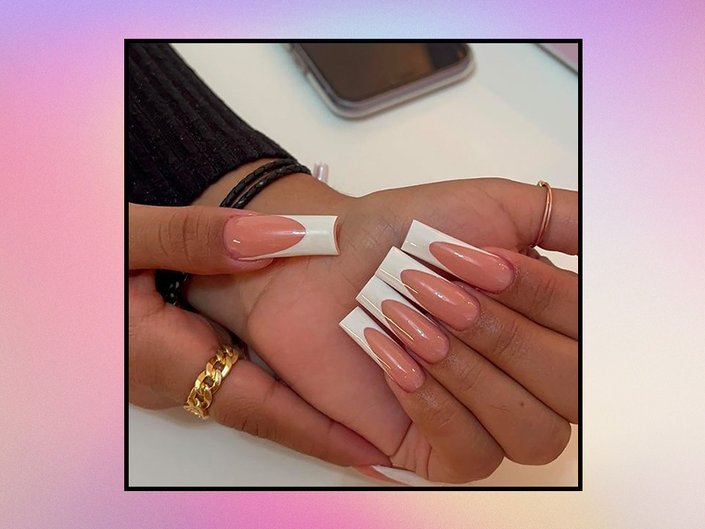 Square
and
stiletto nails
not your thing? Make room for
squoval
's sharper cousin — the
coffin nail
. Coffin-shaped nails resemble the bottom half of a coffin (morbid, we know) and offer a tapered end without the sharp point of a stiletto nail. They've become increasingly popular in the past few years and are a versatile option for most lengths. With that in mind, we've rounded up 50 of
our favorite coffin nail looks
to inspire your next set.
50 Coffin Nail Designs to Inspire Your Next Manicure
Keep it simple and fabulous with long, pink coffin nails.


Adding a glittery accent nail to a white and pale pink set is perfect for any time of the year.


For a chromatic take on coffin nails, add a shiny French tip and some accent jewels.


Play with fun designs and accent nails during your next manicure. White and red make the perfect color combo.


A squared French tip on a coffin nail is always cool. For an edgy, grunge look, play with black and red and add some silver charms.
Pick two of your favorite colors and use them to create a swirly French manicure on your coffin nails.


We love how this red and gold manicure incorporates glittery accent nails, too.


Ask your nail tech to create a cool 3D effect on some of your nails. This one creates the shape of a snake.


For a bold look, add neon tips and bejeweled charms to long coffin extensions.


The airbrushed look is in for 2022, and the effect is awe-inspiring on coffin nails.
Can't choose one shade of pink? No problem — pick two for a cool monochromatic look.


Choose a few shades of brown to recreate these wavy nude tips.


Alternate between sparkly white French tips and shiny tips with floral accents for this cute nail look.


Ask your nail technician to create a marble effect using two shades of pink nail polish. We love how this look from @nailsbyceanna accessorized the look with gems placed near the cuticle.


You can't go wrong with green on your nails — the muted shade is perfect for winter.
The best thing about coffin nails is that they elongate your natural nails, therefore giving plenty of room for cool, unique designs.


Can't pick one design for your bright blue look? This Instagram picture offers four different options, including butterfly designs and sculptural gems.


To add some extra flair to your French tips, add a subtle line of gold glitter.


French tips work on any nail type, but on a coffin nail, they're especially chic.


This design works with any color combo; simply add some wavy, glittery lines atop your solid base for a stunning and simple look.
Make your acrylic nails pop with blue gems and tips on your coffin extensions.


For a cool, claw-like design, add some blood red designs to nude nails. You'll want to bookmark this one for next Halloween.


This black and white coffin nail set is a classic.


This airbrushed look can combine all your favorite colors on your coffin nails in the coolest way.


If you don't want to go the classic white French tip route, opt for black tips instead. Whether you go for a glossy or matte finish is up to you.
These are truly the black-tie edition of coffin nails, with silver details and nude accents.


For a soft color combo, pair baby pink with white. Bonus points for textured polish, designs and charms as pretty as these.


Having different shades of neon on each hand while keeping the same design is a surefire way to make your nails head-turning and eye-catching.


These intricate coffin nails with a delicate butterfly design and charms for days are stunning.


To get the most out of your coffin nails, why not cover the entire nail with rhinestones?
In winter, this mocha set is just right. The plaid nail can't be skipped!


Smiley faces, hearts, and checkered patterns are always fun to play with — especially when you can do a different one on each coffin nail.


The glazed trend isn't over for 2023; it's just moving to coffin acrylics.


These autumnal nails scream sweater season.


Pair iridescent details with translucent white polish for the perfect wintery look.
With your favorite shiny nail polish, twinkly white stars make for a cute, minimalist design.


Lavender and nude always pair perfectly together. We love this stunning look with alternating designs.


Between bejeweled French tips, solid nails and pure glitter, this maximalist pink look is definitely one to try this year.


A red rhinestone cherry with black French tips is a design practically made for the coffin shape.


Play with bold colors by going for a cartoon look on your nails.
For an edgy take on the rounded French tip, try making the tip into a pointed V.


You can never go wrong with solid white nails — and on coffin extensions, they're even cooler.


Halloween may be over, but with this much bejeweled glam, it's never the wrong time to go for a horror movie vibe with your nails.


If you're someone who likes a neutral nail, this two-toned nude set is for you. It goes with every outfit.


This blue and purple design is perfect for coffin nails.
Draw on some sparkles in black and white for a cute cartoonish effect.


The best part about coffin nails is all the space they provide to make completely unique designs out of rhinestones. Why paint on your stripes when you could glue them on instead?


This modern take on a French tip is fun and edgy — and with some glitter, it's made even cuter.


Pink jelly nails, glittery tips and chunky charms easily put this set over the top.


Add some shimmer and sparkles to your white gradient nails for a sleek, chic look.
Photo: @jeimynails, Design: Juliana Campisi
Read more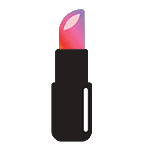 Back to top