The Metallic Marble Nail Art You Can Do At Home
February 03, 2017
Elegant, abstract and eye-catching, this textured nail art design with a metallic marble effect is simple enough to sponge on and do at home--but looks like you spent hours in a salon. Continue reading below for a step-by-step tutorial!
For additional nail art ideas, visit the essie looks[1] [2] page where you'll find the latest trends and DIY tutorials.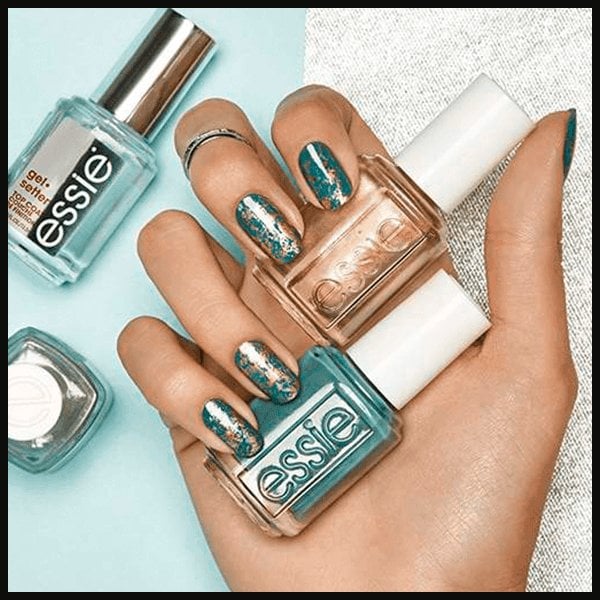 Step 1: Treat your nails
Hydrate your cuticle beds with a few drops of apricot cuticle oil. Rubbing into and around the base of the nail till it sinks in.
Step 2: Apply a base coat
Clean, then prep nails with your favorite essie base coat. Apply one full coat over each nail and allow 1-2 minutes to dry.
Step 3: Apply the cerulean blue nail polish
Apply two coats of pool side service. Allow 1-2 minutes to dry.
Step 4: Sponge on the chrome nail polish
Take a small piece of saran wrap and ball it up. First, dip it in no place like chrome, then blot it on a paper towel to remove excess polish. Then use it to sponge the color onto each nail. Allow to dry.
Step 5: Sponge on the copper nail polish
Repeat the step above, this time using the shade penny talk.
Step 6: Apply a topcoat
Shine and seal with gel.setter topcoat.