Our Favorite Ombre Nails
April 01, 2023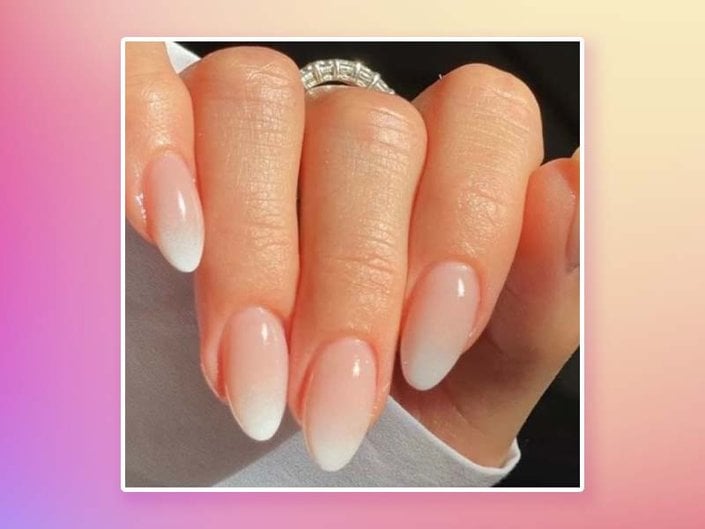 Why choose a single nail polish color when you can choose multiple? Take your nail design from good to great with one of our favorite nail trends, ombre nails.
Ombre always seems to find a way to be in style, from ombre hair to ombre nails. Whether you're looking for a bright and bold neon style or a subtle gradient, you can rock an ombre nail design for any occasion. They'll instantly take your nail game up a notch and can be created with nearly any color combination (or add nail art to them for extra fun). Ahead, we break it all down: what ombre nails are, how to wear them in 2022 and some of our favorite ombre nail designs.
What Are Ombre Nails?
Ombre nails are a popular nail style that bring two or more colors together for a blended look. The colors gradually blend together, with one becoming increasingly vivid as you go up or down the nail.
Some of the most popular nail shapes right now are coffin nails, stiletto nails and almond-shaped nails — all of which pair well with an ombre nail design. Between celebrities, nail artists themselves and people around the world showing off ombre nails, this style is here to stay.
16 Ombre Nail Designs to Try
Pink Ombre Nails
Pink nails are always a classic. They're chic, neutral and match with anything. If you're looking for an easy-to-wear nail design, pink ombre nails are a great choice. With all the different shades of pink available, you'll never get bored with this color combo.
Blue Ombre Nails
Blue ombre nails are a trendy go-to option right now. Whether you want a wintry nail or a soothing deep cobalt blue, blue ombre is sure to look crisp and clean every time. While blue may feel like a cold weather hue, a pastel sky blue is equally as fun for spring. Add some silver glitter polish to really make it pop!
White Ombre Nails
Cool, sophisticated and sleek: these are the words that describe a white ombre nail design. Finish it off with a pearly sheen or a shiny top coat and your nails will be the talk of the town. These make for a great bridal manicure or work for anyone looking for a super chic look.
Black Ombre Nails
Our favorite thing about black: it matches with everything. Whether you're going for an edgy style or a simple yet stunning look, black ombre nails work all year long. The ombre can blend into a gray or white for the ultimate sexy nail.
Purple Ombre Nails
With Very Peri as the Pantone Color of the Year 2022, purple is most definitely the hottest color this season. You can opt for a light lilac or periwinkle shade, or you can also rock a deep royal purple ombre nail design. No matter your preference, you'll definitely be on trend with purple ombre nails.
Red Ombre Nails
There's nothing like a classic red nail. To change it up a bit, try a red ombre nail design. A red to pink to white fade will look delicate while a deep red to bright red gradient will stop people in their tracks.
Nude Ombre Nails
If you're looking for a truly minimalist nail style, try nude ombre nails. Whether you want to match every outfit or you're simply looking for an understated nail design, there's nothing a nude ombre nail won't complement.
Yellow Ombre Nails
Hello sunshine! Brighten up your day with fresh yellow ombre nails. While they may seem like the perfect choice for spring and summer, there's no reason not to add a little extra radiance to winter and fall days too. They'll have you desperate to get to the pool with a glass of lemonade!
Orange Ombre Nails
Orange ombre nails give off the happiest summer vibes — poolside orange cream soda optional. You can pair orange ombre nails with white or even cross the color wheel to create an orange to blue gradient.
Green Ombre Nails
Green is in, so you can bet green ombre nails are in too. With every shade of green being so popular right now, you can morph from a deep emerald green to jade green to mint green and stay on trend the entire time. No matter your style, green nails are classy, elegant and fresh right now.
Summer Ombre Nails
The possibilities are endless with summer ombre nails. You can pair bright neon colors together to make a sunny gradient or add some glitter to make your nails pop. From orange to fuschia to purple, feel free to try any fun color combination for the summer to step up your nail game.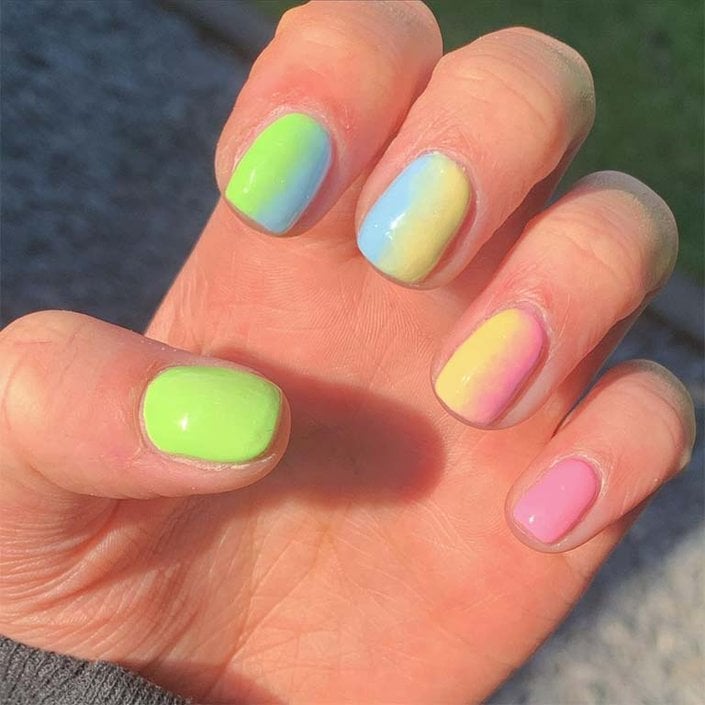 Fall Ombre Nails
Fall is the season of blustery days and sweater weather, and it's fun to have nails that match that. Try a burgundy or dark blue ombre nail design to get in the mood. Your nails will be a hit at the pumpkin patch or while drinking a glass of hot apple cider!
Winter Ombre Nails
While there may not be anything quite like winter white, you can also take your winter ombre nails to new heights with a bit of color. An icy blue, light gray or baby pink to white ombre nail design — maybe even with a bit of glitter — is a fun way to get in the holiday spirit.
Spring Ombre Nails
You'll never lose if you go fresh and floral for spring. Try some botanical colors, like lilac, bubblegum pink or turquoise to complete a fun ombre nail design. They'll be a great addition to any springtime ensemble.
French Ombre Nails
The perfect minimalist nail design, a French ombre nail is always classic and simple. It can take you from day to night, from the office to a night on the town, all while looking stylish and chic the whole time.
Glitter Ombre Nails
Stand out from the crowd with glitter ombre nails. Whether you're heading to a party or just want to add a little extra fun to your nails, a glitter ombre nail design will keep up with you no matter your plans.
Are Ombre Nails in Style for 2022?
Ombre nails are in style right now, with celebrities and nail artists all over the world rocking them right now. Let your personality shine through with your favorite color combo and you'll be totally on trend.
Photos: @vasiasnails, @98_nailz
Read more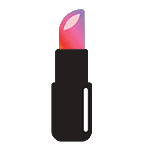 Back to top