Pretty in Pink…on Your Nails
June 16, 2017
Is there anything more classic, pretty—and, dare we say, wearable—than pink nail polish? Whether you paint your digits a sweet shade of ballet slipper, or, rock a sexy, bright berry shade, there is definitely a pink nail polish that can work for every style and skin tone, and it will always look on trend. In fact, the girly hue is especially hot right now, with trend experts dubbing it the year of "millennial pink" – a peachy-pink grapefruit color that has been popping up everywhere from beauty trends to home design. No, you don't need to be a millennial to wear the pretty pink hue. Nor do you have to stick to that exact shade to be on trend—there's a whole spectrum of pink polish that will do that trick this season. "Since the summer months are upon us, a bright neon pink or Barbie pink are perfect for this time of year," says celebrity manicurist Pattie Yankee. "They add an element of playfulness to your nails," she says. But if bold isn't your thing, there are plenty of more toned-down, petal-pink options, too.
To prove our point, we asked Yankee to help us choose a range of pinks for every skin tone—from the fairest to the darkest complexions—that you can use on both your hands and feet. Yankee also gave us her pro tips on how to rock the über-feminine shade.
THE PERFECT PINKS FOR YOUR SKIN TYPE
Here, a spectrum of pinks for every complexion, ranging from the lightest pinks to deepest shades of fuchsia. Wear them on your fingers and toes - or both!
FAIR
The goal for this light skin tone is to stick to pink shades that neither wash out your fair complexion, nor overwhelm it. Any one of these polishes will do the trick.
Light: essie Nail Color in Muchi, Muchi. This light pink has a hint of mauve, so it won't look too pale on even the fairest of skin.
Light-to-Medium: essie Nail Color in Lady Like. It's a light pink, but with a bit more substance thanks to its violet undertone.
Medium: essie Nail Color S'il Vous Play. The cool lavender undertones in this metallic pink really pops against lighter skin tones.
Medium-to-Dark: L'Oréal Colour Riche Nail Color in Pink Me Up! The blue undertones in this "Barbie Pink" compliments the cool tones in fair skin.
Dark: essie Nail Color in Fiesta. This hot pink has a shot of fair-skin-flattering blue.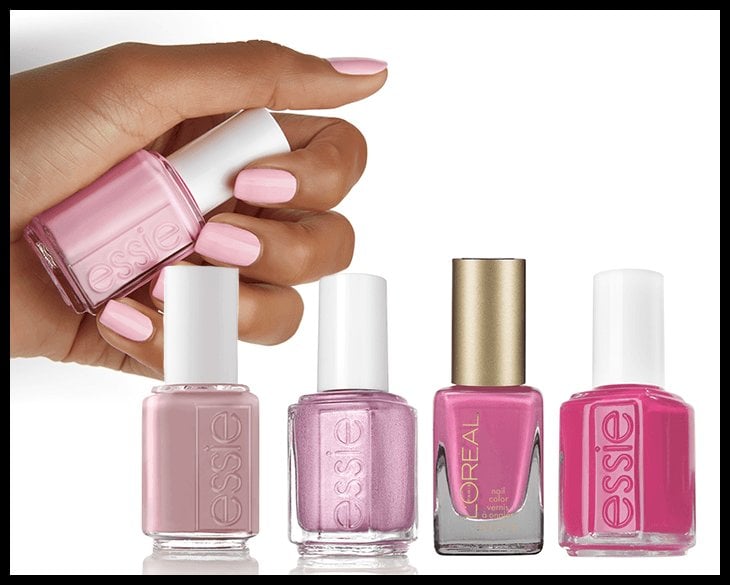 MEDIUM
Lucky you! You can pull off most pink hues with ease, but these five shades will particularly stand out.
Light: Lancôme Vernis in Love in Orchidee Vanillee. This beigy-pink will warm up medium skin tones with golden undertones.
Light-to-Medium:essie Nail Color in Skinny Dip. A soft pink with a touch of warm peach makes medium skin glow.
Medium: L'Oréal Paris Colour Riche Nail Color in Smell the Roses. Medium skin tones can't go wrong with a deep rose hue.
Medium-to-Dark: essie Nail Color in Watermelon. This juicy, dark pink is perfect for a summer pedi.
Dark: essie Nail Color in Berried Treasures. This vibrant berry shade flatters both warm and cool medium tones.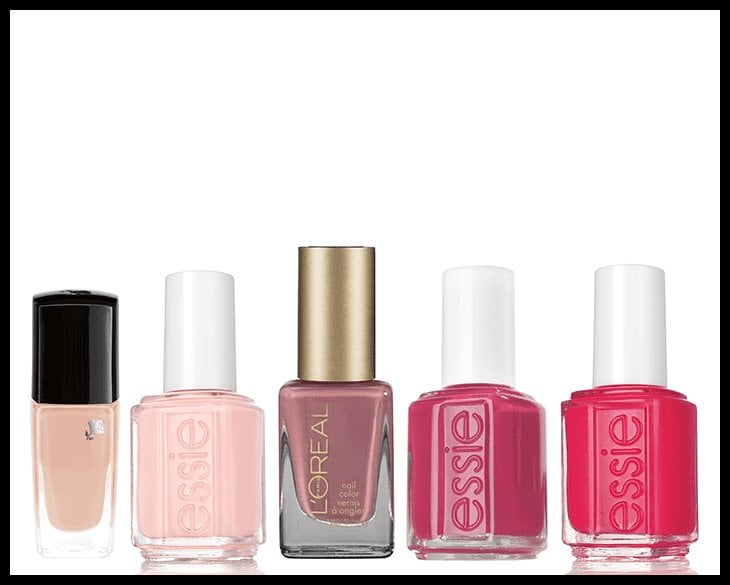 OLIVE
Your skin tone toes the line between warm and cool, which means it can handle pinks with either undertone. Here are five that will make olive skin look radiant.
Light: essie Nail Color in Sugar Daddy. This soft, sheer pink is a neutral, which means it works with both warm and cool undertones.
Light-to-medium: essie Nail Color in Excuse Me, Sur. This not-too-pale coral pink will pull out the golden undertones in an olive complexion.
Medium: essie Nail Color in Mod Square. Not too light, but not too shocking either, this electric pink is just right.
Medium-to-Dark: YSL La Laque Couture Nail Lacquer in Rose Renaissance. The bright, saturated pink has a hint of blue, but it's not quite as deep and dramatic as magenta.
Dark: NYX Cosmetics Nail Lacquer in Dance in Daytona. This hot pink-red will pull out the warmth in olive skin.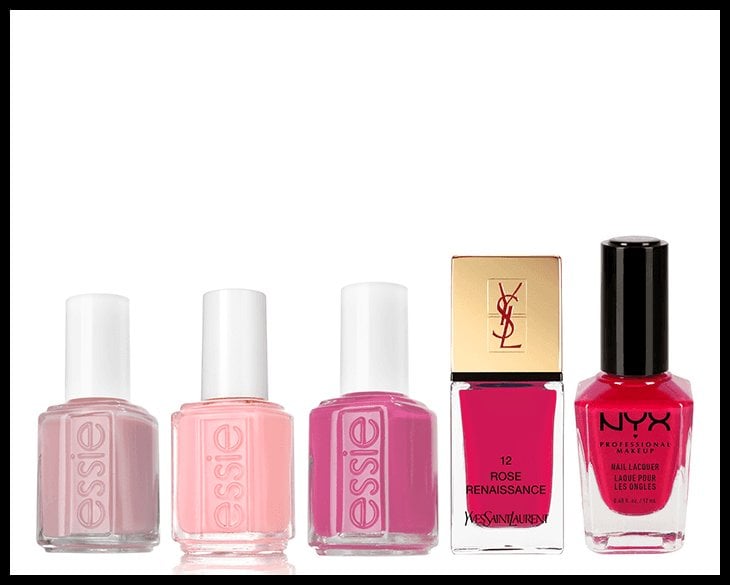 DARK
Your ideal pink should be bold enough that it shows up against your dark complexion. Now, that doesn't mean you have to wear super bright shades all the time. The trick to going lighter is to look for pinks with a hint of purple.
Light: NYX Cosmetics Nail Lacquer in Pink Metal. A pastel pink shade can look chalky against dark skin, but this metallic purple-toned pink will have some presence.
Light-to-Medium: YSL Beauty La Laque Couture Nail Laquer in Rose Romantique. A lavender undertone gives this light pink some major impact.
Medium: essie Nail Color in Éclair My Love. This rich berry shade has a lot of red in it, a common undertone in dark complexions.
Medium-to-Dark: NYX Cosmetics Nail Lacquer in Paradise Martini, is a punchy violet-based pink.
Dark: YSL Beauty La Laque Couture the Mats Nail Lacquer in Le Fuchsia. The deep magenta pink will look stunning on a deep complexion.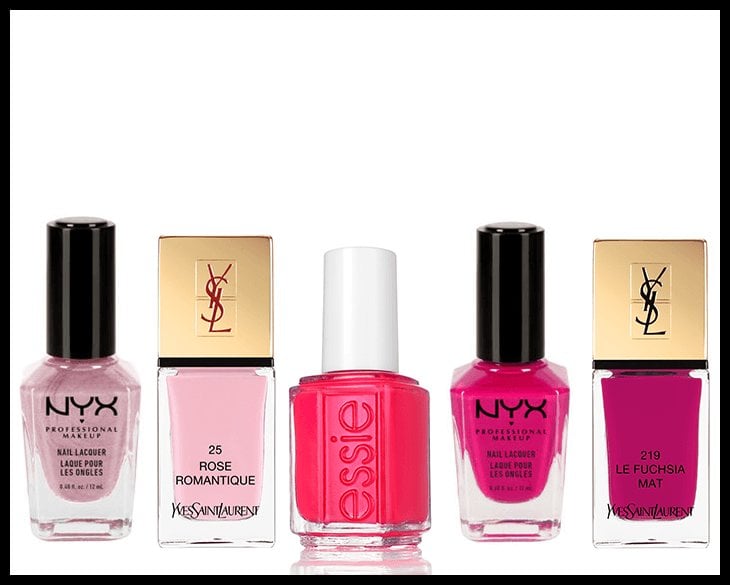 THE DOS AND DON'TS OF WEARING PINK NAILS
The color chart above takes a lot of the guesswork out of wearing pink. But there are a few more ways to help you slay your mani/pedi. Here, Yankee shares her best pink polish tricks.

DON'T go for a super pale pink if you have a fair skin tone. "Too white of a base in the pink can make you look washed out," says Yankee.
DO wear different pinks on your fingers and toes. "Just make sure they compliment each other and are in the same color family," says Yankee. That can mean a pale pink with blue undertones on your hands and bolder fuchsia shade on your feet. Or, a pale peach-y pink on tips and a punchy coral on your toe nails. "It's always fun to wear the brighter shade on your toes," Yankee says.
DON'T let your clothing compete with your nail color. If you're wearing a bright shade on nails, keep your clothing choice low key. For example, pair hot pink nails with a little black dress.
DO keep it neat. If you're wearing a bold pink shade, all eyes will be on your nails. "Every flaw shows up with these bright shades," says Yankee.
DO have fun with layering. "For a night out, glitter polish looks amazing painted over a pink shade," says Yankee. A glittery top coat is also an easy way to revive a weathered mani, she says. The sparkly flecks hide chips instantly. "Silver, iridescent, and pink glitter will work over any pink shade," she says. We like essie Nail Color in Sparkle on Top, with holographic pink-ish glitter.
Read more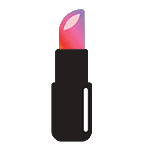 Back to top