Essie Treat, Love & Color
October 30, 2019
Nothing lifts our spirits like a good mani or pedi. There's something about a fresh set of perfectly polished nails that makes our hearts (and self-esteem) soar. That being said, when one's days are filled with work, meetings, social engagements and gym time, a trip to the salon just doesn't always make the cut. Enter the new Essie Treat, Love & Color collection. (Our friends at Essie sent us a few to try and we were blown away.) Designed to promote healthy, strong and (most importantly) pretty nails with one coat, this new line is a true game-changer. Check out why this collection is the stuff nail polish dreams are made of.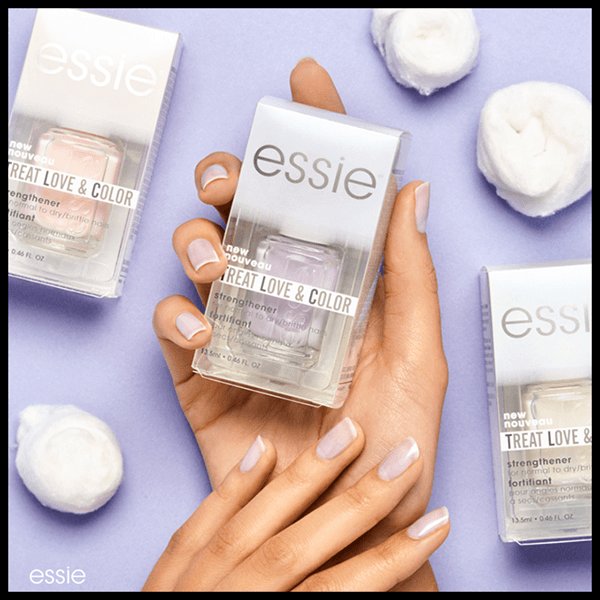 It's a One-Step Wonder
We all want a perfect, fully functional mani and often resort to shellacking a base coat, two or three polish layers and (finally) a top coat to achieve this. However, who has the time to wait for three or four layers of polish to dry?? The new Essie collection definitely has time on its side, as it only requires one coat. Yes — you heard right — ONE coat. In one swipe, you'll get nourishment, color and some serious damage control. Yes, please!
The Shades Are Heavenly
Now, let's talk color. Now the word "sheer" may make you think "clear," but this is not the case with the Treat, Love & Color set. The three translucent shades have a tinge of pigment that perfectly tints your nails. And since the hues include powder white, lavender and blush pink, you're looking at cotton-candy heaven for the hands. Sounds delicious, doesn't it?
It Strengthens
If you're dealing with brittle, dry nail beds, have no fear. Formulated with collagen and antioxidant-rich camellia extract, these three polishes deliver a healthy dose of moisture and antioxidants. The formula is said to reduce peeling by 60% and breakage by 35%. So while you're polishing those digits, you're also giving them some good ol' TLC. (For extra TLC tips, check out these other busy-girl-approved options to keep your hands and feet in tip-top shape,)
It Brightens
I'm sure you've experienced those nail colors that apply beautifully, but, within days, lose their luster and seem to dull. Although sheer in color, the three Treat, Love & Color shades contain brightening pigments that lend a nice, healthy glow. Looks like your fave highlighter might have met its match.
Now that you're up-to-speed on our latest nail obsession, we want to hear about yours. Spill your secrets for healthy, beautiful nails in the comments below!