The History of the French Manicure, Plus How to Put a Modern Spin on the Classic
May 06, 2022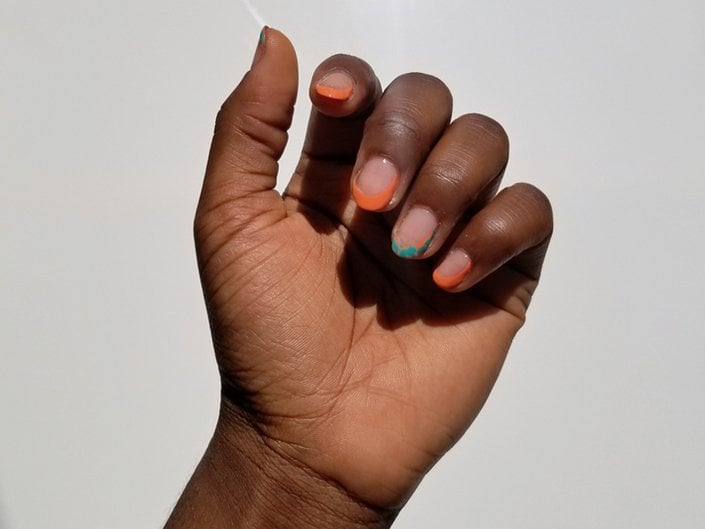 The French manicure is not only one of the most iconic nail looks of all time — it's also probably the most polarizing. The design, with its neutral, glossy base and thick white tip, has gone from being all the rage to being considered outdated, and then getting completely reinvented.
We chatted with Essie global lead educator and nail industry veteran Rita Remark about the rise and fall of the French manicure and its current comeback. We also teamed up with nail artist Nyah to create a modern version of the look to try in 2022. Keep reading for all things French manicures.
A Brief History of the French Manicure
The French manicure as we know it has been around since the late '70s, when Jeff Pin, the then president and CEO of Orly International, was tasked with coming up with a look that actresses in Hollywood could wear while filming. Because the design is so versatile, it helped minimize the need for manicure changes in between scenes. It really took off after celebrities started sporting French manicures for public appearances and continued its reign throughout the '90s and early '00s.
We started noticing a resurgence of the trend when negative-space nail art became a thing. But instead of white tips, we saw the inventive nail artists we follow on Instagram line their nails with punchy colors, creative patterns or even appliqués like rhinestones. There's been lots of experimenting with base colors and nail shapes in recent seasons as well.
How to Create a Modern French Manicure
We asked Nyah to create a fresh take on the French manicure and walk us through how to do it. Read on for a step-by-step guide.
STEP 1: Prep Your Nails
Start by shaping your nails as desired and then apply a base coat to each nail.
STEP 2: Paint on the Tips
Nyah recommends using a striping tool or brush to paint the tips of the nails. For even more precision, she suggests balancing your pinky on the finger you're painting. "This way your hand isn't as shaky," she says.
Once you've dipped your brush into your polish of choice (she used Essie Any-Fin Goes here), start at the bottom corner of the nail (near the edge of the cuticle) and drag the brush upwards under the tip of the nail, creating a C-curve.
STEP 3: Go for Another Coat
Fill in the tip with the same color you used to create the curve and then do it again for a more opaque finish.
STEP 4: Create the Design Element
"For a fun and simple design, blot a contrasting color in a sporadic pattern around the tip using the striping brush," says Nyah. You can do this on a couple of accent nails or on every one. Her contrasting color of choice was Essie's Bustling Bazaar, a vibrant cyan blue.
STEP 5: Finish the Job
Apply your favorite top coat, making sure that you're "encapsulating" the nails, i.e. capping off the edges with a swipe for longevity.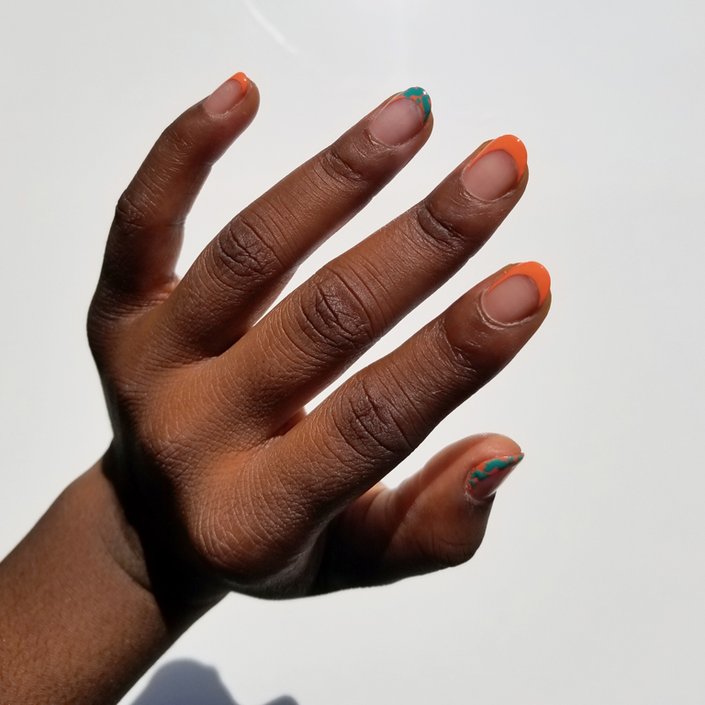 Photography, Art Direction and Nails: Nyah
Read more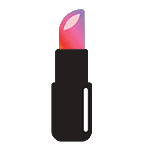 Back to top