This Is the Cleopatra Makeup Tutorial That Halloween Dreams Are Made Of
September 26, 2019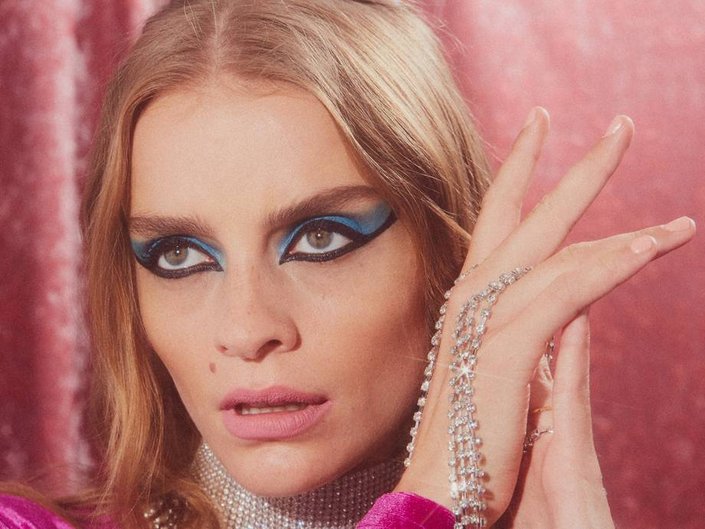 Cleopatra-inspired makeup for Halloween can be done in so many different ways, whether you prefer to focus on a gold monochrome finish, or pay homage to her signature red lip. For this year's Cleopatra costume, we asked NYC-based makeup artist Anne Kohlhagen to give us a tutorial that was equal parts dreamy, regal — and most importantly — colorful. Here's what she came up with.
STEP 1: Apply Your Winged-Out Eyeshadow
"Start by prepping the lids with concealer or primer to ensure staying power and as bright of a blue as possible," says Kohlhagen. After your lids are ready, pick up the blue shade from the NYX Professional Makeup Off Tropic Eyeshadow Palette in Hasta La Vista on a flat eyeshadow brush and begin to build your winged-out shape. "Apply this shade up to the crease, and wing it out on the tail ends of each eye with rectangular edges," she says. You can blend out the shadow as far into your temple as you please, as this will serve as the road-map for your liner.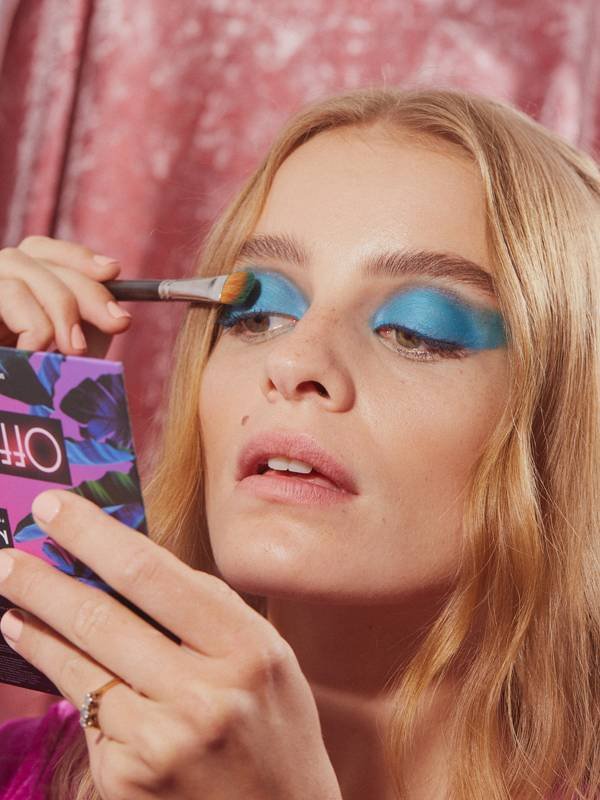 STEP 2: Draw on Your Cleopatra-Inspired Eye
After packing on the bright blue shadow, pick up the Urban Decay Perversion Waterproof Fine-Point Eye Pen and begin your Cleopatra-inspired liner. "Start at the bottom lash line in the inner corner, and trace it along your eye until you hit the end of the blue shadow," says Kohlhagen. To replicate her original look, make sure your lines are about an eighth of an inch thick. "Next, line the upper lash line, starting at the inner corner again and bringing it all the way out and connecting it to the tail end of the lower lash line liner." Instead of connecting the lines in a triangular fashion (like you would with a normal cat eye), you want to create a rectangular edge to complete the look. You can go over these lines however many times you need to ensure that they are as smooth and thick as you please.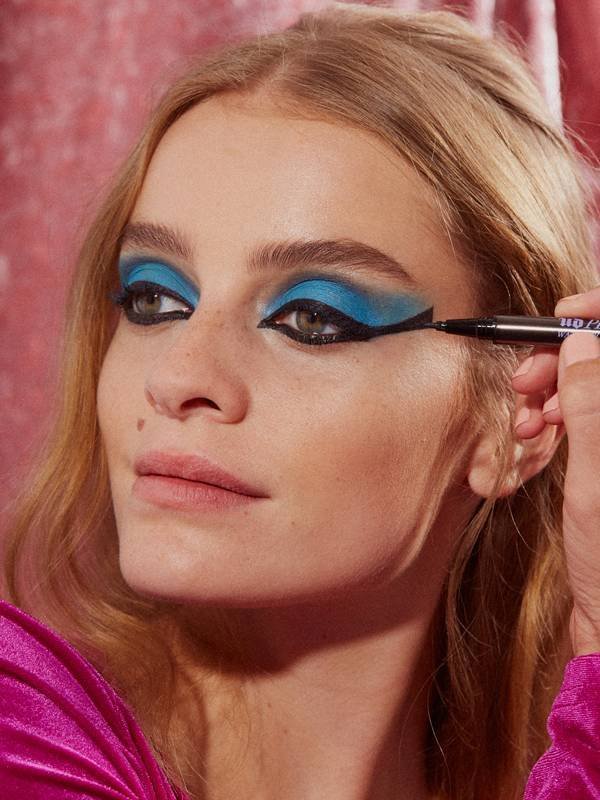 STEP 3: Finish With Mascara
Next, apply the NYX Professional Makeup On The Rise Liftscara, which is highly pigmented and will leave behind lifted, fluffy lashes to enhance your bold look. Make sure you are wiggling your wand thoroughly through the bottom lashes for extra definition.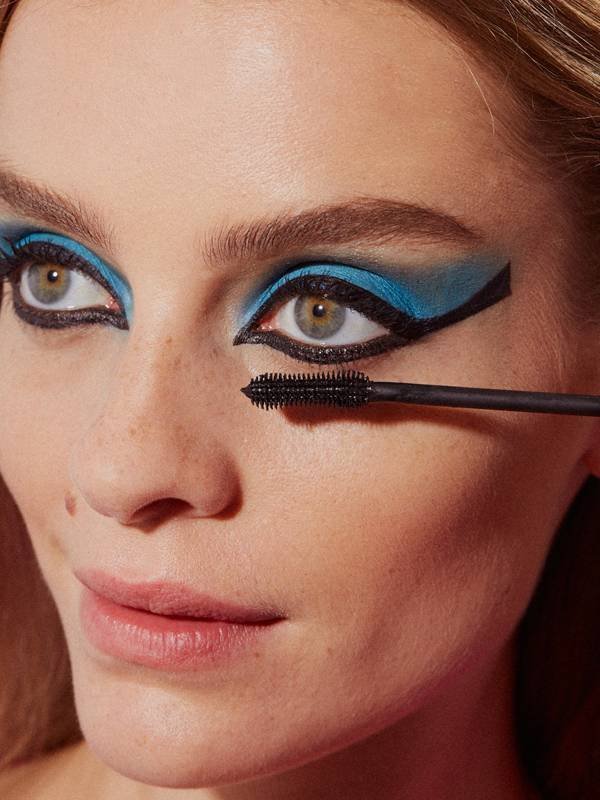 STEP 4: Add Highlight and a Soft Pink Lip
It's time to finish the look with a little glow, and Kohlhagen recommends the NYX Professional Born To Glow Highlighter in Chosen One for this. "Use the gold highlight on the brow bone, in the inner corner and on the cheekbones," she says. To wrap up the look, add a touch of the NYX Professional Makeup Soft Matte Lip Cream in Istanbul on the lips, and your dreamy, regal Cleopatra makeup is complete.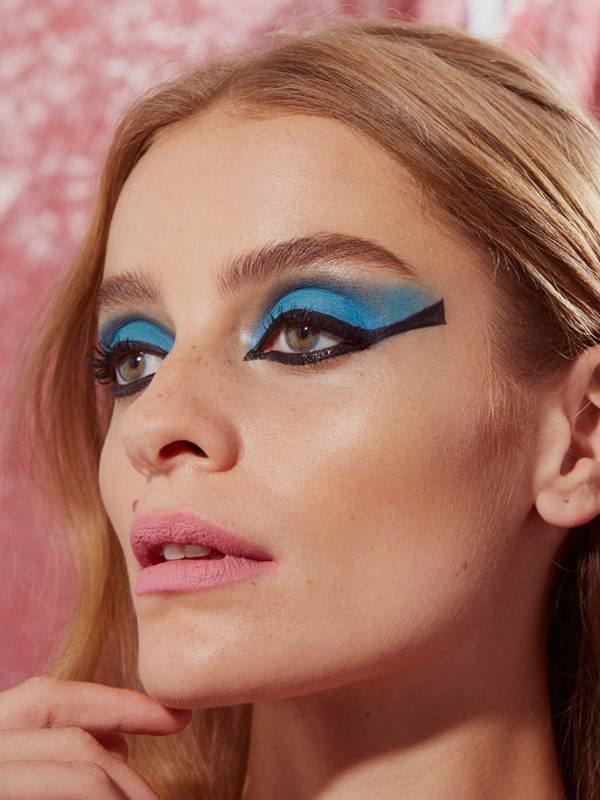 Read More:
The Best Drugstore Setting Sprays
Is Liquid or Powder Foundation Better?
Read more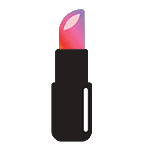 Back to top