Beauty Q&A: How Do I Apply Makeup Over Dry Skin?
February 19, 2019
Dry skin, without a doubt, is one of the most annoying things to ever happen. Dry lips make us dread wearing our favorite matte lippie, dry cuticles make us want to bathe in our favorite nail-nourishing oil, and dry skin sets us on an intense hunt for a hydrating skin-care savior. When your skin is craving hydration like never before, you need to provide the right ingredients and care in order to turn things around.
We reached out to makeup artist and beauty influencer Jaleesa Jaikaran for tips and tricks on how to apply makeup over dry skin.
Prep Your Skin
"Prep is the most important step for makeup on dry skin," Jaikaran explains. "After using a gentle cleanser, I like to start with a sheet mask as well. Dry skin usually drinks up any moisturizer you apply, so the key is to layer moisture starting with the thinnest products first. This helps makeup go on better and last longer. A sheet mask allows serum to soak into the skin, giving it not only moisture but a boost of vitamins. I use a rose or aloe hydrating facial mist by Mario Badescu to lock the moisture in. Finish by using a rich moisturizer like Weleda Skin Food and let it sit for a few minutes before applying any makeup."
Ingredients to Look For
When it comes to ingredients to look for in your products, Jaikaran recommends fragrance-free oils like argan, jojoba or squalane, hyaluronic acid and skin-replenishing ingredients such as ceramides and glycerin.
Establish a Dry-Skin Routine
"When you're dehydrated, your skin needs a chance to catch up and calm down in order to heal," Jaikaran explains. Jaleesa recommends using an oil-based cleanser twice a day for nourishment, in addition to a hyaluronic acid serum. "Layer your regular moisturizer over the serum and a lightweight facial oil (jojoba or squalane) over your moisturizer if you still detect dryness." Finally, wear SPF every single day (including when it's snowing, cloudy or raining), and try using sheet masks at least once a week.
Mistakes to Avoid When You Have Dry Skin
Jaleesa cites using "too little moisture and too much product" as the biggest mistakes when applying makeup over dry skin. "When the skin isn't hydrated, makeup tends to sit on the skin and begins to look cakey or dry," Jaleesa explains.
The Step-By-Step for Dry-Skin Makeup Application:
STEP 1: Use an oil-based cleanser and then apply hyaluronic acid serum. If your skin is extra dry, consider using a hydrating sheet mask before applying serum and after cleansing.
STEP 2: Apply your everyday moisturizer. We recommend Kiehl's Ultra Facial Cream, which also happens to work as a soothing makeup primer.
STEP 3: For extra hydration and glow, apply a lightweight facial oil.
STEP 4: Skip the powder and opt for a hydrating foundation or tinted moisturizer that contains SPF.
STEP 5: Finish by setting your makeup with a hydrating face mist like Garnier Hydrating Facial Mist or Omorovicza Queen of Hungary Mist.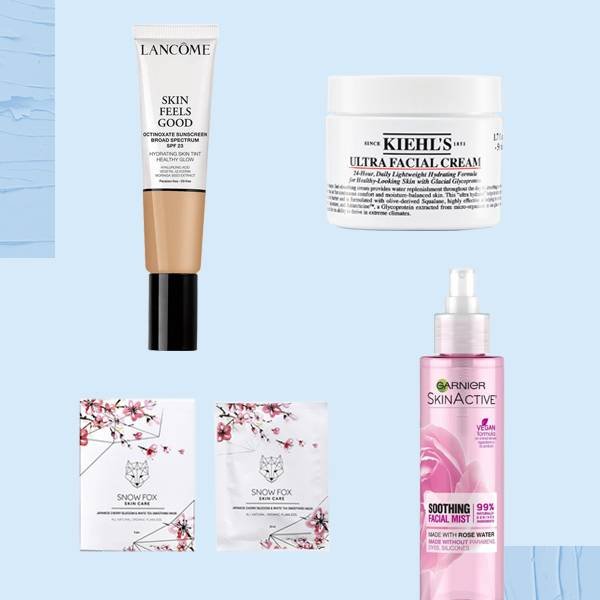 Read More:
7 Best Facial Mists to Set and Refresh Your Makeup
8 Glowy Primers for Lit-from-Within Skin
7 Best Moisturizers to Save Your Skin This Winter