WCW: Jenn Kapahi, Founder of trèStiQue, Shares Her Daily Makeup Routine
October 09, 2019
The travel-friendly packaging, two-in-one product and applicator design, and ability for customization make trèStiQue what it is: a makeup solution that simplifies your everyday routine. And that was Co-CEO and Founder Jenn Kapahi's main goal. With a strong background in the beauty industry — from her early days working as a makeup artist in college to the big leagues of corporate at various cosmetic companies — she's seen the sales side of the beauty industry, as well as had a hand in the product development stage. All of this, plus her general love for all things beauty, made launching trèStiQue seem like a natural next step in her career path. Ahead, we chatted with Kapahi to find out more details about her background (which is really, really impressive), plus her daily makeup routine, ahead.
Can you tell us a little bit about your career path? 
I started as a makeup artist as a side job while studying in college at art school. After graduation I joined Bloomingdale's 59th Street executive training program and became an assistant manager in the cosmetics department. From retail, I moved to Intercos — the leading global cosmetic manufacturing company — working in both product innovation, marketing, sales and trend forecasting. After that, I moved into product development at Revlon before leaving corporate to start trèStiQue.
What's the story behind trèStiQue? 
Jack (my co-founder) and I met while working at Intercos. We were both passionate industry and product experts and had a similar vision for simplifying makeup for real women. We offer high-performance products and travel-friendly, personalized routines that save time and empower her to accomplish her goals and do the things she loves. We were inspired to help women redefine their relationship with beauty for the better; we wanted to provide a solution to simplify her routine, reclaim her time and find peace with the complexity of makeup. 
Biggest pinch-me moment in your career thus far? 
When we won the CEW QVC Beauty Quest Award and I got to go on QVC to present our products. Being on TV was exhilarating and scary at the same time. 
Can you walk us through your daily makeup routine? 
If I go to the office or to an event, I use the Essential 8. If i'm just dropping my son at school or headed to the gym, I use the Mix of 5 routine. My Essential 8 routine is the Tinted Face Stick in Tulum Nude, Concealer Crayon in Porcelain, Good Vibes Mascara, Eye Pencil Liner in Swiss Chocolate, Brow Pencil in Americano, Lip Glaze Crayon in Paris Pink and Shadow Crayon in Aspen Pine. My Mix of 5 is our Concealer Crayon, Blush Stick in Bora Bora Coral, Brow Pencil, Eye Pencil Liner and Lip Glaze Crayon.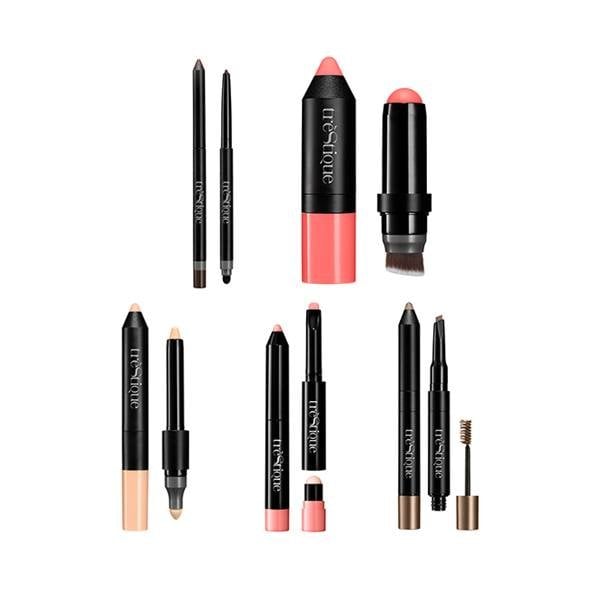 If you have to get out the door in five minutes, what product do you reach for? 
My Mix of 5 routine!
Do you have any advice to share with other aspiring female entrepreneurs? 
Be passionate about what you want to do and be curious so that you can be inspired to keep moving forward, despite hiccups. The most important thing you need is tough skin — you must be willing to let the problems roll off your back! 
Read More:
A Guide to Healthy Hair, Depending on Your Hair Type
7 Makeup Products to Add Your Ulta Beauty Cart This October
Read more