Marisa Tries Things: Lancôme Le Teint Particulier Custom Foundation
May 10, 2018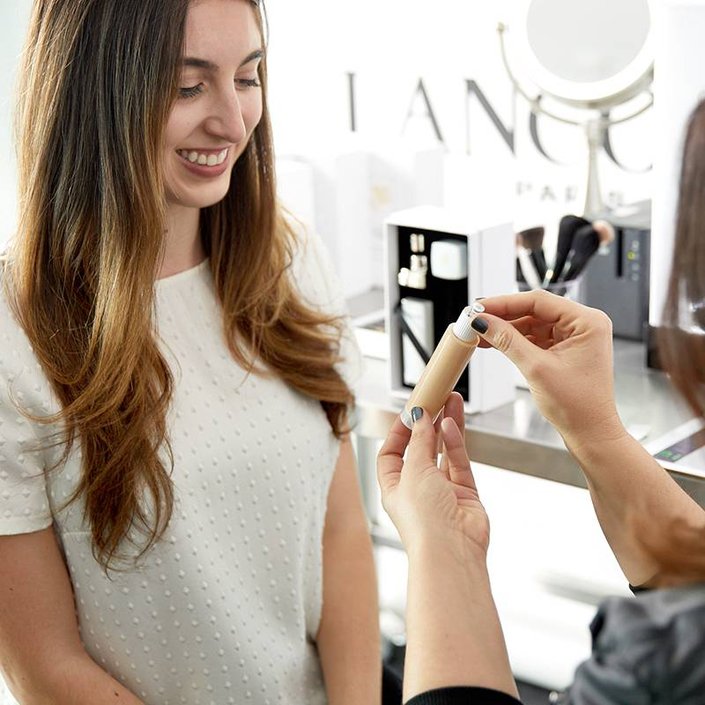 There are few things I really, truly need personalized just for me in order to stay sane: my pizza order, my skincare regimen and, of course, my makeup. Devoted beauty lovers understand the struggle that comes with having to find the perfect products that cater directly to our needs: i.e curling mascara for stick-straight lashes, concealer to hide undereye bags and a perfectly matched foundation that actually works with your undertones, no matter how unique they may be. The latter has been the ultimate challenge for me since the start of my making-wearing days, and I know there are many makeup.com readers who can relate.
So when I learned about Lancôme Le Teint Particulier Custom Foundation — a service that would seemingly change my life (and makeup routine) for the better — I knew it was something worth trying and reviewing for the benefit of foundation-wearers everywhere. The service costs $88, which, at first, sounds über pricey for a foundation. But if you take a moment to rack your brain to figure out how much you've wasted on poorly matched foundation in your lifetime, chances are it's a whole lot more than the price of your very own color-matched shade. The foundation's formula is long-lasting, oil-free, fragrance-free and paraben-free — making it ideal for all skin types.
The Lancôme team was kind enough to let me experience the process firsthand to share my review with all of you. Check out how it all went down, ahead:
-
STEP 1: A Lancôme Color Expert Scanned My Skin
After removing my face makeup, a Lancôme Color Expert scanned my skin with a fancy tool that measured my skin's exact shade, including my undertones and overtones. According to the scanner, my skin is basically as yellow as it gets, which means I have super warm undertones.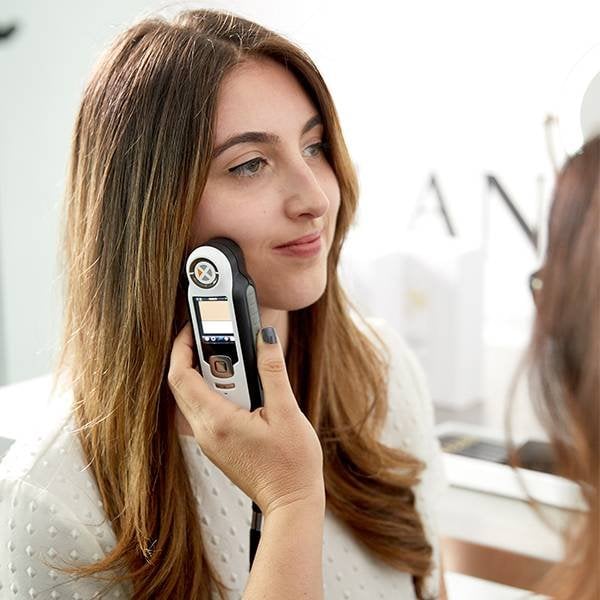 STEP 2: We Talked About My Skin and Foundation Preferences
From there, my color expert asked me more about my skin type and the type of foundation coverage I prefer. I explained that since my skin is dry, I tend to opt for light to medium-coverage foundation. She punched this info into her handy tool, and from there it was time to make science happen.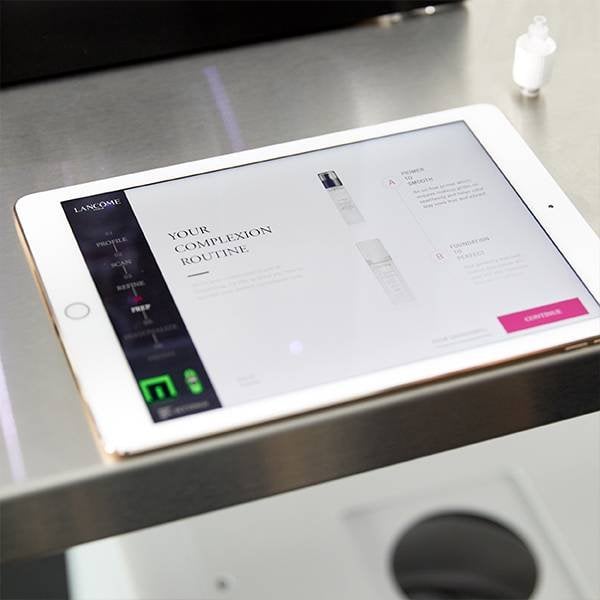 STEP 3: I Watched the Machine Do Its Sciency Thing
Through technology and some unexplained magic, the color expert's scanner synced with Lancôme's custom-making foundation machine to make my personalized foundation come to life. I watched as the giant, robotic Lancôme machine created my foundation before my eyes, in just minutes. Different colored pigments — including (lots of) yellow, red, blue and white — dripped into the container to create my color-matched concoction.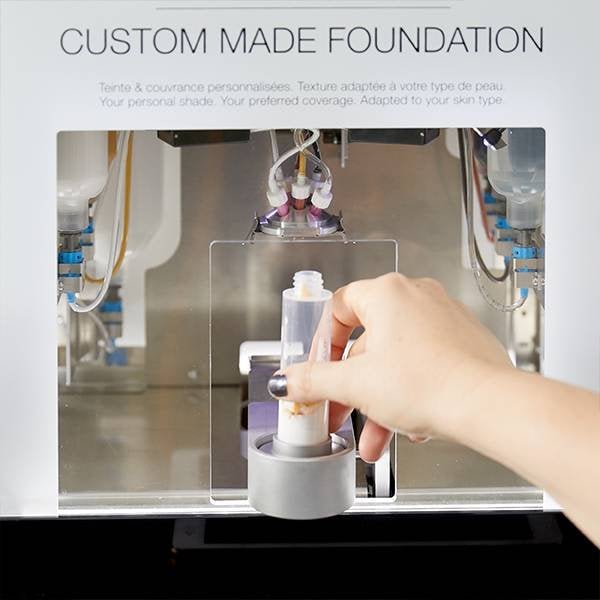 STEP 4: We Made Sure My Foundation Was the Perfect Match
Think of this step as the trial portion of your foundation sesh. When the vial was halfway full, the color expert took it out of the machine to test the foundation on my skin. If I wanted the foundation to be lighter or darker, the color expert would be able to make the necessary changes at this point in the process. The formula matched my skin perfectly, which was the goal, so we moved onto the final stage: filling and personalizing my bottle.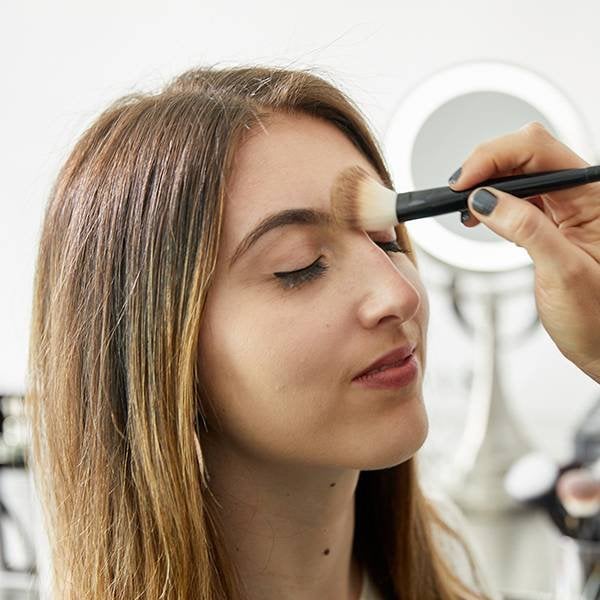 STEP 5: My Personalized Foundation Was Brought to Life
Finally, a label was printed for my bottle, which included my name (yay, personalization!), as well as my foundation ID, so I can simply reorder my foundation whenever it runs out instead of having to get color-matched all over again.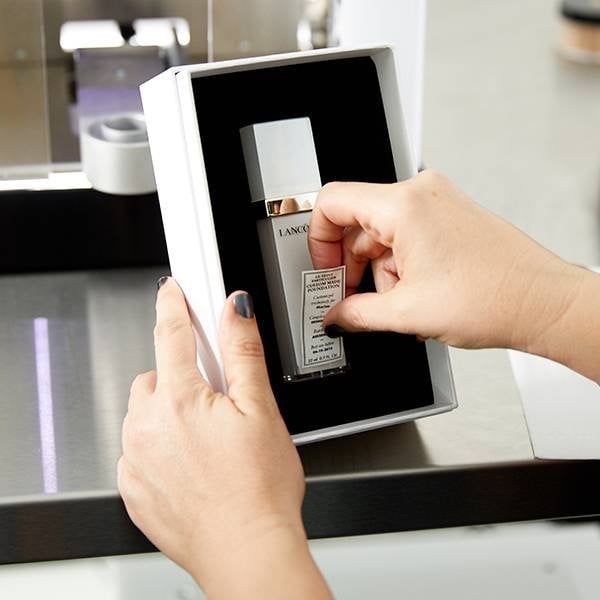 The Verdict:
Now that I have my very own, personalized foundation, I can't imagine using anything else. On casual days, I apply a sheer layer, but when I'm going for a more full-coverage look, I build up the product. It blends easily and dries to a satin finish that resembles your real skin — so that you don't feel like there's anything on your face.
I can't say I'll use my custom foundation every single day (some days still call for tinted moisturizer or a bare-faced look), but as far as foundation, you're lookin' at my new go-to. The whole process, which takes just 30 minutes, is a must-try for anyone out there who struggles to find just the right shade.
Lancôme Le Teint Particulier Custom Foundation costs $88 dollars and is available at Nordstrom counters across the country. New Yorkers can officially access the technology in the Saks Fifth Avenue Flagship Store in late May 2018. For a full list of current locations, click here.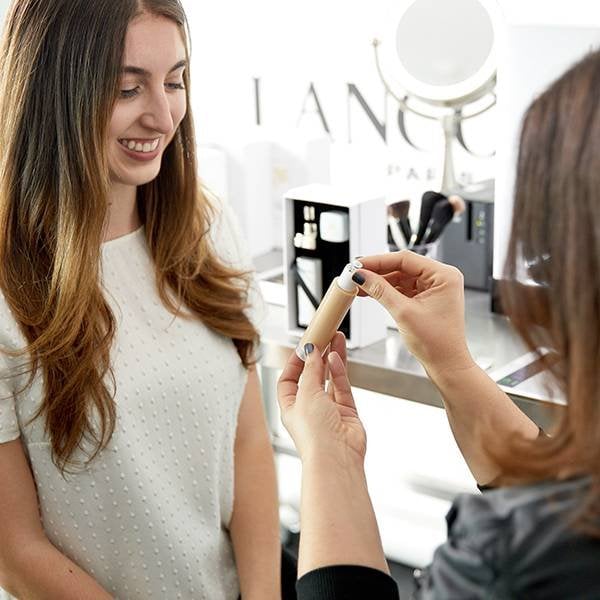 Photography by Chaunte Vaughn
Read More:
7 Beauty Products That Contain Real Flowers
5 Mini Palettes that Will Change Your Makeup Travel Game
5 Gel Moisturizers That Will Forever Change the Way Your Makeup Looks
Read more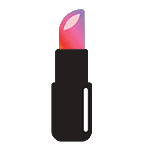 Back to top