The Makeup Products Our Editors Are Swooning Over For February
February 01, 2019
It's a brand new month, which means a new round of products is making their way onto store shelves and into our makeup bags. These are the products Makeup.com's editors can't live without this February.
Jessica, Creative Producer
L'Oréal Paris Infallible Longwear Blush Shaping Stick in Cheeky Dimension
I absolutely love the color of this stick, and I think it does wonders complementing my fair complexion. I also am a big fan of how easily it goes on and stays on, so that I don't have to constantly reapply.
Lancôme Rénergie Lift Multiaction Balm
Lately, I've been obsessed with this balm because I find it super smooth and hydrating. It leaves my lips feeling plump and is perfect for me to wear on its own or under a bold lipstick color.
The Maybelline Volum' Express The Colossal Big Shot Mascara
An oldie but goodie, I used this mascara in high school, and it has made its way back into my makeup bag recently. I love how lush and long it makes my lashes feel, and it doesn't get cakey — even after a few coats.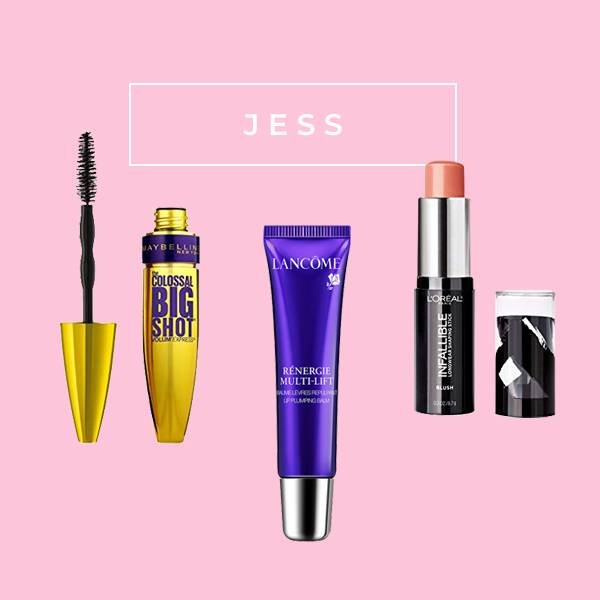 Nicole, Editorial Growth Strategist
NYX Professional Makeup Simply Red Lip Cream in Russian Roulette
On the days that I'm not feeling a perfectly applied liquid lip, I'll use my finger to gently blend this color in with my lip balm. The result is a subdued, rosy color that makes me look decidedly less like a ghost in the middle of winter.
NYX Professional Makeup Glitter Goals Liquid Eyeshadow in Poppy Fields
If you're looking for a spicy pop of glam for a special occasion, these liquid eyeshadows are just the thing. I like to use my finger to blend this out over my lid to give it a subtle wash of shimmery color that draws attention but doesn't look too over the top.
IT Cosmetics CC+ Cream Oil-Free Matte in Medium
I was a fan of the original IT Cosmetics CC Cream, but this oil-free version blew me away. It seamlessly evens out my skin tone, while helping to mattify the moisturizing sunscreen I apply before it.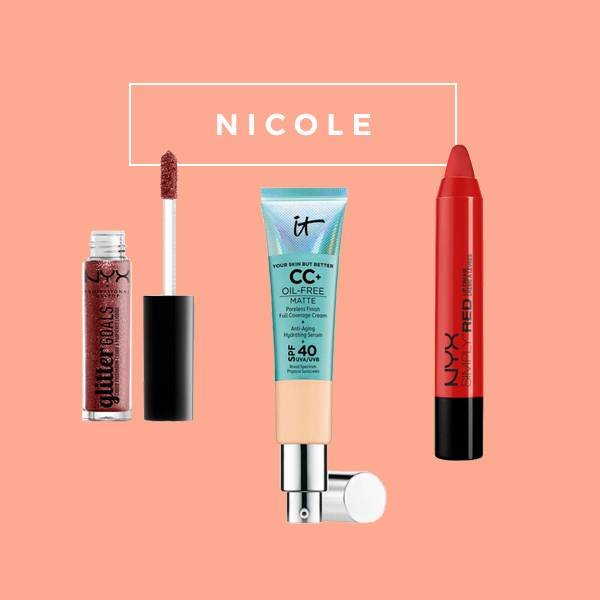 Hannah, Graphic Designer
Essie Penny Talk
When I get bored of wearing my usual dark red or simple nude nail polish, I like switching it up with a fun metallic color. Lately, I've been loving Essie Penny Talk, which has a pretty rose gold finish to add a little spark and make me feel put together.
Sara Happ Lip Scrub
I just started using the lip scrub by Sara Happ, and I'm already in love. During the winter months, I'm constantly applying lip balm in attempt to save my dry, flaky lips, but since I started using this scrub at night, I've noticed I don't need to apply balm as often. My lips are softer and smoother than ever before.
NYX Professional Makeup Epic Ink Liner
One of my favorite, most affordable eyeliners is NYX Epic Ink Liner. This liner is super easy to use, lasts all day and is richly pigmented. It's my everyday go-to without a doubt.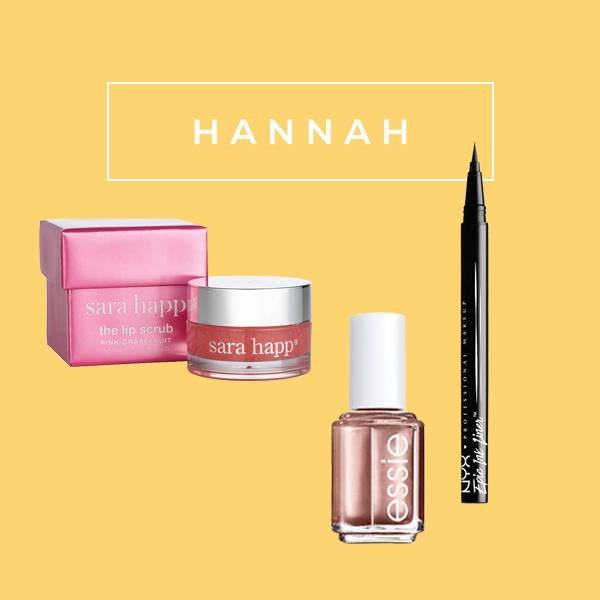 Marisa, Associate Editor
Urban Decay Brow Finish Waterproof Brow Gel in Ozone
Because my brows are already thick, I don't do a lot to them. When I'm feeling fancy, I'll define them with a brow pencil and lightly fill them in, but most days just call for brushing them upwards and then setting them with a clear brow gel. I recently got my hands on this newbie from Urban Decay Cosmetics, and I've been using it every morning to set my brows in place.
Catrice Cosmetics Dewy Wetlook Stick
Hear me when I say that this is a minimalist must-have for dewy-skin enthusiasts. You can apply it all over your face to instantly achieve that perfect wet highlight in seconds. I wear it on my lids and cheekbones. When I'm in a rush, I'll tap it onto my bare skin, and when I have some extra time, I'll tap it over powder formulas for a glossy finish.
Joey Healy Precision Brow Scissor
As I've learned in the past few weeks, celebrity brow stylist Joey Healy's brow products are quality. As mentioned above, I'm an eyebrow minimalist, a role that calls for keeping my brows maintained. In between threading appointments, I tweeze my brows and trim overgrown hairs at the inner portion of my brow with a scissor. This precision brow scissor is amazing because its shape makes it so easy to maneuver and hold in your hand.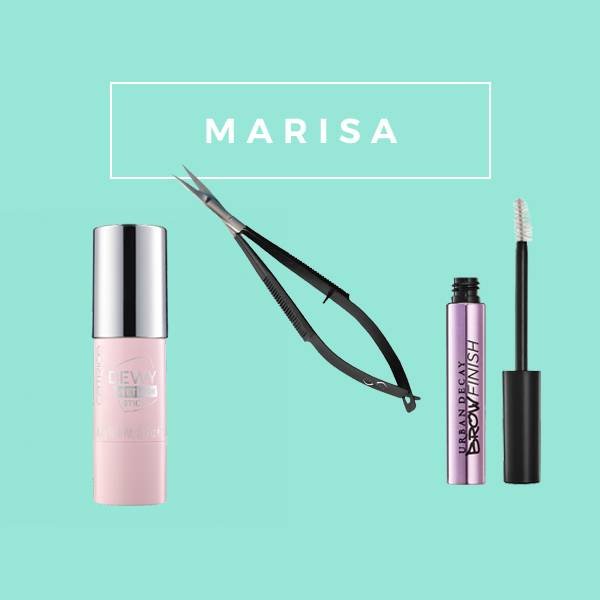 Alanna, Associate Editor
Onomie Radical Mist Setting Spray
This pretty pink spray has been sitting on my desk for a while now, and I'm finally making a major dent in it because my skin has been feeling super dry throughout the day. It's incredibly refreshing, great for re-setting makeup, and it smells so clean and fresh. I'm pretty much addicted to this "wake me up" in a bottle.
NYX Professional Makeup Born To Glow Illuminating Powder in Eternal Glow
Loose powder + highlighting doesn't always work as easily as one might think, but this new illuminating powder from NYX's Born To Glow collection is proof that it can. This mess-free powder has become my new favorite to swipe onto my cheekbones and nose because it's super rich and combines well with different mixing mediums or setting spray. It'll give you that rose gold glow of life that cold weather can suck out of you — all in a compact package.
IGK First Class Charcoal Detox Dry Shampoo
After recently toning my hair red, I've been using a lot of dry shampoo to keep my hair looking alive in between washes. This stuff has been a lifesaver. It's safe on chemically treated hair, provides a ton of protection and leaves behind enough product to keep up your volume without a fresh blowout — seriously, it's a must have.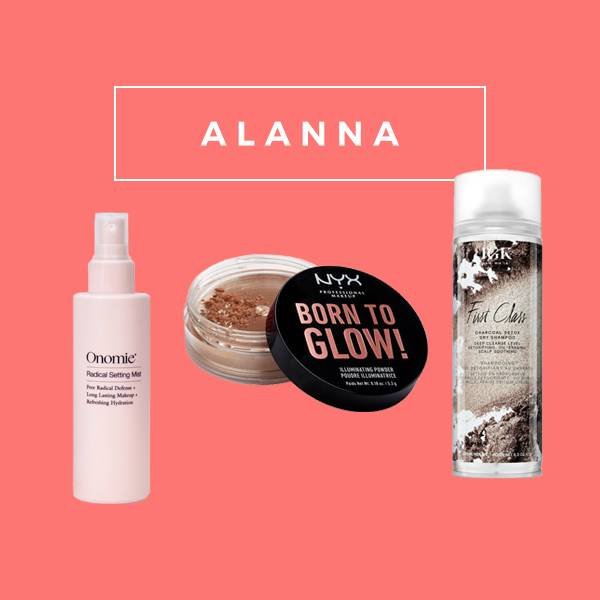 Tembe, Associate Editor
Makeup Geek False Lashes in Graceful
As a false-lash junkie, I know what I like and what I don't. My favorite lashes have thin, flexible bands, flare out at the ends (perfect for almond-shaped eyes) and aren't so long that they feel like windshield wipers. Cue the Makeup Geek False Lashes in Graceful — my holy grail. It's rare that I re-wear lashes more than once or twice (the perks of being a beauty editor), but I can happily admit that I've carefully cleaned and re-wore these at least five times. I always get compliments when wearing these (whether it's on the 'gram or IRL), and I have nightmares of them being discontinued. In other words, you need these.
E.L.F. Blush Brush
While this is defined as a blush brush, I like to think of it as the ultimate multitasker. I use it to apply blush, contour, highlighter and any other powder product, and it always sculpts my face just right. The bristles are dense enough to pick up a decent amount of product, but the pointed tip makes placing and diffusing easy. It's also ultra-affordable (i$3), so there's no reason you shouldn't have this one hanging out in your stash, too.
Laneige Lip Sleeping Mask
I'm convinced that this hydrating lip mask's formula is melted bubblegum meets hyaluronic acid — although my editor (and its packaging) say otherwise. While there is hyaluronic acid in this miracle mask, the sweet scent is actually the Berry Mix Complex, a mix of raspberry, strawberry, cranberry and blueberry extracts. It's my winter lip saver, and even though it's meant to be an overnight mask, I keep it at my desk and use it generously throughout the day.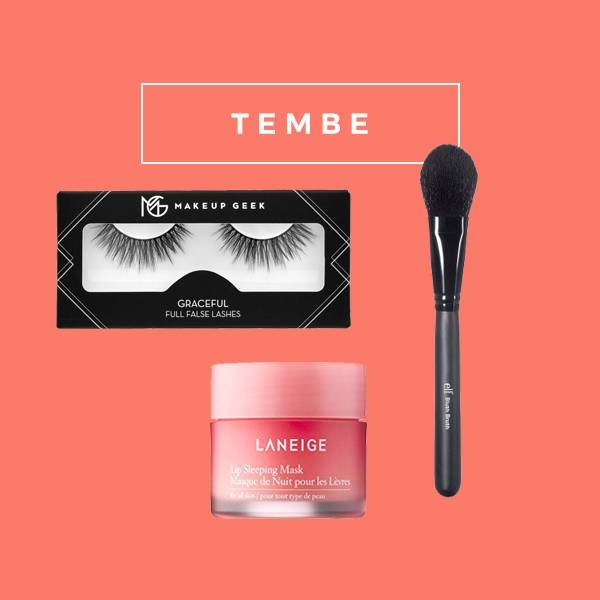 Read more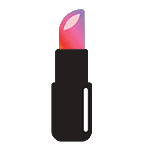 Back to top