Career Diaries: Taylor Frankel Talks Co-Founding NUDESTIX and the Importance of Utilizing Social Media
October 29, 2021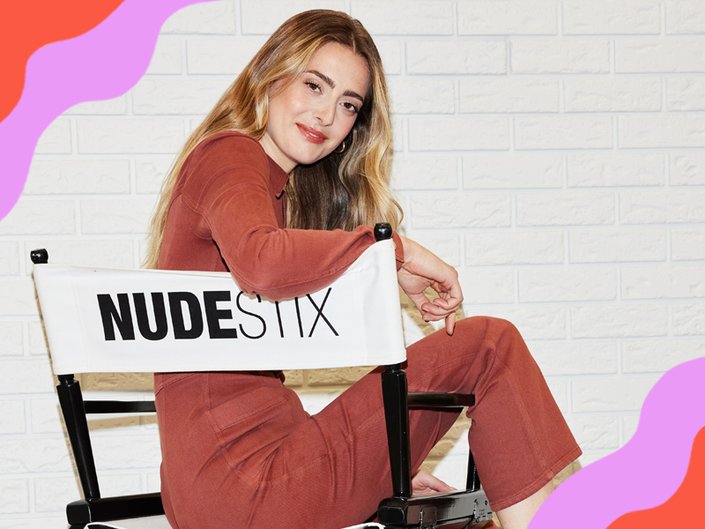 Having co-founded NUDESTIX at the age of 17, Taylor Frankel knows a thing or two about the trials and tribulations of running a successful beauty brand. We spoke with Frankel about what it's like running the business with family, adapting to the changing social media landscape, and her minimalist makeup style. Read on to find out more about her journey running NUDESTIX, her insightful take on what makes a fruitful beauty brand, and so much more.
What initially inspired you to create NUDESTIX with your mom and sister? Did you feel something was missing in the makeup market?
We launched the brand in 2014. My mom, Jenny, is a chemical engineer, and before launching NUDESTIX, she had been developing cosmetics for 20+ years. So she has a vast history and is a little bit of a beauty veteran. My sister and I grew up in the beauty industry 一 we've always been very attuned to the market and products, and we had access to some of the best products. We would also constantly go into our local beauty retailer to shop for products, but we never found a brand that specifically spoke to us in authentic ways.
We recognized that there were so many beautiful artistry and skincare brands, but there were no brands that really spoke to the in-between which was this modern day view of beauty. All you really saw eight years ago, whether it was on Instagram or flipping through a magazine was 'more is more' whether it came to artistry or complexion. There was no brand that was speaking to no-makeup makeup, or beauty for the modern-day woman on the go. The one thing we don't have, as women, is time. We realized that luxury was being redefined. It wasn't necessarily about price point or a luxury brand name, it was about experience and providing our customers with products that fit into their lifestyle. So that meant creating products that were easy to use, effortless, and that checked the boxes when it came to vegan, clean products, with sustainable packaging.
How have you, your mom and your sister settled into your roles at the company?
Our roles have definitely shifted over the years. I was 17 and my sister was 14 [when NUDESTIX launched]. We had zero business experience or expertise. We really just had this passion, for our brand, for this community that we were building, and for this vision. At the time, my sister and I were more consumer-facing 一 that was really just sharing our story on Instagram, Facebook and Twitter. We were one of the first brands to actually market ourselves on Instagram as our main platform.
My mom is the CEO. So anything to do with operations, product development, working closely with our manufacturers [she handles]. My sister and I would work closely with my mom to ensure that everything from shades to products to textures followed this vision of less is more. I remember we would sit at our kitchen table back then, and we would go through all these products, and my mom would say, 'oh, what do you think about this color?' And my sister and I would say that everything just had to look like the best version of ourselves. Everything had to look like skin. My mom was behind the scenes making sure that everything just followed the vision.
Now, my sister is actually in medical school. Her goal is to become a dermatologist, so it's very aligned with NUDESTIX. She's not as involved in the business 一 she is focusing on school as she should be. Right now, my mom's still the CEO and President, and I'm the Chief Brand Officer. Anything having to do with the overall creative part like photoshoots, social media, influencer marketing, press, and anything that tells our brand story or exists at retail 一 is something that I try to make sure follows our brand standards.
What are the biggest advantages of running a makeup brand during the age of social media?
When we first launched NUDESTIX, I would say social media was super critical and very instrumental to our growth. Firstly, it was a free marketing platform to tell our story and to create authentic content. As one of the co-founders and one of the brand faces, I can speak directly to our consumers. Social media has allowed us to grow organically.
Now, it's definitely a bit more challenging when it comes to reaching the same amount of community and customers organically. It really is a little bit more of a pay-to-play, especially when it comes to Instagram. We've encountered some hurdles and challenges and had to be creative when it comes to pivoting our content and shifting to what we feel like our community is asking for. But it's very helpful when it comes to listening to our community. So whether it's a new product launch or a shade extension, we're very much attuned to what our customer wants and also what the trends are, and how we can adjust our business both internally and externally based on what's happening in the beauty world from a social perspective. With the growth of TikTok, we've had to have more of a digital-first strategy. We're putting more dollars against our social strategy and also playing with new platforms like TikTok. We're understanding that in order to survive as a brand, we need to make a little bit of a shift with time and our resources to become 50% Instagram and 50% TikTok focused so that we're not losing market share.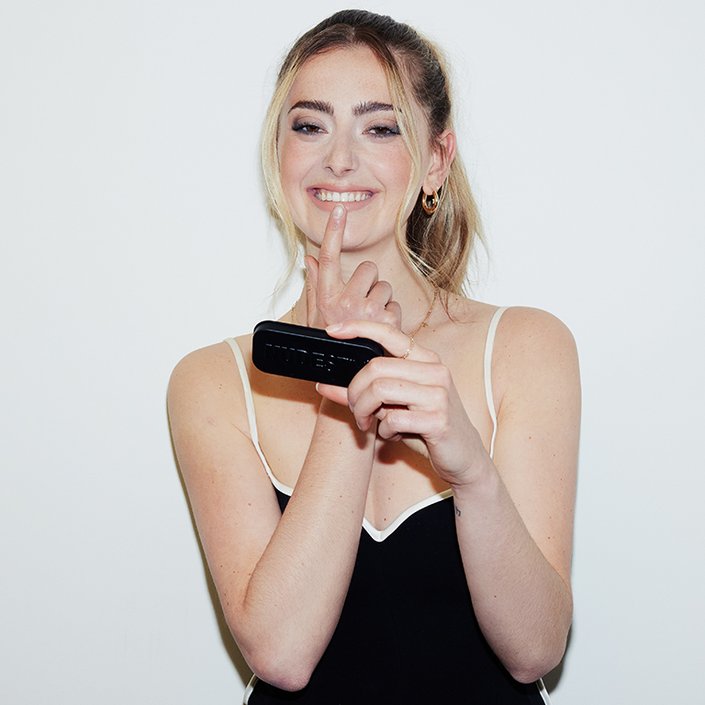 How has your personal presence and experience on social media translated to how you utilize social media to connect with consumers?
My growth on my personal platform has really been thanks to our growth with NUDESTIX as well as being the face of the brand and having a very direct line of communication with my community. On the NUDESTIX platform, whether it's responding to DMs or going on live or stories and responding to comments, I've been of the mindset that the one thing that will always differentiate NUDESTIX is its founders. There will be so many brands that will try and replicate our products and our formulas but they can't replicate us.
Pre COVID, my platform wasn't as much of a priority. I would post a bit, maybe some travels, but not as much personal content. Through COVID, I've recognized that video content is everything. Educating your consumer through video content is what converts 一 so that's what I've been focused on. And I also realized that I do have such a nice community on my personal platform that it also has advantages to the brand.
In addition to individual products, the brand is known for curating kits like the new Dark Romantics kit which seem to be a unique take on palettes. What is the creative process behind developing and curating these kits?
For kits like Dark Romantics, a lot of the time we work together and we look at trends. Dark Romantics specifically was inspired by the fall beauty and fashion trends. We always work with our artists internally and we always look at trend reports [to identify trends]. Another take is looking at previous kits and shades that are existing and that our consumer loves. We always know that our consumer loves neutrals. She loves luminous shades of bronze and gold and rose gold and terracotta, so a lot of times we'll develop different variations of palettes like that.
We look to our community as well, and ask them like 'If we were to launch a palette, what would that look like?' We also think about what we can do that's really different and that we feel would surprise our community in a good way.
How has your personal makeup style evolved over the years?
I'm a creature of habit. I love my glowy skin. I love my neutral tones. I'm very much that classic NUDESTIX CUSTOMER which I think makes what we do that much easier. We will always identify trends and will always have fun with certain palettes, but what I think makes NUDESTIX so unique is that we don't shift ourselves based on so many different variations of trends. If we were to shift our brand and our philosophy over the past eight years, we would be all over the place. By shifting you're almost alienating your existing customer. So as much as trends shift, we always try to speak to the NUDESTIX customer and who she is: the everyday girl.
What's next for NUDESTIX? Is there an area of the industry you want to tap into or a new product launch you're excited about?
NUDESKIN is so fresh. I think we're going to be focusing on skincare heading into next year. We are playing in the mineral SPF world, which I'm very excited about. It took us a while to develop a great formula that is very natural on the skin. So we'll be launching that in spring or summer 一 stay tuned.
And then we are going to have another big focus on Nudies going into next year. You know, I think something that we learned throughout COVID and over the past few years [the importance of] focusing on our loyal categories. As much as newness and innovation do drive growth, I do think that even more than that, enhancing our existing core categories, drives more growth. When you're constantly developing more and more innovation, there are so many innovations that fail. And we feel like people are just constantly going back to our best-sellers. So Nudies being our staple is going to be a focus.
We're also going to have another focus and reinspire our complexion products. We realized with our concealer, which we launched in fall of 2020, the launch didn't have much of a digital moment. We didn't really give it the love that it deserves. I think we need to amplify existing products because we did spend so much time innovating so many of these beautiful products that we need to give them a second life. So we're just going to reinspire.
Photo: Courtesy of NudeStix and Taylor Frankel
Read more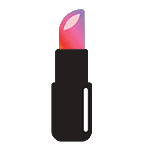 Back to top